get messy: season of fairytales week four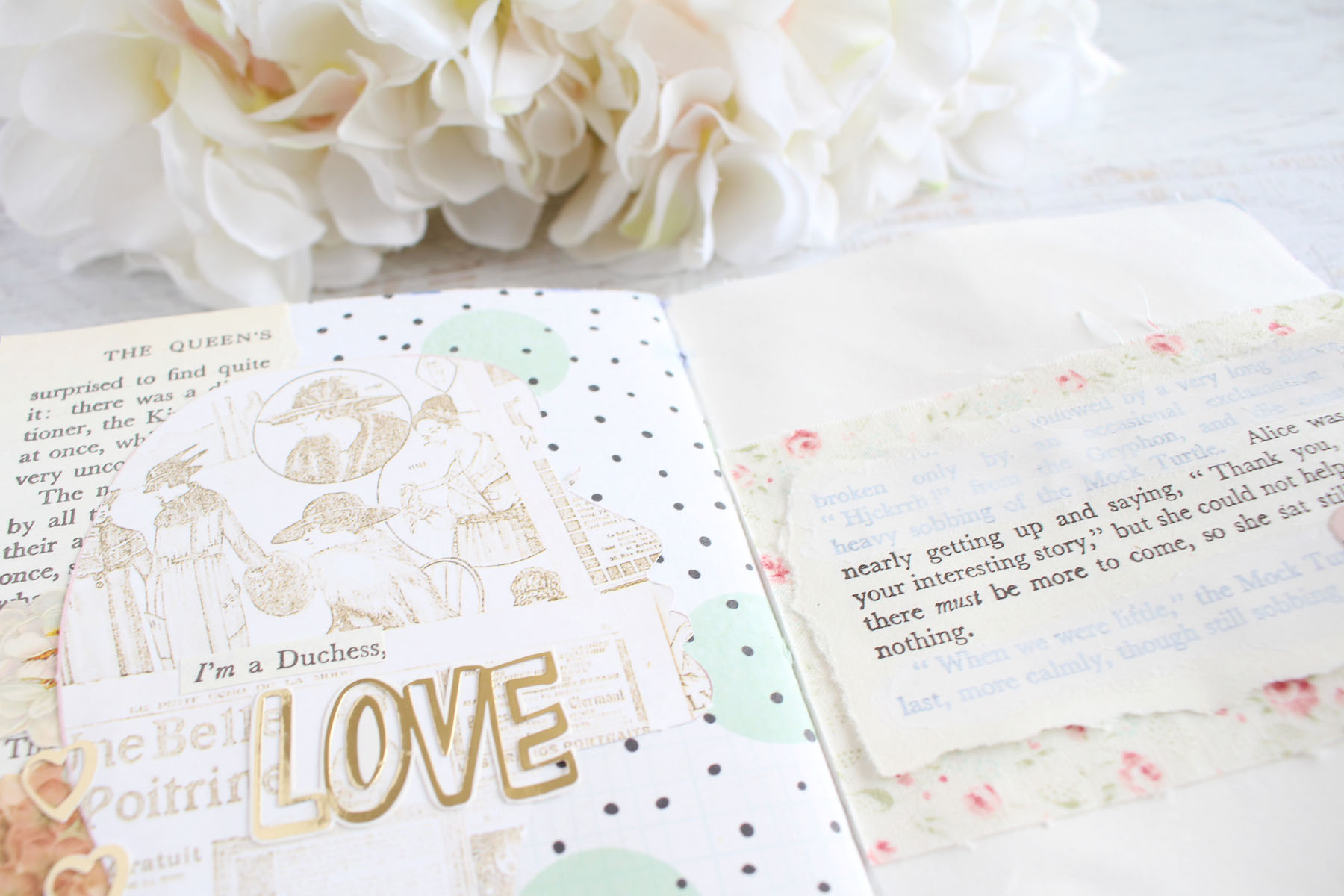 Naturally, I'm so behind on Get Messy Season of Fairytales. The season is basically over and I'm just posting week four's spreads. Though to be fair, I was away for three weeks during the season and these next few pages I'm about to share are the last few I created in my art journal. I'm not sure if I'll continue with week five and six prompts, or end it here, since the first signature of the handmade art journal I made is already filled up. I'm thinking of revisiting the Season of Magic for the second signature and then the Season of Dreams for the third and final signature in this art journal. So if I go about doing that, these are my final pages of Season of Fairytales.
This first spread began with the image of the woman (who's actually Jenna Dewan Tatum, aka Channing Tatum's wife). It was in a bunch of magazine pages the lovely Trish, @timefliesaustin on IG, sent me. I loved the image. I distinctively saying that Jenna looks "like an Ice Queen." She just had this fierce look to her, so of course, I had to use it in my journal.
This spread came about quickly. I layered a mint green doily behind her, then a yellow flower on top. I added a butterfly I fussy cut from a Maggie Holmes paper, then two gold glitter heart stickers to accent it off. Lastly, I added some black ink splatters, my favorite. And of course, I covered her eyes, this time with a strip from an Alice in Wonderland book that reads "the Queen never left."
This spread is actually two different pages. The first page was inspired by that silhouette of a female that I got from a Daphne's Diary magazine. I used the male silhouette in a previous page, so I decided to use the female one here. I had cut out that phrase "I'm a Duchess," from the same Alice in Wonderland book I've been using throughout this art journal, to use on the previous page, but it didn't make the cut. I still wanted to use it, so I added it to this page.
So I layered a page from the Alice book behind the silhouette and tucked a floral I fussy cut from a Heidi Swapp paper behind it too. I then added the "I'm a Duchess" phrase strip and underneath added the negative of a love sticker that I had already used. I love keeping the negative bits of those stickers you use from 6×12 sticker sheets, because I can just fussy cut around them and use them in my art journals. I did the same thing for the three hearts that I added along the border between the silhouette and the floral.
For this last spread, I tried my hand at creating galaxies. Katie Smith has a really fun free tutorial up on the Get Messy blog where she gives you a peek into her new Painting Galaxies class. So I had a go at it while I was traveling through Barcelona and it came out alright. It's not the greatest and even if I had all of my supplies with me, it still probably would have came out about the same.
Anyway, I layered some fabric and this owl image I got from a Daphne's Diary magazine over it because the colors matched so perfectly. Then collaged a bit of that Alice book paper and more Maggie Holmes butterflies over it. I ended up tucking a white doily onto the next page, because I wanted to leave it blank, but the peach/pink paper seemed to stand out too much and I wanted to balance out the delicateness of the white lace trim.
This season was super fun! I honestly love every single page and spread I made in this art journal. I don't think that has ever happened before. But I loved exploring the idea of fairytales and working with a limited number of supplies really made each page tie into one another, so the entire signature looks seamlessly cohesive. I love that. Hopefully I'll continue exploring the magic around that when I revisit the Season of Magic in my next signature!