get messy: season of kindness week three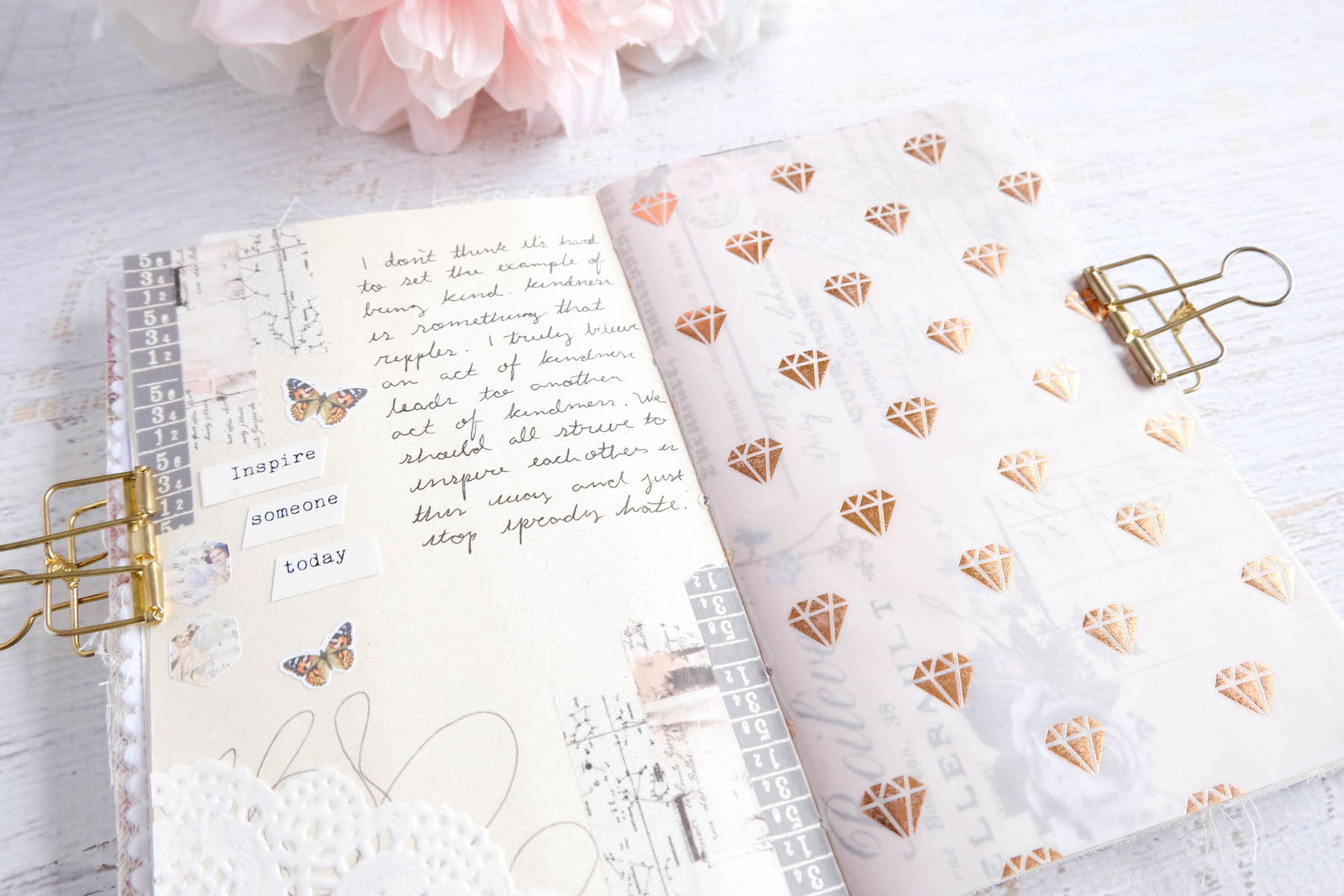 I'm honestly very surprised I got any pages done this week. It's been a super blah week. The doggie was sick for most of it and the weather decided to be a cold, gloomy mess these last three days. So I've been very tired and bleh. The current social and political discourse happening this past week didn't really help much either in terms of mood, but it did have me thinking that we need more kindness in this world. People just need to stop thinking solely about themselves and begin to show compassion for others. America is in such a tragic state of corruption, narcissism and greed, it's hard to be hopeful that it can change.
But anyway, my Get Messy Art Journal Season of Kindness pages!
This first spread started out as something completely different (I have a Journal with Me coming real soon of this spread). But it evolved from this sticker I had that says "Have courage and be kind." It made me think of all of those Florida high school students who are speaking out against their Congressmen, advocation for comprehensive gun control. I don't necessarily think it takes courage to be kind, but it does take mindfulness and conscientiousness towards others. These Congressmen can't think beyond their wallets to put fort that type of kindness.
Anyway, that's what I sort of end up journaling about on that paint swatch. It's so interesting how simple this spread actually is. I just scribbled on the page then layered a printed doily and a floral over it, adding the sticker over that in the end. On the right page, I layered a torn piece of book page behind the paint swatch, then accented it with a bit of washi tape from Prima's Amelia Rose and Cherry Blossom collections. So simple.
I kept this second spread super simple. I had this card that read "throw kindness around like confetti" and just wanted to include it in my journal somehow. This purple floral pattern paper was just a little too busy, so I quieted the page with a white doily. I then layered the card over it, with a few florals I fussy cut from a spare bit of the wallpaper that's on the right. I kept the right page as it was because it looked complete that way.
This last spread is really just a page. I left the foiled diamond vellum sheet as is and played around with some washi tape and stickers on the left side. I used some hexi and butterfly stickers from Lace and Whimsy that I thought went well with my color scheme and theme. The sticker "inspire someone today" was from a Maggie Holmes sticker sheet and it basically inspired the journaling on this page. I jotted a few thoughts about inspiring others to be kind by being their example, because kindness does fuel more kindness.