get messy: season of dreams week one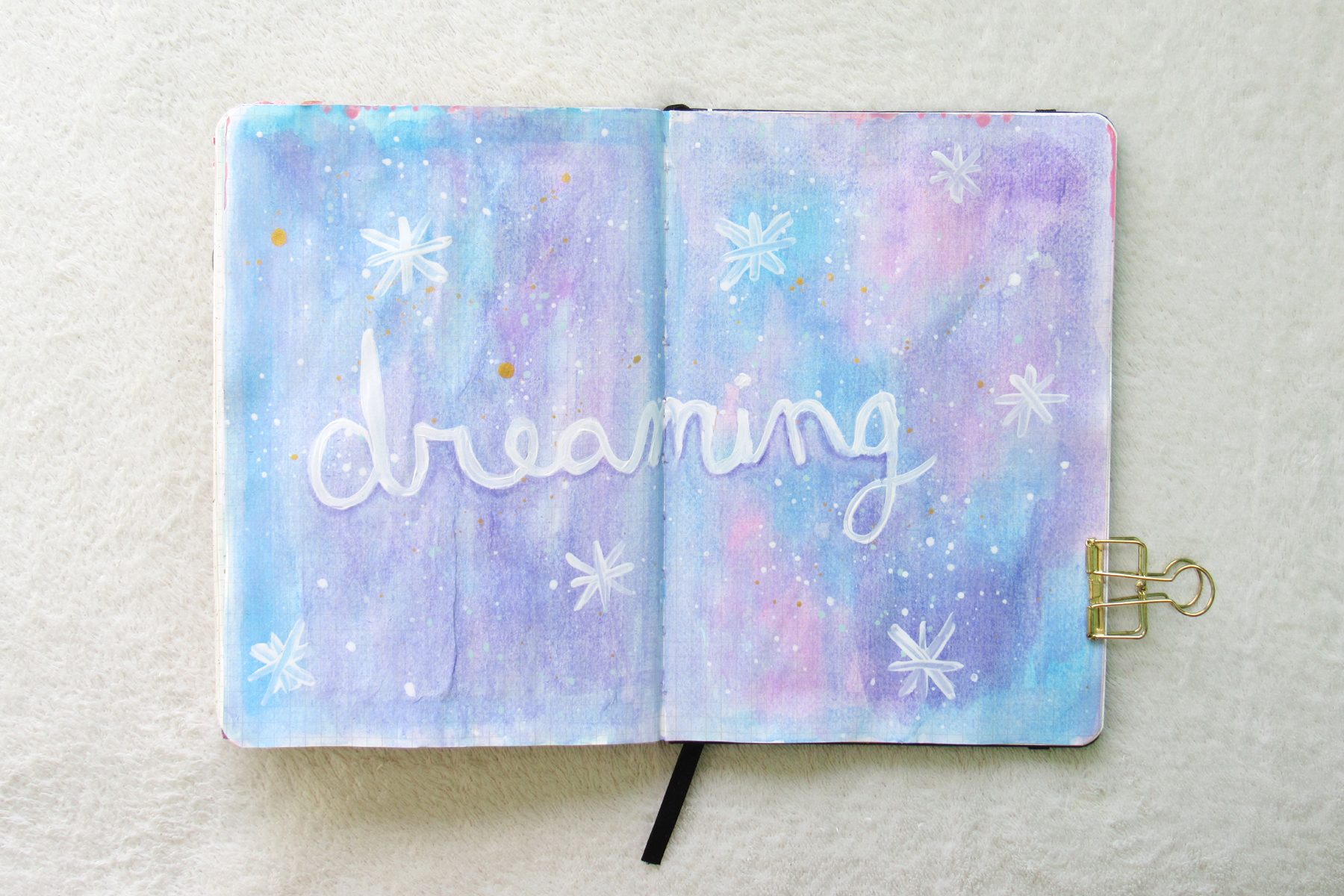 It's a new season of Get Messy and I've organized my life in order to participate this round. This new season is the Season of Dreams and it intrigued me so much that I just knew I should try to participate. I always seem to miss out on the really good seasons because of my traveling. If didn't know, I started with Get Messy Season of Words and right before that season ended I went off to Asia for a three month backpacking trip, so I could follow along with Season of Magic, which was such a bummer cause it's was the Season of Magic. When I returned home, it was Season of Happy, which I did participate in but I don't think I was in the right state of mind to participate because I really wasn't all to happy. The season after that one was Season of Lists and to be quite frank it just didn't make much sense to me, so I opted to sit that one out. Then I went off on another two month trip and missed out on Season of Introspection, which I did try to follow along while I was away, but it didn't really work, so I scrapped it. Introspection! Then came Season of Music, which I wanted to do but I had just returned home and all sorts of life things happened and I just couldn't find the time.
So now that I have the time, Season of Dreams will happen. It's too cool not to happen. I'm still intending to complete the past seasons of Get Messy at some point. Maybe in the lull between these next to seasons I try my hand at Season of Brave (the next one after Season of Love, which I already did).
Anyway, for my first spread for this new season, I decided to deviate from the prompts and just journal whatever came to mind when I think about dreams. I don't know why, but I instantly think about space and time and the universe and all those swirly nebula colors amongst the stars. So it's only natural that both my spreads for this first week turned out space-agey. I played with watercolors this time with a little bit of white acrylic to make these nebular backgrounds. This first one is very light. I used mostly blue, purple and pink to make the background, then wrote "Dreaming" in white script, accompanied by a few star bursts. There were also white, mint and gold paint splatters involved as well and you can watch the process down below.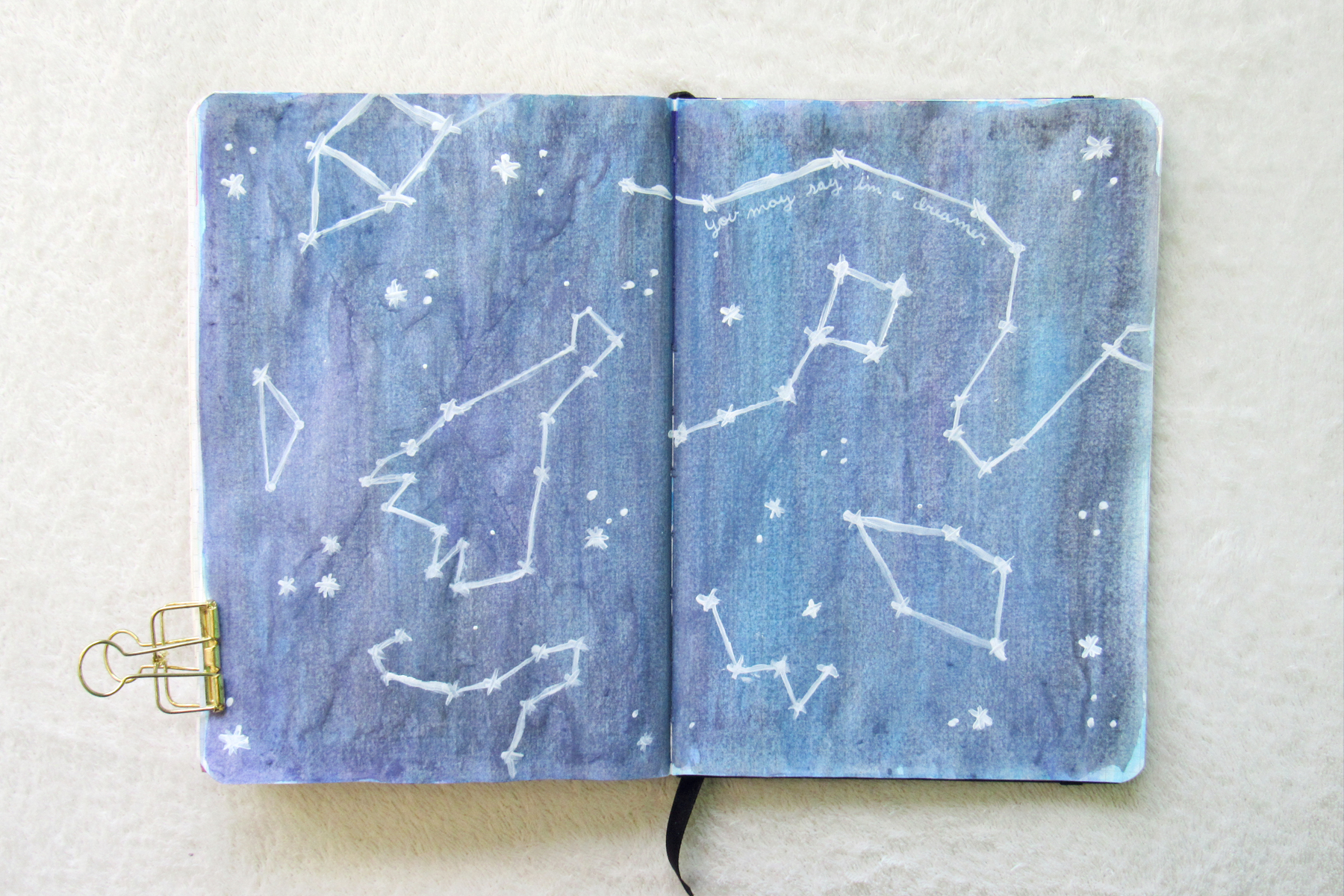 For my second spread, I was inspired by a piece of Dear Lizzy paper from her Serendipity collection that had all the constellations on a dark navy background. I basically kept with the space theme and used the paper as my reference as I painted the same constellations on my spread. I used a mixture of the same blue and purple colors, but added some black to make it darker and more like the black universe out there in space. I love watercolors because you can easily blend these colors to get that effect. I painted the constellations over this background in white, adding a few stray stars and dots around the page to fill up the negative space.
The quote they gave us with the prompts was a lyric from John Lennon's Imagine and it popped into my head while I was making this spread, so I decided to use it on the page. I use a white ink pen to write "You may say I'm a dreamer…" on the top along one of the constellations and was going to write "..but I'm not the only one" at the bottom along another constellation, but the pen decided to stop working for me and after awhile I just gave up trying to get it to write and left the page as it was. I rather like it with just half the lyric though, to be honest. Below you can watch my process for this spread.