get messy: season of kindness week four + five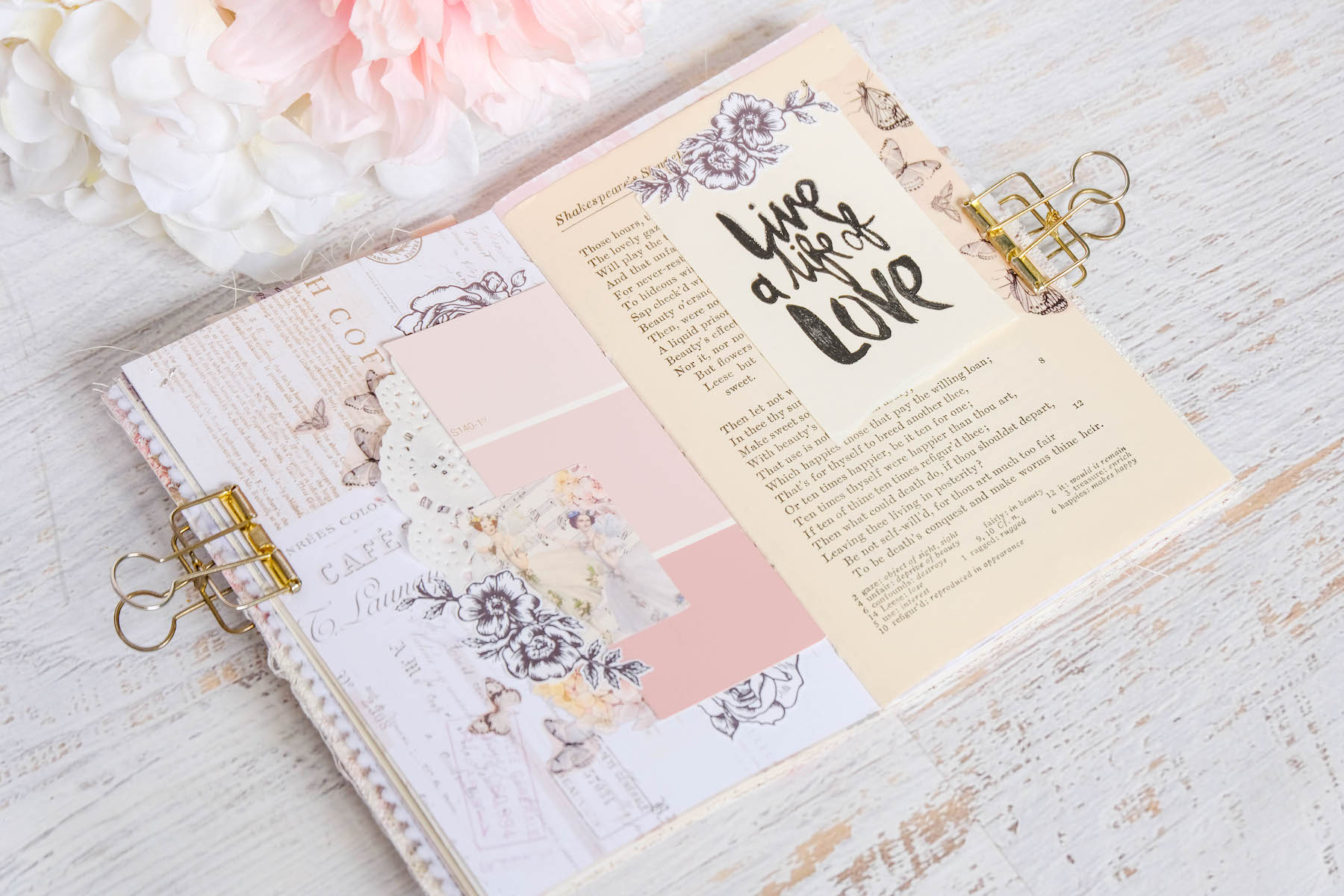 I solemnly swear I did not forget to post my Get Messy Art Journal Season of Kindness week four spreads last week. I actually never made any.
You know, it was one of those weeks where I really didn't feel like creating in my art journal. I totally get like that from time to time and that's when I'll create in a different way. Last week was spent snipping and sticking things down in my new Felicity Jane planner that I'm keeping as my own personal reflective journal/vision board. It's what I was inspired to do–or I should say, what I felt like doing–and it's okay for me to miss an entire week of creating in my art journal.
That said though, I did manage to do two spreads this week. I didn't follow the prompts–I'll admit, I haven't read week four or five's prompts at all–but I did respond to one of the tutorials that went up on the site, I think, during week three?
Anyway, for this first spread I wanted to play around with these beautiful stickers Kathy from Lace and Whimsy sent me. I used stickers mostly from her The Birds and The Bees and Fairies and Folly sticker sheets. I absolutely love the lilac fairy stickers! That entire sheet matches so well with the colors and theme of my Kindness journal. I also used a couple of butterflies from the pink version of the fairies sticker sheet, which I found matched so well with the butterfly washi tape I used from Prima Marketing.
All I did was create a simple collage with the stickers and washi tape around this piece of paint chip I had left over from one of my previous spreads. Honestly, this page came about from snipping and sticking things down. It was more a therapeutic process than anything else. I really had no intent of creating a masterpiece; I just wanted to play.
On the page to the right, I took a ripped piece of drawing paper and stuck it down using one of the Lace and Whimsy stickers, layering it over a piece of the Prima washi tape that I just put there because I tore too much of the tape for a different project and didn't want to waste any of the leftovers because that tape is simply gorgeous! I then took an old Freckled Fawn stamp that the lovely Wilna Furstenberg designed and stamped "life a life of love" to that ripped piece of paper.
This fold-out spread is my take on Clare's lovely mandala tutorial. Again, I used some Lace and Whimsy stickers here too. I create my mandala from a white doily that I had stitched into the center of my journal. I simply glued the side down to my page. I used one of the You Are Magic stickers for the center of my mandala. I simply fussy cut one of the squared stickers out because I really wanted the pink background but not a square shape. I sprinkled some star stickers about my spread as well. That one butterfly piece I fussy cut from a Prima Lavender paper.
For the foldout, I used a Maggie Holmes word phrase sticker from the Chasing Dreams collection that read "Remember This" and placed that on the flap. On the inside of the foldout, I added a piece of drawing paper and at the bottom a sticker of two fairies and some more stars sprinkled about. This was where I did my journaling, reminding myself that I am awesome and magical and to not forget that.