how to make an altered book journal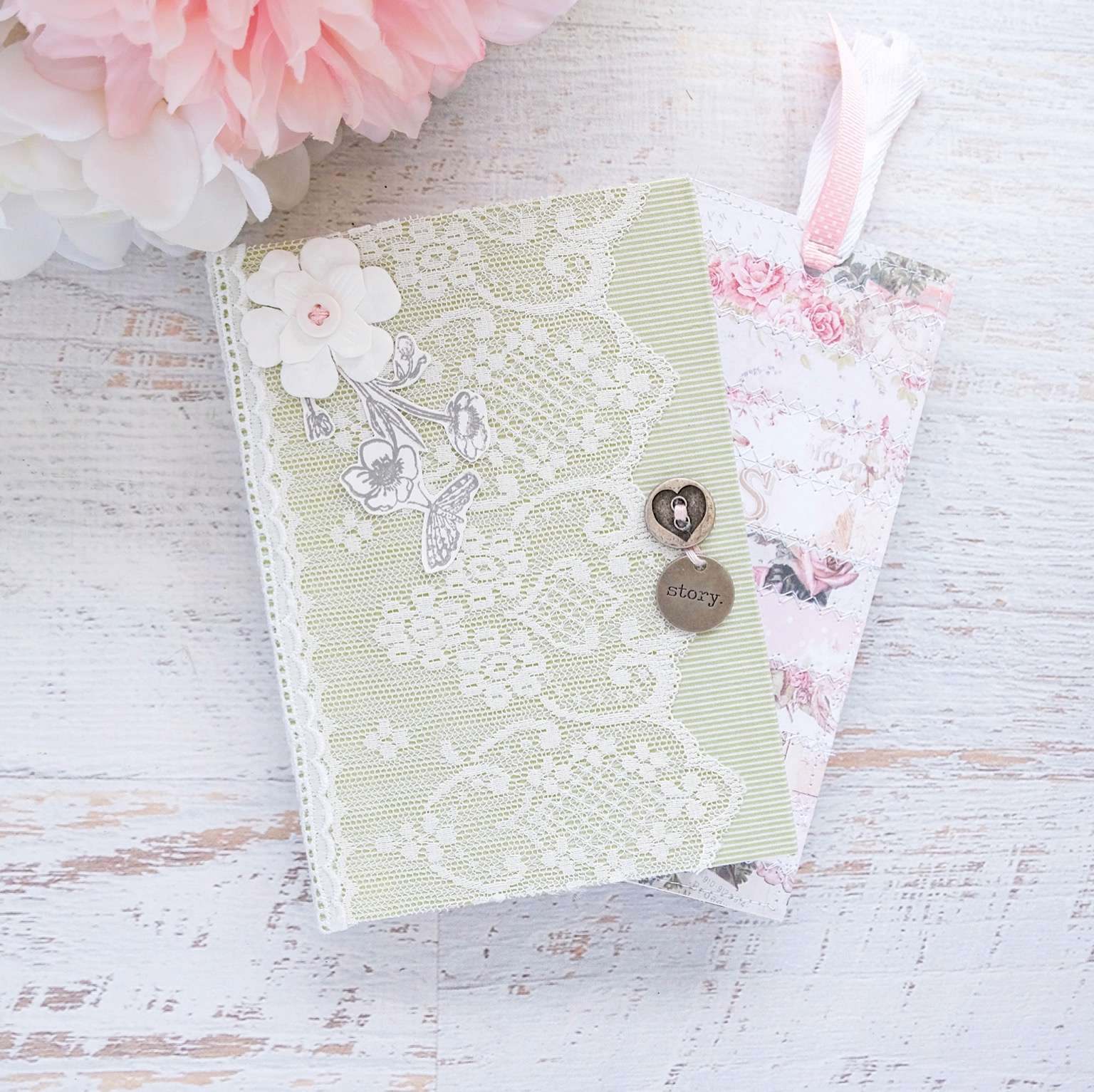 So for the new season of Get Messy Art Journal that was just announced–the Season of Story–I wanted to create my journal in an altered book. Since I didn't really do an altered book for the Season of Play–which was the suggested journal for the season–I thought it would be fitting for the Season of Story to be in a book (I don't know why we didn't do a handmade journal for Play and the altered book for Story, but whatever). This season's suggested journal however is a handmade book, so I decided to go with the altered book journal, but instead of just altering a book, I've gone ahead and made an "altered book" from scratch.
I made the book cover from scratch using some chipboard and fabric. Then of course sewed in my own signatures that I made from a mixture of different papers that fit my color scheme (I'm going with pale pastel greens and rose pinks). I'm rather proud of how this little journal turned out! I even made a little bookmark from the paper branding strips to mark my place in my altered book. I thought I'd be a bit clever and have a bookmark in my book that I'm going to tell my story (you can tell I'm getting really into this season already. And it doesn't begin until June 1!).
I honestly can't wait for this new season to begin! Hopefully I fill this little book up just as I filled my Season of Kindness journal.
I've filmed my process of creating this journal. So definitely check out the video below to see how I made it.
And if you're interested in joining us at Get Messy Art Journal* for the Season of Story, you are not too late! Actually, you are right on time since the season starts on June 1st. There are various ways to join, but if you want to have a go at just this season to see if Get Messy is right for you, the Get Messy Season Pass is the best option. You can sign up for the Season Pass beginning June 1st through to June 7th.
The Season Pass gives you access only to the Get Messy Season of Story posts between June 1st – July 31st. Season Pass members will also have access to the Get Messy private Facebook group, the Get Messy forums and the discounted member shop. It's $35 to join for the Season of Story with a Season Pass. This is a one time fee, which you can pay using Paypal or your debit/credit card. It is not recurring. And if you end up loving Get Messy as much as I do, you can always purchase a full membership.
* Please note, when you purchase a Season Pass or Annual Membership through my link, I receive a small commission. But you are not charged extra nor does this affect your purchase.