bloom: my one little word | journal with me ✩ 15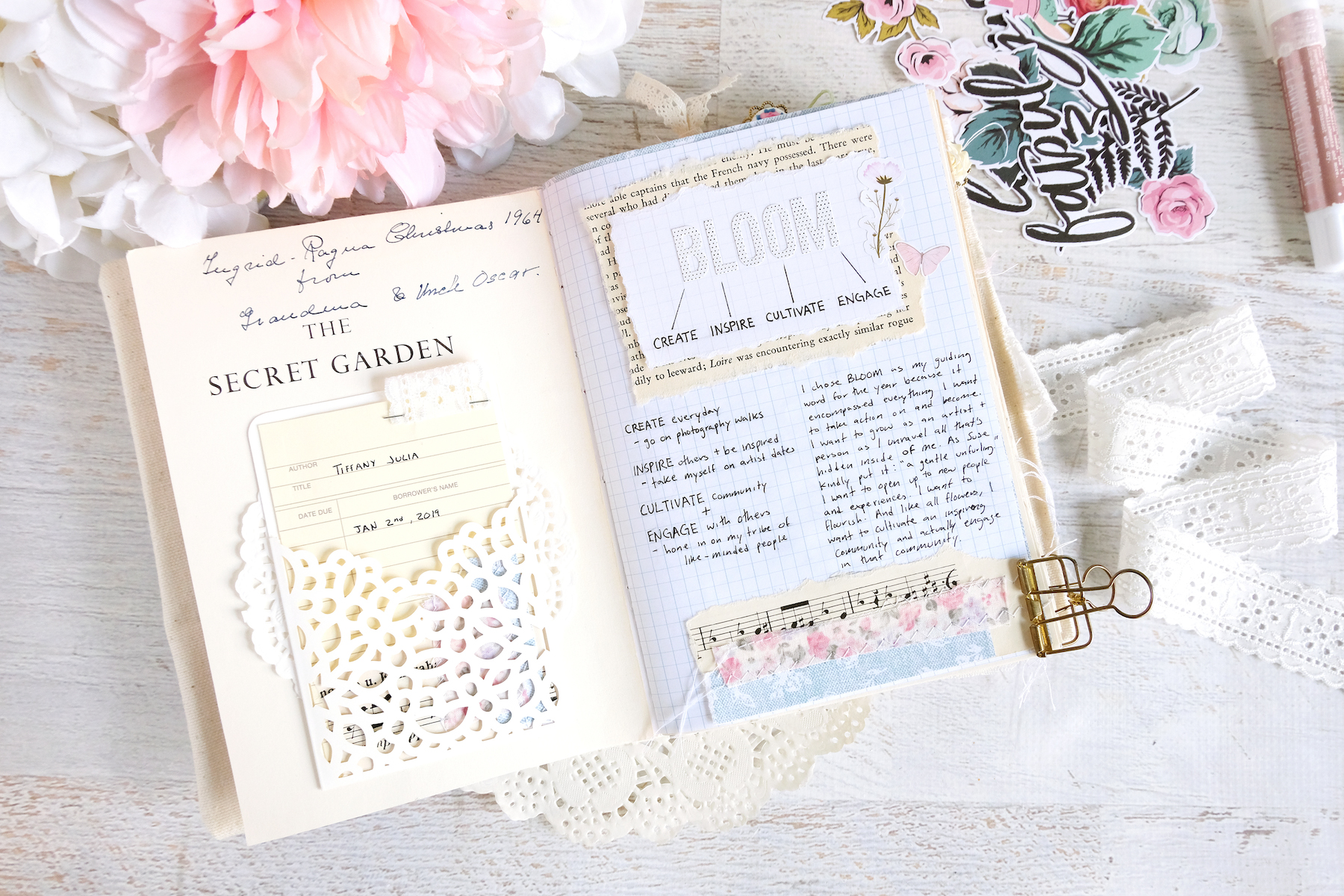 I'm beginning my unraveling journal with documenting the word BLOOM, my one little word for the year. I really wanted my word to be front and center, so that I'm reminded of it every time I open up this journal. Like I mentioned in my previous post, I want BLOOM to be my guide this year. I also wanted to get down a few things I wrote in my copy of the Unravel Your Year workbook because I summed up my word and supporting words so nicely. They literally outline my intentions for the year.
So I wanted it all documented in my unraveling journal. I feel like these pages are a great start to this journal project. When creating these pages, I loosely followed along with the Day 1 prompt from #junkjournaljanuary challenge hosted by miavibes and megjournals on Instagram, which was to use a quote.
For my very first page, I created a very small collage to showcase my word BLOOM. The pattern paper already had this busy floral print on it, so I glued down the doily and layered a few scalloped circles I punched out of some paper scraps to create a flower of sorts. I then layered a quote I wrote and cut out of some grid paper. I used this bloom sticker from Cocoa Vanilla Studio–how perfect that their latest Midnight collection had a bloom sticker!–on top. This title page is very simple. But I love that anytime I open up this journal that is the first thing I see.
For this first two-page spread I wanted to do two thing. For the left page, I wanted to decorate my book's library card with my name, the name of my journal, and the date I began this journal–kind of like an actual library book. I haven't quite decided yet if I want to call this journal "unraveling journal" or maybe even "bloom journal." I'm still toying with the latter, but I may as well just call it my unraveling journal, since I'm calling it that here anyway.
It's quite fitting that that page is from an old copy of The Secret Garden, because my word is bloom and all. It's like my journal is a this garden where I can explore myself and grow. I absolutely love the meaning this page conveys in that respect. I used a pocket from The Planner Society and printed one of my library cards out on some cream paper. I decorated the bottom of the card with a little paper + fabric collage cluster too.
For the opposite page, I wanted to document my word with the supporting words I chose and what they mean in terms of my intentions for the year. Again, I just really wanted all of this to be front and center in this journal so that I'm always aware of it whenever I go to unravel myself in this book.
Definitely check out the journal with me video below to see how these pages came together!