creating a lunar calendar in my bullet journal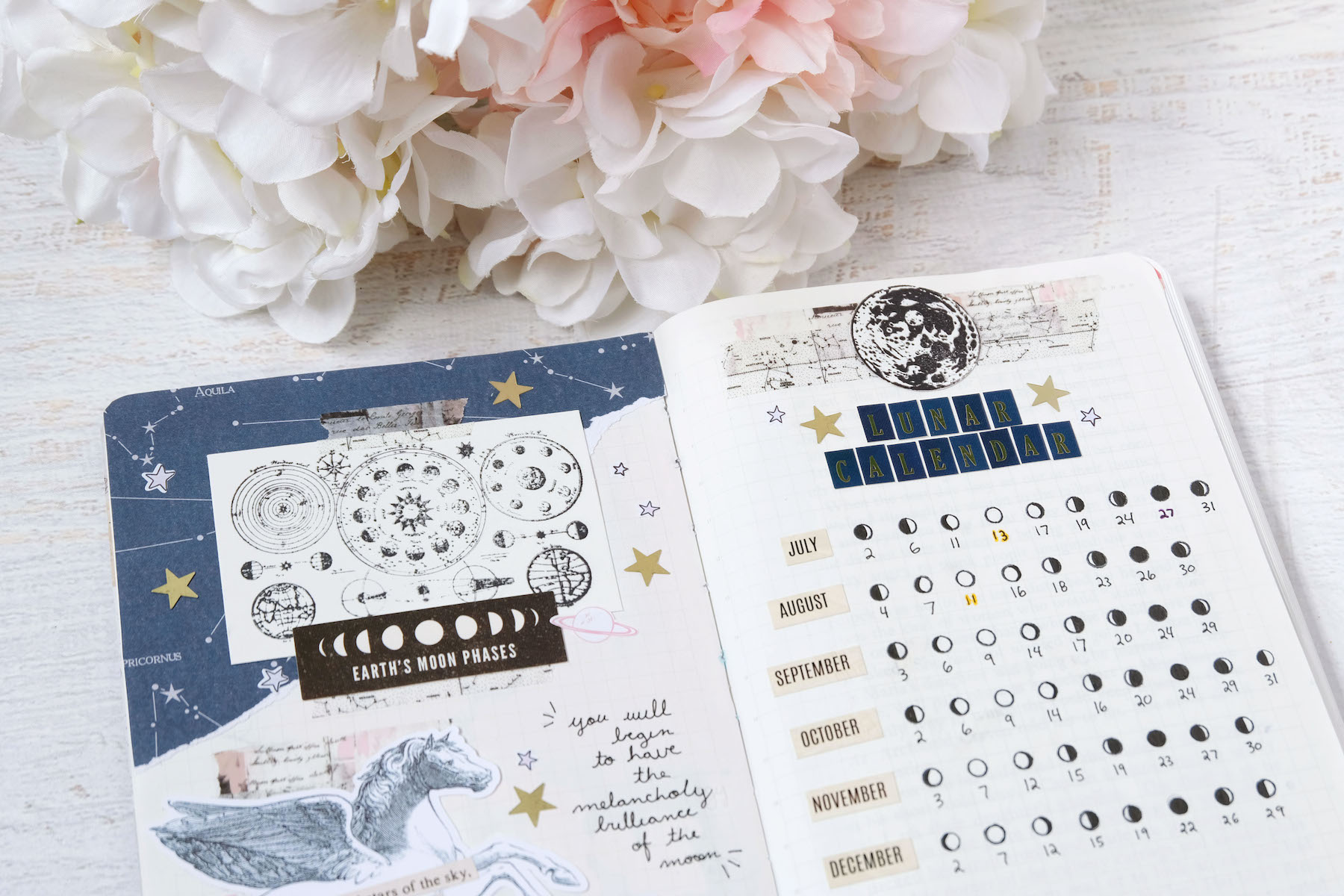 I wanted to share with you my first bullet journal process of creating a lunar calendar in my bullet journal. Recently, I received my latest Lace & Whimsy purchase and it basically inspired this entire spread. I decided to create a lunar calendar because I would like something to reference to whenever there's a full moon, especially a special one like the Blood Moon on the 27th of July, which also was a catalyst to creating this calendar because I didn't know it was a special full moon until the day of. Also, I wanted to have fun using all of my celestial themed stamps, stickers and papers. I don't know, I just thought it would be something fun to have in my bullet journal.
So I used a combination of materials when creating this lunar calendar. The stickers and die cuts from Lace & Whimsy were from the Celestial Whimsy collection. I used a Prima Finnabair acrylic stamp set that I got at Michaels for stamping out all of the lunar diagram charts that I used. All of the washi tapes* I used were also from Prima, from their Amelia Rose collection. Then I used an assortment of other stickers from Tim Holtz*, Maggie Holmes, Heidi Swapp, and WRMK. That constellation paper is from a really old Heidi Swapp collection called September Skies. I love how it ties the entire spread together.
This spread came out busier than my usual journal spread and I kind of like it. I made sure to fill in any empty space with a gold star sequin or a sticker of some sort. I even included a partial Fitzgerald quote because I loved the phrase "melancholy brilliance of the moon." It just sounds so serene yet bold and strong at the same time. It's a great description for the moon.
Anyway, I filmed a video of my entire process, which you can watch down below. I do hope you enjoy it.