desk tour | featuring the ikea kallax unit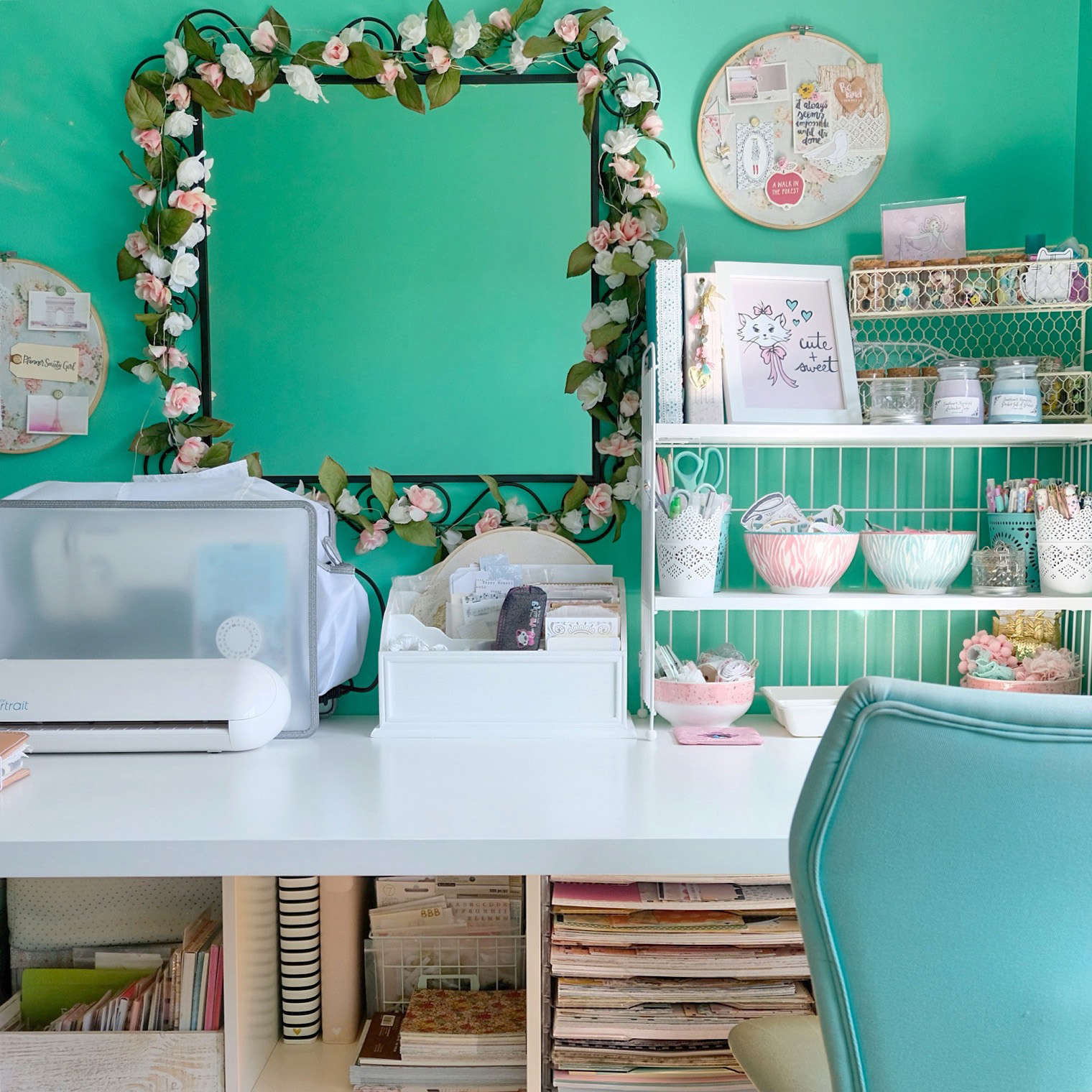 Y'all, I finally have a crafty space that I absolutely love! While my entire space is still a work in progress, my desk set up is pretty much complete to how I want it at the moment. And rather than waiting until I've painted my room, hung my gallery wall, etc. to do a full craftspace tour, I've decided to give you a little peak at my desk specifically with this fun desk tour featuring the Ikea Kallax Unit.
So the way I have my desk set up is pretty simple. My Ikea Kallax Unit cubed shelf is really what's supporting the weight of my white table top, also bought from Ikea (cause really those two adjustable legs I have there are just for show). My desk is positioned up against my wall because I'm in such a small space. I utilized my vertical space and added a white Ikea FALKHÖJDEN Tier Shelf to house all the little bits and bobs I wanted on my desk, but in a neater, non-cluttered sort of way. I went with white because I am going to be painting my walls a lighter shade of teal (so more of a light mint) and I love how it's already making my space look a bit brighter.
I'm so happy to finally have the majority of my crafting supplies all in one place! Seriously, using the Kallax unit like this as under-desk storage is genius! I have all of my tools and papers at hands reach. If I need anything, I really don't have to get up from my desk cause it's all there. I even purchased these wonderful Stack and Nest Trays from We R Memory Keepers* for my pattern paper, so that I could easily organize and store them in one of the Kallax cubes. I love these trays! They are quite possibly my favorite purchase!
Anyway, I don't want to repeat everything in this post. I've thoroughly explained everything in this desk tour video that you can watch below. I hope you enjoy this little peek into my craft space. If you have any questions, let me know in the comments below!