fall planner setup in my mint kikki k | hip kit club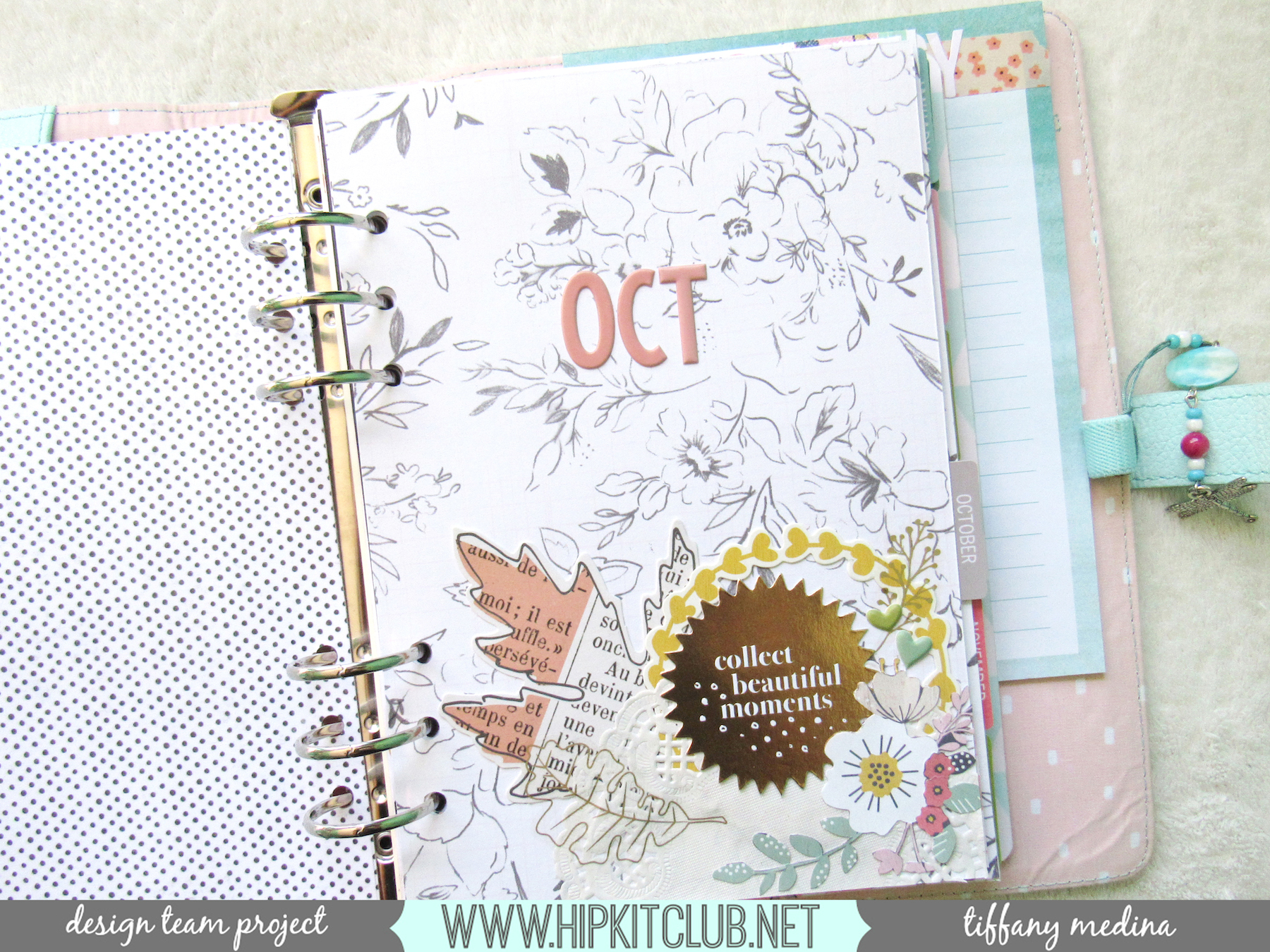 I'm back again with another project for the Hip Kit Club. With this one I setup my A5 mint Kikki K planner for fall. So, I decided to utilize my A5 Kikki K planner after a really long time of not using it and I've made it into my blog/social media planner, primarily to keep me organized between my personal blog and social media accounts and my new Hip Kit Club DT duties. Keeping my blog planner in my little personal-sized Kikki K was kind of driving me crazy because I didn't have very much room to write. So I moved into my A5 and I'm loving it so far! Initially, I setup my planner with some bits from the Maggie Holmes Gather collection that you can find in the September kits, but for this project, I'll show you how I setup my month of October for the fall season.
I'm using Simple Stories Carpe Diem monthly inserts for my planner, along with some vertical inserts I made myself. The monthlies are from last year's launch of the planner, which I never got around to using. I didn't like the designs very much on those inserts so for the October monthly, I decided to cover the divider with that pretty white with gray/black florals paper from the Gather collection. I embellished the divider with bits of ephemera from the October kits, but I did sneak one of those leaf pieces from the Gather ephemera pack from the September kits.
For the monthly spread, I used only papers and pieces from the October kits to decorate (except for the number stickers, which are the new Carpe Diem number stickers I have in my stash). Again, I covered up most of the design because I didn't really like how it looked. I used the same paper I used on the divider on the top of the inserts to cover up this really ugly beige polkadot box that was printed at the top. Since I covered both sides, I covered up where it said the month, so I used the pink puffy alpha stickers that are exclusive to the October Hip Kits to write out "October." I covered up the Notes section on the right side with some pretty pattern paper from the Gather collection and embellished the spread lightly. I used some scrap paper to cover a few of the empty boxes in the spread, balancing out the patterns on both sides. I didn't want too much decorating as this monthly is my editorial calendar and I wanted to be able to write and see everything clearly. But I still love how it came out!
I went ahead and embellished my pockets with a few things. I already had a few pieces from the Gather collection there, but I did add those cute Posh paper clips from the Embellishment kit add-on and a little piece from the Dear Lizzy ephemera pack that had the word "Happy" in gold foil on it. Other than that, I left them a bit bare, maybe to embellish them a bit more later on. I filmed a video of my process and you can take a look at it down below. Enjoy!
Products used: Hip Kit Club September 2016 Main Kit, Hip Kit Club October 2016 Main Kit + October 2016 Embellishment Kit Add-on