free online art journaling courses + resources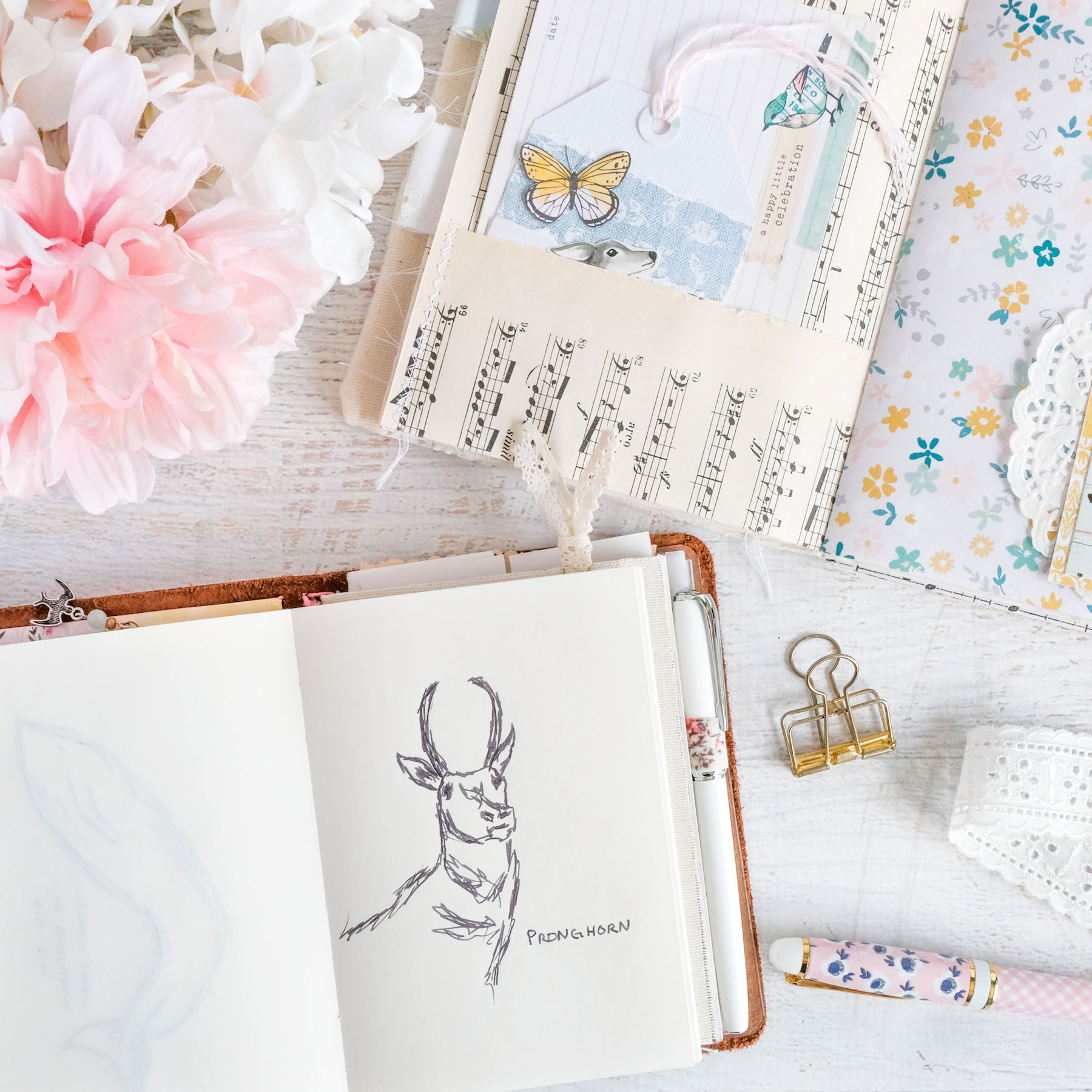 It's kind of amazing how huge art journaling has become in the past few years. I remember discovering it back in 2013, when I found a couple of bloggers posting about their "Summer of Love" art journals. This lead me to Kara Haupt and Natty Malik and the Art Journaling Ning community. I think that now that the scrapbook community has embraced art journaling as its own, more people than ever are wanting to get into art journaling. While there are a ton of online classes and workshops out there, I've compiled a list of a couple that I have personally bookmarked over the years that are completely and totally free. So here's my list of free art journaling courses and resources on the web.
Classes
Introduction to Art Journaling by Get Messy Art Journal
A very simple and concise class, Introduction to Art Journaling offers exactly as the name says. Once you sign up, the course materials are sent straight to your email inbox. This is a go-to class for beginners, who have no clue where to even begin.
Making Faces Workshop by Jane Davenport
Jane Davenport offers this free mixed media workshop to showcase all the different ways you can use her mixed media products from her Making Faces collection, which you can find at Michaels and Hobby Lobby. Even though the workshop is geared to those who want to get the most out of their Making Faces products, you don't need any of Jane's products to enjoy and learn loads from her. There are plenty of supplies you can substitute to follow along with Jane, learn a few skills and be inspired by her art.
Art, Heart, and Healing by Tamara Laporte (Willowing)
This is an older Tamara Laporte ecourse, but a good jumping off point to get a feel of her mixed media process and teaching style before spending money on one of her other classes. Tamara combines wellness and self care with art making, using art as a tool to heal.
Urban Journal Remix by Roben-Marie Smith
Roben-Marie offers a wide range of art journaling/mixed media classes on her site. In Urban Journal Remix, you learn how to make your very own junk journal repurposed from an old book cover and random papers.
Strathmore Workshop Series
Each year, Strathmore puts on a series of online art workshops that cover all sorts of topics from watercolor to pencil sketching to oil pastels. While these workshops aren't art journal specific, they offer a wide range of topics where you can learn how to do specific techniques or use specific mediums.
Art Journaling Prompts Series
Mindfully You by Tiffany Julia
This is my very own monthly email series, focused on being more mindful in your life and in your art. The prompts are introspective and prompt you to explore all of your senses, allowing you to interpret them and respond however you want on the page.
52 Weeks of Being Me, Journey to the Heart + Mind.Body.Soul by Words of Me Project
These are three different blog series, each series sharing a list of art journaling prompts around an overarching topic. Great place if you need a bit of inspiration in the form of prompts.
artJOURNALING daily by Traci Bautista
This is another art journaling blog series. It's a series of daily journaling prompts, with each prompt being simple tasks that you can complete in about 5-20 minutes. This is an excellent resource if you're looking for ways to art journal but can't always find the time to.
Art Journaling with Wilna Furstenberg
This is a series of art journaling videos all compiled into a Youtube playlist. I absolutely love Wilna's journaling style. Her pages are heavy on the paint and mixed media and they are so uniquely beautiful. Her style is like no other. I loved watching these video and learning a few things just by watching and listening to her as she works. I'm so grateful Wilna shared all of these videos with us. Best part is that they're entirely free!
Resources
Art Journal Everyday by Julie Fei-Fan Balzer
This is a mega art journaling resource page! There are plenty of tips and tricks on how to start and keep a daily art journal. Great if you want to start a journal but want to do your own thing without taking a class. You can get excellent insight on Julie's own process and peeks into her journals as well.
Free Art Tutorials by Amy of Mindful Art Studio
This is a great page filled with awesome resources and art journal/mixed media technique tutorials.
Art Journal 101 by Kristal Norton
This is just a quick guide on what art journaling is and how to get started.
Keeping your Visual Journal
This is just a page on why some people keep visual journals. It's a great resource if you're struggling with starting or just wondering why you should start a journal.