get messy: season of happy week four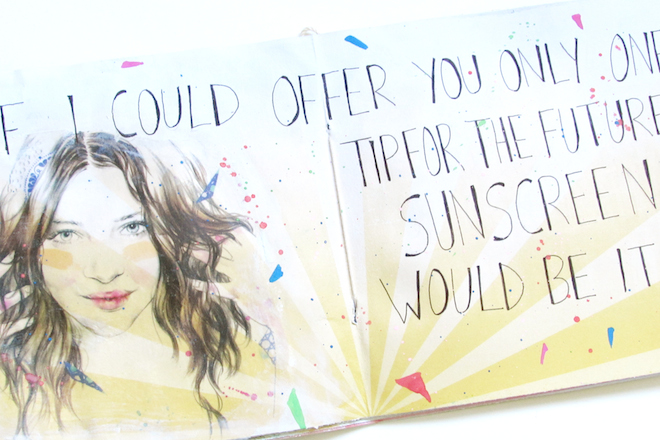 It's time for Get Messy! This week I based my two spreads that I somehow–quite magically in fact–managed to create on just one of the prompts. The one based on Baz Luhrmann's "Everybody's Free (To Wear Sunscreen)." I played around with two lyrics from the song that stood out to me.
Live in New York City once, but leave before it makes you hard.
This was the first lyric that stood out to me. I literally laughed so hard at this one because as a born and bred New Yorker, I can say in all jadedness, that yes, New York makes you hard. And as a traveler, I've noticed this every time I come back home to the city and it just bothers me to the point in which I don't want to be home. For this spread I tried to keep to a monochromatic color scheme and I used a magazine cutout of New York City with it's tall gray buildings as an image transfer over some blue watercolor.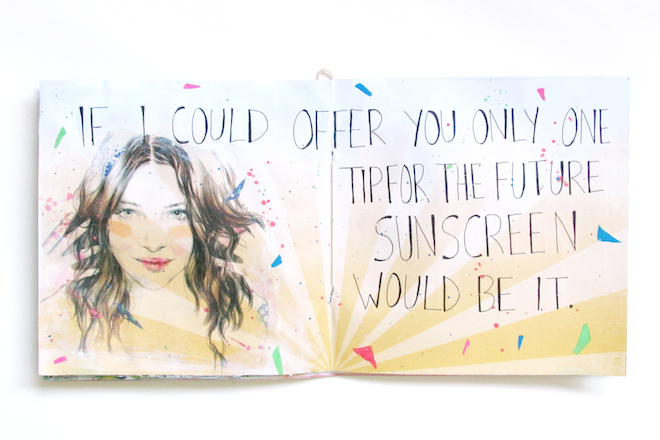 I like this second spread the most. I had this scrapbook paper there that had such a bold pattern on it, I just didn't know what to do with it. But it does look like sun rays and well, the song is about sunscreen, so I decided to use that quote and make it the center point of the spread. I included a magazine cutout transfer as well because the girl had two light paint stripes on her face that looked like sunscreen to me. Did some fancy lettering, which was fun, and added some colorful paint splatters, of course.
And if you're curious, here's the video to the Baz Luhrmann song.

And here's a flip through of my entire Season of Happy art journal.