my 2016 heidi swapp memory planner: february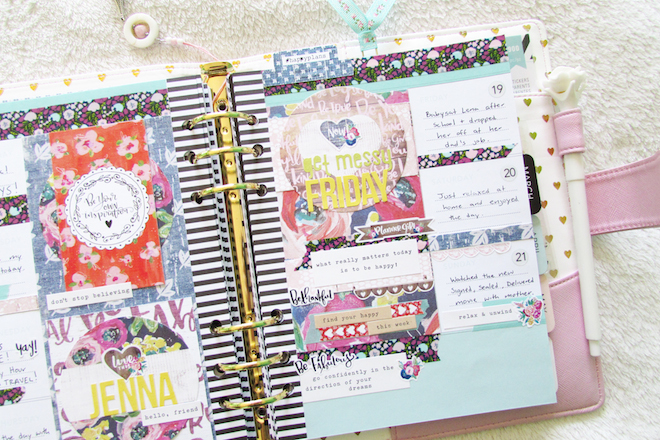 One thing I wanted to dedicate myself to this year was a new way to document my everyday for a whole year. I always did Project Life, but last year it sort of fell short and I wasn't inspired anymore with the system. It wasn't doing anything for me anymore. So this year, I decided to try out Heidi Swapp's Memory Planner. I punched my Memory Planner into my Marion Smith planner and have been having so much fun decorating and documenting one little thing each day in my planner. My intention is to post about my memory planner after each month, just to share my pages and give you a flip through of how it all came out.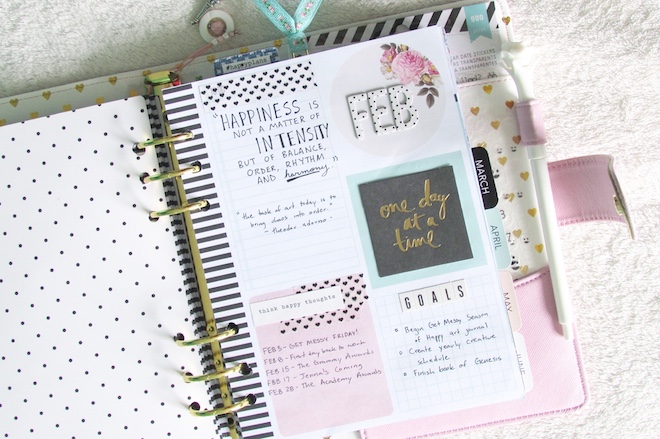 When I first started and shared my January pages with you, I didn't have a clue how I was going to use the dashboard and blank lined pages that were at the start and end of each month. But from playing around, I decided to decorate the dashboard pages with quotes, goals and important dates for each month. I use alphas to designate the month in the circle and one of Heidi Swapp's foiled cards in the list box below the circle. I love the inspiring quotes on her cards and use one for each month based on how I'm feeling and what I want to remember to be inspired by throughout the month. The box below that I just list a few goals I have for the month. The column to the left, I have random inspiring quotes jotted down for the month, and in the pink box below I list all the important dates for that month that I need to remember. For the last page of the month–the lined page–I've decided to use it to jot down what I'm grateful for at the end of each month. It's just a great way for me to reflect on my blessings and all the good things and people I have in my life. Each month is different, so I want to have these reflections to look back on at the end of the year.
These are my first week pages in February. I finally dug into my Planner Society kit stash and used papers and bits from April's kit. I went a bit artsy in terms of my decorating. I had a lot of fun cutting out all the images in the cut apart sheet of paper from the kit, and used my butterfly punch to punch out some butterflies to decorate with. This is probably my favorite page this month. The only reason I went so decorative was because I didn't have any photos for the week, so being about to use the papers in this way made the spread look interesting and pretty.
Week two's spread. I continued to use my Planner Society kits for this spread. I dug into January's kit, which I was so proud to do because I've been seriously hoarding all of my kits and they have begun to pile up. So I have a lot of material to use and felt like I needed to dig into my unused stash more. I had photos for this week, so I decorated to compliment them. I love using these kits though because everything is so cohesive in terms of color and theme that it makes it really easy for me to decorate my spread.
Week three's spread was interesting. I used October's kit, which I'll admit wasn't my favorite in terms of color. But I played around with it anyway, getting to use some of the papers, sticky notes and stickers. I do really enjoy how the spread came out, even if it isn't "me" in terms of color scheme. But this has been a very fun experiment and it's been helping develop my own style, especially with decorating this particular styled planner.
For week four's spread I used the February Planner Society Kit, which was very blue. Not much happened this week, but I did have a couple of photos to add to my spreads. And since it's a Leap Year, I documented Monday on the following page and I just have it alone, leaving the other pages blank. In hindsight, I should have just ended February on the 28th and included the 29th on March's first week spread, but I didn't and it's fine.
Below is a flip through video of my memory planner and how I currently have it set up. I show you my spread for January and February and give you a little insight on my process. I hope you enjoy it!