get messy: season of happy week one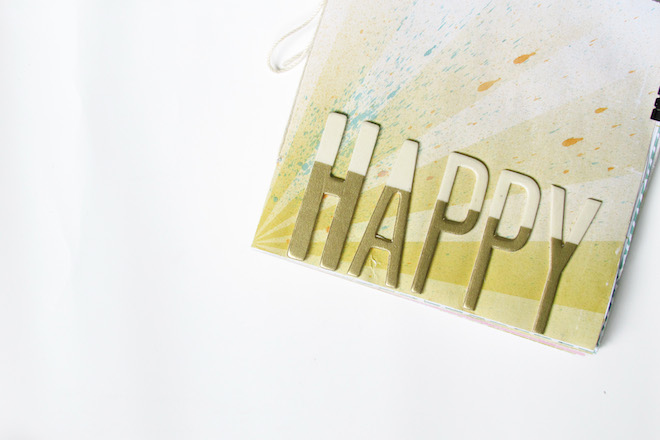 Get Messy is back and I am so happy to be back home to participate in Get Messy 3.0! The first season just started on February 1st, and it's the Season of Happy! While I'm nowhere near to being happy myself, this first weeks' prompts have been such great therapy for me. Short backstory: in the third month of my 3-month backpacking trip to Southeast Asia, I got bit by a dog in Thailand. So being the complete hypochondriac that I am, I went to the hospital knowing for certain that I was going to go through a series of Rabies shots. I don't like taking any chances with my health, so that first day, I got my bite cleaned and received my first of five Rabies shots, plus a Tetanus shot as well. The doctor put me on a mild antibiotic for seven days and my friend and I continued on our trip, scheduling hospital visits to get my subsequent Rabies shots along the way.
Honestly, while inconvenient, the shots weren't so bad. Yet, on the eight day of this entire ordeal, the first day off of the antibiotics, I broke out into hives all over my body. So another three hospital visits after that, I find out I'm allergic to Augmentin, a penicillin-based antibiotic and have to take more meds to clear up the rash. Fine. The rest of my trip went on smoothly, except for the silent fact that my anxiety was through the roof. By the time I came home, I was exhausted and so stressed out, I honestly thought I was dying. I've always suffered from anxiety, but I've always found ways to "deal" with it, even if that meant suppressing certain emotions and avoiding certain situations that I know would trigger a panic attack. But when it came to a life-threatening disease that I honestly don't even know if I was exposed too, that uncertainty just drove my fragile little mind insane! I was–and still kind of am–a hot mess, but I'm trying real hard to think positively and to de-stress by keeping myself occupied.
Enter my evenings of art journaling. I always find that I go into a trance when I art journal or scrapbook. So, it was refreshing to step away from myself for a bit while working on these pages. Don't get me wrong, I was still so stressed out, but my brain got to chill out a bit. It really helped with my headaches. So, once the prompts for this week went up on Monday, I picked out a few scrapbook papers and made myself a little 6×6 book for the season. I tried to choose bright-colored papers that were rather out of my comfort zone to match the 6×6 size that I'm just not used to using for my art journals. I tried my hardest to stick to the theme and the prompts, though as always I deviated just a little. This spread above is my response to the quote, "We depend on circumstance, but some people have more of a gift for happiness than others." I honestly believe that we create our own happiness. Happiness is completely relative and what I may consider to make me happy maybe not make everyone else happy. And that's the beauty of being human; we can pick and choose these things and create our own bubble of happiness.
These two pages, while they look fine as a spread, are really meant to be two separate pages. The first page reads "Throw joy like confetti" and it was super therapeutic to make. Honestly, while dealing with my stress, not a lot of happy thoughts were going through my head, so I just started with a bit of gesso and splattering the page with bright-colored paints, then some confetti I saved from my hole punch, then added these felt hearts from Crate Paper that I had. This one was just a no-thinking sort of page. The opposite page is super simple. I just spelled out the word "Hello" using chipboard pieces from Crate Paper.
This spread is a response to what I find to be my happy place. I think like a lot of people, I find comfort in my imagination. Reading books and creating things always seem to make me feel content and I think it's because I can escape my reality for a little bit and create a whole new one. Escapism is always such a nice vacation from life and to be honest, the worlds I make up are so much better than the one I unfortunately have to live in. I used this lovely paper from The Planner Society kits I get, along with some yellow paint and my favorite gesso. Butterflies are my absolute favorite.
These two separate pages are my responses to the color only prompt and the line drawing prompt. The scrapbook paper that I used for the color-only page already had a few colorful triangles on it, so I just added more in different sizes. The second page was interesting. I absolutely hated my line drawing so I covered it with gesso, did an image transfer of some magazine text, added a few black paint splatters and wrote a quote from the magazine clip I transferred which says "the first time in a long time somebody had really, really liked me." That line just stuck out to me when I was looking through magazine clippings and I think it's because I've alway struggled with fitting in and even though I put up a terrific front, I want people to like me, which I think is a universal desire. We all want to be well liked. It's something that makes us happy.
I totally didn't intend for these pages to be so profound, but I suppose that's what happens when you're in a rough place mentally. It's the reason why I love art journaling so damn much! I quite grateful for Get Messy and I honestly can't wait to see how the rest of my mini journal is going to come out!