get messy: season of happy week three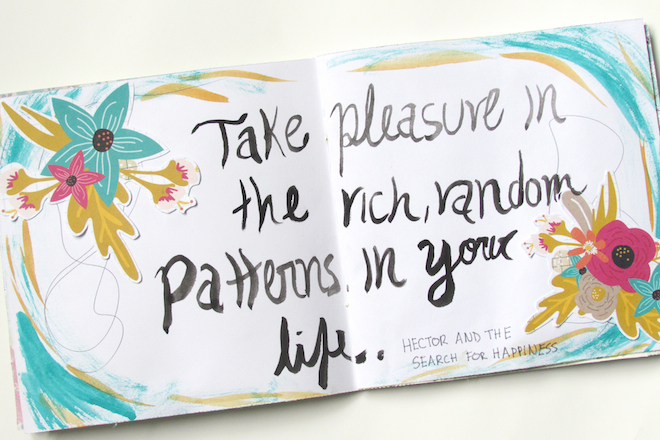 It's Get Messy Friday! Yay! I was pretty busy this week with work and my friend coming to visit from Chicago mid-week, but I surprisingly managed to produce two spreads. I wasn't even sure I'd get one done. So yay again! This week's spreads were created using bits and pieces from my Get Messy swap pack that I received last week from my fellow Get Messian, Zinia of Abstract Inspiration. I'm absolutely in love with the floral die-cut pieces she sent me. They are so bright and colorful and happy that I knew that I was going to included them somehow in my Season of Happy book.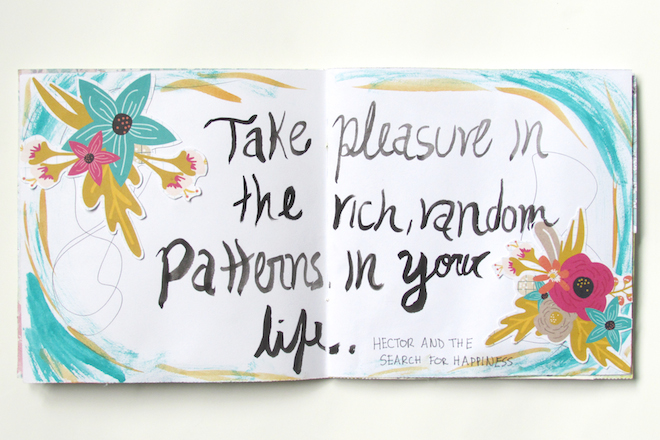 So the first spread I made I used a few of those flowers! My response to the quote "Take pleasure in the rich, random patterns in your life" is simple and sweet. I felt like I needed to practice my brush writing this week, so all of the major quoted text on both my spread were done with watercolor and a brush. I think I absolutely suck at brush script, but I suppose that is all the more reason why I should keep including it in my journals. Hopefully the more I practice it the better I'll get at it!
This second spread I ended up using some blue floral paper and a page from a book that Zinia had stamped all over. I was just messing with all the bits she sent and started gluing in a few, covering them in gesso and what not. I ended up including two image transfers over them, some more gesso and then a quote from Happiness Is A Warm Gun by The Beatles. This was totally my attempt at the graffiti/street art prompt. I definitely got messy with this one. :)