a guide to arts + crafts stores in london, england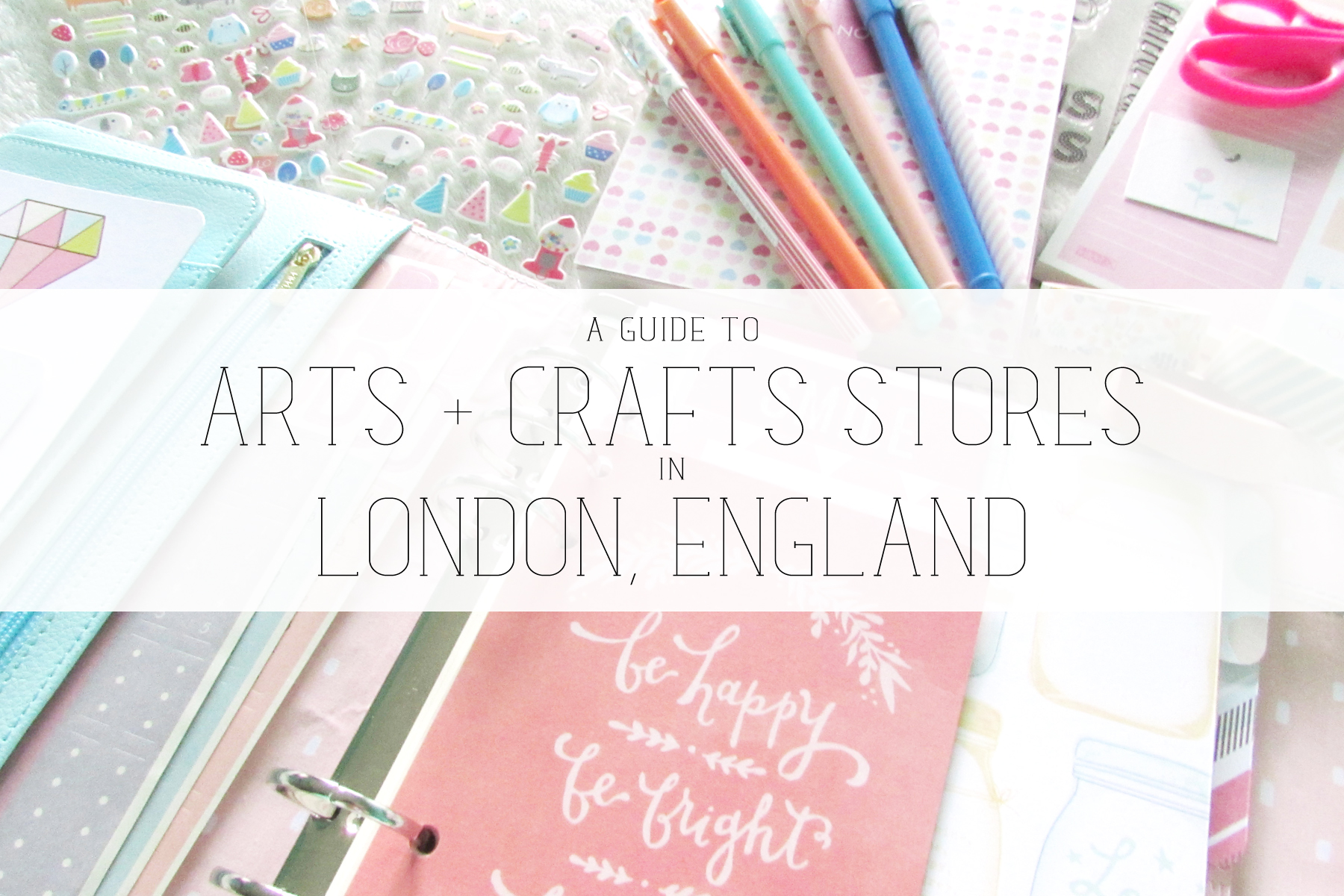 If there's one thing I love about traveling is getting to visit and shop at many amazing art, stationery and scrapbooking stores from around the world. While I haven't been as serious about visiting these type of stores on my travels in the past, I recently decided to try my best to find all the cute shops to visit in all the different places I've been to around the world. In this segment of "A Guide to Arts + Crafts Stores Around the World," I'd like to introduce you to all the lovely shops of London! I recently came back from a family trip to Europe and being back in London for the first time in five years had me itching to visit all the stationery shops I could find! So here's a list of shops in London that I know should be on top of any paper lover's "to visit" list.
London, England
ARTBOX – This little corner shop is filled with cute Japanese and Korean stationery. It's small compared to the ARTBOX shops in Asia, but perfect if you need a little dose of Kawaii. Address: 44 Shelton St, London WC2H 9HZ, UK

Blade Rubber Stamps – This cute little shop caters to all things stamping. Perfect if you're a card maker and love your stamps! Much of their inventory are rubber stamps (much like the name entails) but you can an assortment of ink pads, dabbers and the like. Address: 12 Bury Pl, London WC1A 2JL, UK

HEMA – Very trendy, Hema is a catch all store the likes of Tiger. It's like if the Target Dollar Spot were an entire store of sorts. You can find lots of things for your home, as well as snacks, socks and the like at really affordable prices. But Hema also has a really nice stationery/office supplies section that is definitely worth the visit for any stationery planner lover. Address: Victoria Place, Victoria Place Shopping Centre, 115 Buckingham Palace Rd, London SW1W 9SJ, UK

Kikki K – Australia's best stationery shop finally made its way to London. This little shop at Covent Garden is super cute and carries all the latest Kikki K ranges. There's even a pop-up shop around the corner. Address: Covent Garden, 5-6 James St, London WC2E 8BT, UK

Muji -Part clothing store and part home decor/gifts/stationery, Muji is for the minimalist. Black, white and kraft, you can find your basic stationery staples here as well as a lot of really nice pens in an assortment of colors. Address: 6-17 Tottenham Court Rd, Fitzrovia, London W1T 1BF, UK

Paperchase – Paperchase is England's premiere shop for all things stationery. You can find an assortment of basic back to school supplies, designer stationery, planners, scrapbooking and arts & craft supplies, and more. The best store to go to is their flagship on Tottenham Court Road. It's three levels of pure bliss! Address: 213-215 Tottenham Court Rd, Fitzrovia, London W1T 7PS, UK | Royal Opera House, 13 The Piazza, London WC2E 8HD, UK | 441 Strand, London WC2R 0QR, UK

Tiger – This shop is all over Europe and is a catch all of home decor, stationery, crafts and the like. You can find basic stationery goodies and craft supplies on the cheap. Everything is priced under 15 pounds, which is a steal. Address: 241-242 Tottenham Court Rd, Fitzrovia, London W1T 7QR, UK | 105-107 Oxford St, Soho, London W1D 2HQ, UK | 234A King's Rd, Chelsea, London SW3 5UA, UK
This list is still a work in progress. If you have any suggestions for new stores, definitely leave a comment below and I'll add it to the list! My goal is to gather as many shops as I can find in these city guides, so the more the merrier!