how to buy cute stationery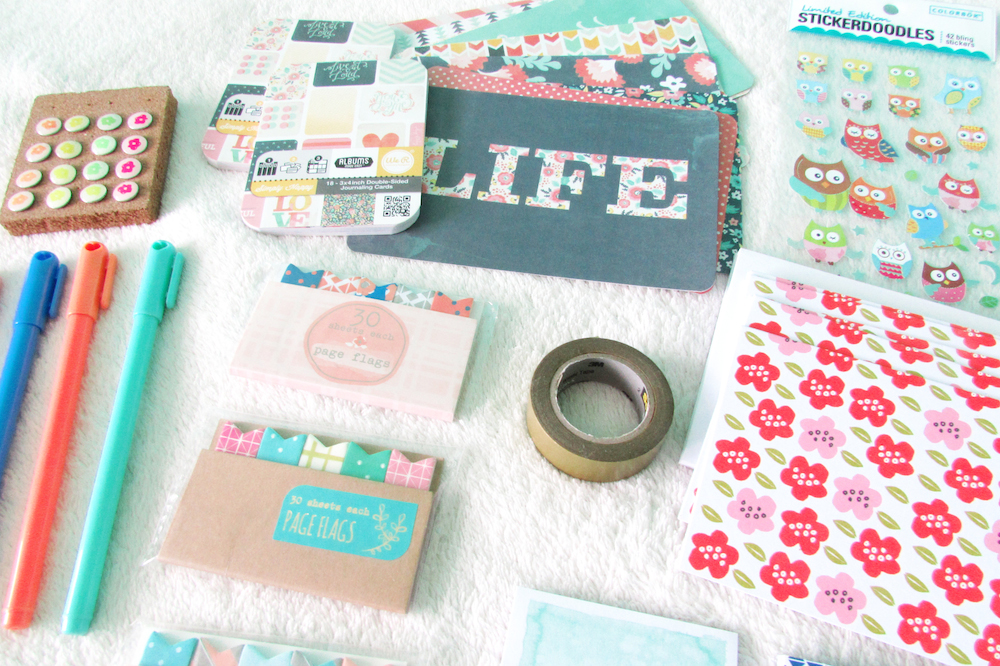 As you know, I'm utterly addicted to scrapbooking and have recently joined the likes of many who are trying to bring snail mail back. With scrapbooking and writing and exchanging paper goodies with my pen pals, it is only natural that I hoard stationery too. To be honest though, I've always had a thing for cute pens, pencils, and notebooks, so my love for stationery isn't really new, it's just evolved. But the idea of collecting stationery has evolved as well. It's no longer just pens, pencils, fine papers and cards. It's now date stamps, ink pads, sticky notes, stickers, washi tape, and Project Life cards. What we call stationery is really a whole heap of cute paper goodies you can get at scrapbooking and hobby stores too. The way I see it, my stationery addiction is just an extension of my snail mail addiction, which is an extension of my scrapbooking addiction. This might not hold true for a lot of scrapbookers, or snail mailers, or stationery enthusiasts, but really, they are all one in the same. We're all creating beautiful things with paper goods, documenting bits and pieces of our lives and sharing that beauty with others. Anyway, I just wanted to share a bit of my stationery stash. I've collected so much stuff over the last year–half of which I haven't even used yet–but they are all so lovely, I just had to share. A few items were purchased recently–this past weekend in fact–because my addiction is that great.
This is just some of the things I bought over the weekend. I am very fortunate to live in New York City, where we natives are just obscenely spoiled. Honestly, NYC houses almost everything. You can never not find something that you want; it's out there somewhere. This past weekend I took a trip down to Chinatown before meeting my friends for dinner. There's a building on Elizabeth street called Elizabeth Center where there are a few shops that sell cute Japanese and Korean gifts and stationery. Sadly, Elizabeth Center isn't what it once was. When the US economy took a dip, a lot of the shops had to close down. Literally, half of the bottom floor of the center is vacant, which saddens me because this used to be my hidden mecca of all things cute. Luckily, three of my favorite shops are still going strong and I was able to buy a few pens and sticker goodness.
If you live in the States, you are probably aware of Target and their awesome $1 $3 Spot, where you can find lots of stationery goodies for a dollar each. My local Target is hardly ever well stocked with these stationery lovelies, but I do once in a while find one or two things to add to my collection. Target also has a small scrapbooking section, which is lovely, because they sometimes have We R Memory Keepers journaling cards that I can't find at my local Michael's. They always have an assortment of cute stickers in stock and their card and envelop section is huge. Fun tip: on Mondays, Target tends to put stationery items on sale. I kid you not, all of the $1 bin stationery goodies pictured above rang up for 50 cents each when I purchased them on a Monday. I initially thought this was a mistake, but it wasn't.
Then there's the internet. Above are some of the goodies I've purchased online from Dailylike and Livework. These two brands make the cutest things ever! I love their products mostly because the color schemes tend to be very light and pastel, and my eye is just really attracted to that sort of pretty. All of my Livework goods I purchased through Ebay because the prices are way cheaper when buying items from China and South Korea. My Dailylike goods I bought directly from Dailylike by emailing their customer service to place an international order. You can easily find their products on Ebay or Etsy, but I wanted a lot of things that I couldn't find from one seller on just one site. So I took the dive and paid the pricey international shipping, but it evened out because I got each item at a discounted price instead of the retail price. I bought everything pictured in the first photo above plus some cute sewing fabrics and bias tape. I bought a lot of washi tape, stamp stickers and a tin of cards and envelopes. Those pretty floral sheets are actually fabric washi sheets that I can cut up anyway I like and stick them on my journals and papers just like washi tape. They come in rolls as well, but I liked the idea of using my shape punches to create one of a kind fabric stickers.
Much of the rest of my stash consist of washi tape, Project Life cards and various other scrapbooking goods. A lot of my washi tape and scrapbooking supplies I get from A Cherry on Top or Studio Calico kits. Project Life cards can be found at Michael's or Joann's or in any online scrapbooking store. Amazon and Ebay are also great places to find various supplies. My tip when searching for places to buy goodies from is I tend to look at all of the websites that are official sellers and see if I can find the particular item I want to buy on Ebay. For example, I like browsing MochiThings and Fallindesign all the time but never want to pay the shipping costs for one or two items. So I copy and past the item name into Ebay to see if I find the items there from sellers offering free shipping and sometimes discounted prices. Ebay is an absolute mecca when it comes to finding and purchasing items from China and South Korea. Great way to find cute things at reasonable prices.
Here are just a list of online stores I tend to pursue when looking for cute stationery that suits my taste. I tend to do a lot of online window shopping, comparing prices to see where I can get a better deal, because honestly, there is always a way to get a better deal.