my 2016 heidi swapp memory planner: august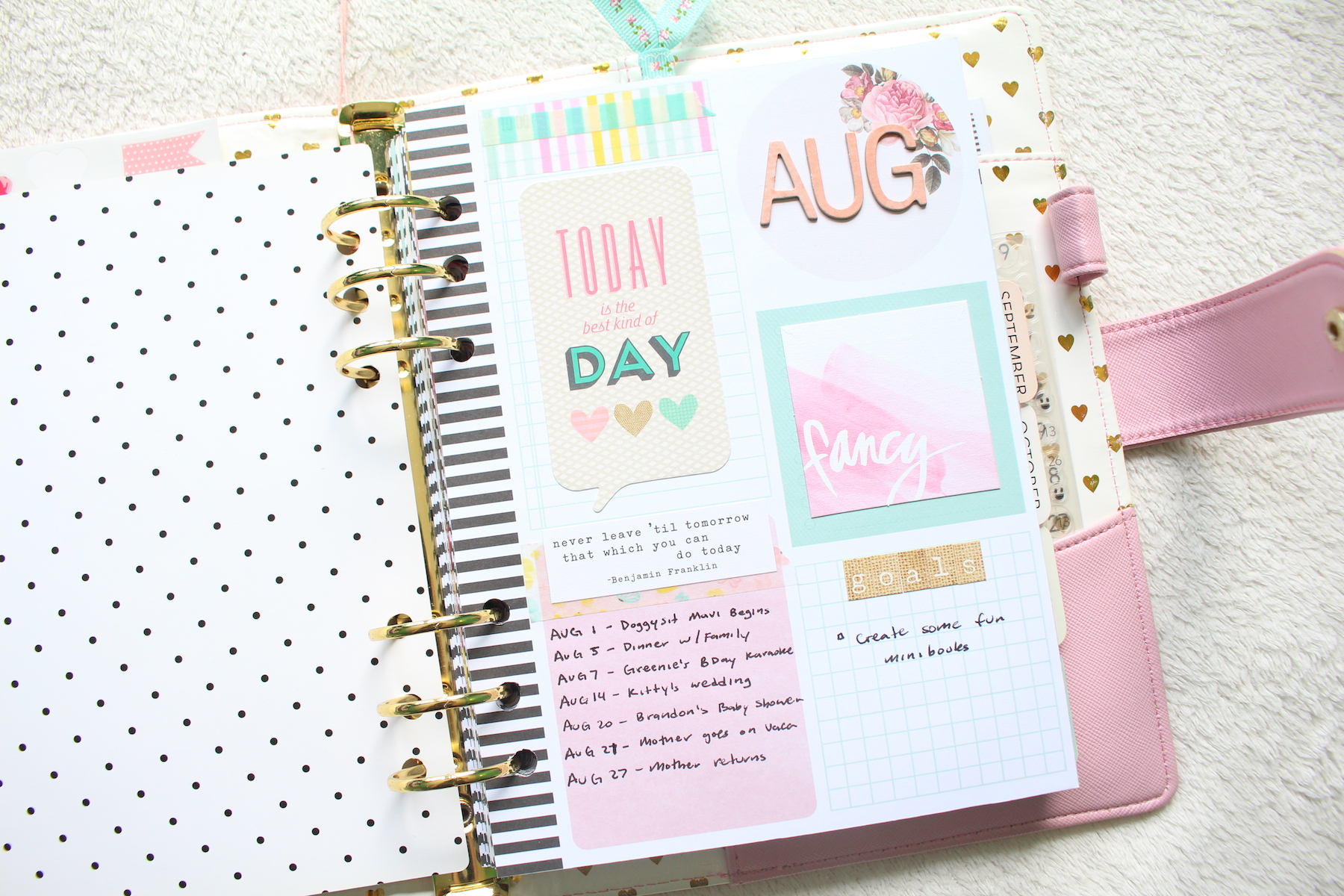 For August, I used papers from the April 2015 Planner Society Kit. I had a lot of those papers left over because I had purchased an extra pack of them months ago and I just wanted to "kill" as many Planner Society kits as I possibly could since they've been piling up. I actually just canceled my subscription because of this very reason, so September's kit will be my last kit. It was a sad truth, but I wasn't using them like I had hoped I would this year–at least not how I had use them last year–and I didn't want to keep spending money on a kit that was just going to sit around for months. I've gotten through quite a few of my past kits by using them in my memory planner each month, so I'm hoping to use up the remaining kits I have for the rest of the year.
So I used last April's kit and just some random left over embellishments from previous kits I hadn't used, along with things from my stash to fill up this month's pages. I made a conscious effort to take at least one photo of whatever I was doing, so I a sufficient amount of pictures to use in my weeks. I also collected bit of random ephemera from my days, such as my hospital wrist band from when I needed a CT scan and my visitor's badge from when I had an interview at Scholastic. Those bits I was able to include in my spreads, with photos if I had any.
For the last week of August, since the month ended on a Wednesday, I simply added in the 1st of September on that Thursday to complete the page. Then on the opposite page where Friday – Sunday would be, I covered with this really pretty pattern paper from the kit. Since I didn't have any photos left over, I just left that space blank.
Below is a little flip through of my July and August pages in my memory planner. I just realized that a bit of it on the left is a bit unfocused. My apologies! But please enjoy it nonetheless!