my medium lilac kikki k time planner set up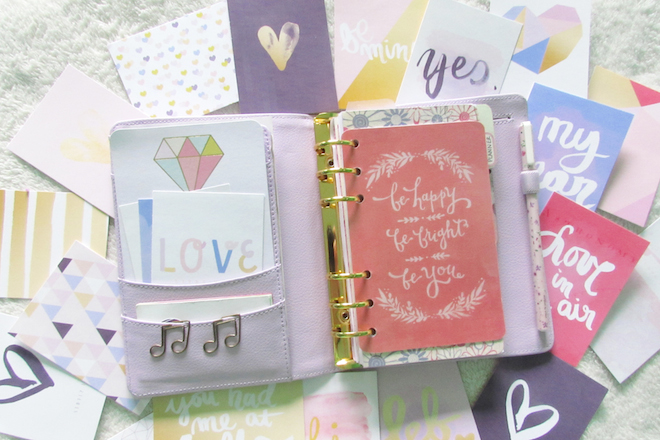 Say hello to my new lilac Kikki K planner! I've been becoming quite the planner nerd lately. I think it's because they're so pretty. But seriously, I gave the A5 size a try and I love it. I just found it hard to carry around with me. I was debating a Medium Kikki K Time Planner for a while, but didn't actually purchase one until recently when they all went 30% off. I love the color with the gold diamonds on it. I especially love that my new lilac is small and light enough to carry around with me, so I'm planning on using it as my day to day planner, whereas I'll kept my mint at home as a personal journal instead. The only thing I'll have to get used to is the paper size in my lilac. It's a bit smaller than I'm used to, but over time I thin it will work well for me, because it gives me just enough room to write down all I need to get done per day.
Now the best part about getting a new planner is setting it up. That's my favorite part! Since I was switching up the way I use my mint planner, I decided to put all of my day to day planning in my lilac. For the dashboard setup, the first thing you see is that We R Memory Keepers Project Life card that was once in my mint. I love reading that bit of inspiration every time I open up my planner, so I decided to make my lilac its new home. Same with all the sticky notes from Hema. I just switched them over to the lilac.
In the pockets you'll find another Project Life card from the Heidi Swapp Gold Foil set, along with a few other cards that I actually downloaded, printed out and trimmed myself. These lovely cards are from Oh Snap! And they happen to match the lilac and gold colors perfectly! The PDF for these cards are not free. They are $6.99 each to download but I actually got them 80% off a really long time ago, but never got around to using them for anything. They are Valentines day themed, but the matched so well with my lilac, I thought to print them out and use them! You can find the ones pictured here and here. The music note paper clips are from the Michaels dollar bin and in that small pocket I just have a few business cards.
For my dividers, I made them using paper from Basic Grey's Soleil line. I took the idea from Letters In November. She made dividers for her lilac using the same paper and I just thought it looked so great, I wanted to use them too. So, the credit for matching up those papers with the lilac and gold are all her! Seriously, definitely check out her Instagram. It's everything planners and stationery, and it's such wonderful inspiration! She also does planner reviews on her blog, which is a great help when you can't decide which planner to get.
I have five sections in my planner: monthly view, weekly view, my personal section, blog planning, and notes. The first two are self-explanatory, but my personal section is where I keep track of my work time, where I keep my shopping wish lists and such. Blog planning is just that and in my notes section, I just have filler paper at the moment. The time planners come with quite a few sections, but I'm only using the monthly and weekly inserts, along with the To Do pages. I don't really have much use for the addresses, birthdays, shops, and expenses pages just yet, so I took those out.
For my blog planning section, I'm using inserts by StudioL2e. If you're interest in those, Kanani has them on her old blog as free printable a in A5 and personal size. In my notes section, I have a little envelope from Hema that for right now I use to hold postage stamps, just so I have them on hand when I send things to pen pals and such. I embellished it with little Hema die cuts one of my pen pals sent me.
My planner setup is pretty simple for right now. I have the whole 2015 calendar in my planner only because I don't have much else in any of the other sections yet.
Here's a little flip through video of my planner! Note that all those journaling cards around it are the ones I printed and trimmed from Oh Snap! Aren't they just a perfect fit for the lilac?
Anyway, that's my Medium Lilac Kikki K Time Planner!