photo diary: athens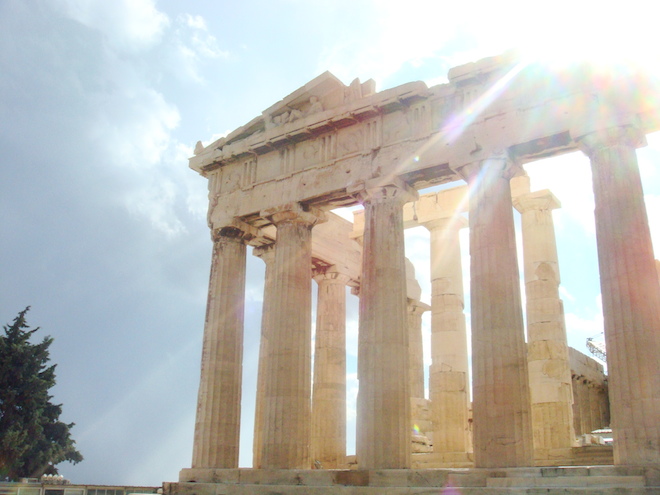 I loved and hated Athens. I know that sounds a little extreme, but it's true. The moment I got out of the metro station onto Monastiraki Square and walked the few paces to my hostel, I was a bit disgusted by all the random tag graffiti all over the city's building walls. I suppose it was a sign of the times, but it was very off putting at first. That coupled with the fact that I knew absolutely nothing about how to get around the city, it made me think down on the city. And to be quite frank, I still think Athens is pretty shitty, but there are bits of it that I really loved and it's amazing how contrasting it is.
My favorite bit about Athens was walking the Acropolis. I believe I stumbled upon just one park by the Temple of Zeus, but other than that, Athens isn't one for parks. I found that the Acropolis was Athen's public park, except you have to pay 12 Euros (or 6 if you showed a student ID like me) to get in. But each part of the Acropolis is a little solace from the cluttered city. I found that I spent up to two hours at each the Ancient Agora, the Parthenon and the Keramikos. They're the larger sites of course, but even at the Temple of Zeus and the Theatre of Dionysus, where there isn't much to see, I found that I stay for about an hour or so.
Thing about walking the Acropolis is that it's so peaceful. Especially since I went by myself, I didn't have to talk to anyone and I could basically do whatever and stay however long I wanted. I would walk around for a bit then find someplace in the shade to sit down and rest. It was very relaxing being away from all the noise and amongst all of these rocks. I found myself imagining how the city looked in ancient times. And that's the fun about visiting these ruins–or any ruin–it's being able to let yourself imagine how life there once was. I don't know, I may sound like a complete looney, but that was my favorite part and what I love most about Athens.