photo diary: barcelona, spain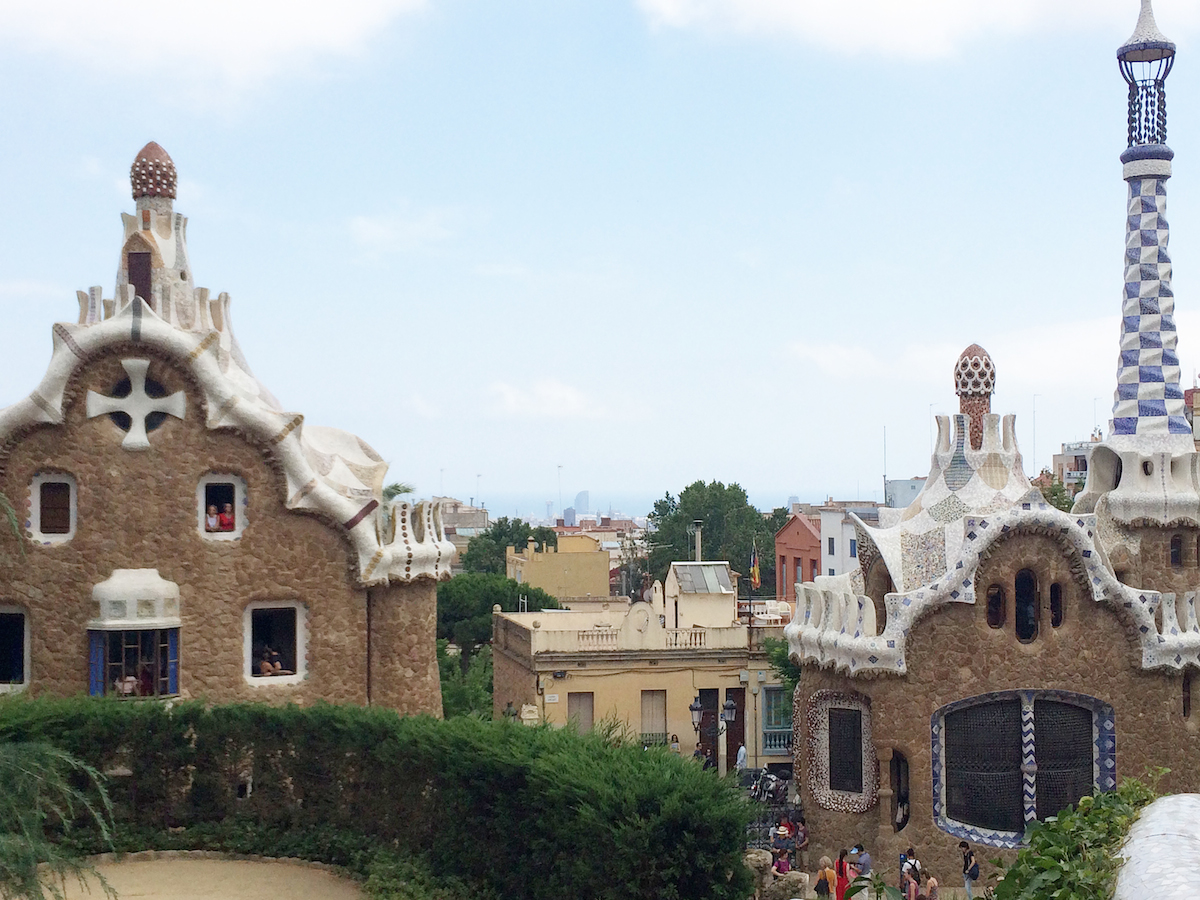 Barcelona has to be my most favorite city in the entire world. I don't know what it is about this city; I just love it. Barcelona is like a cosmopolitan city, beach town and walking museum of art all in one. It's the best of all the worlds. The only thing I think it needs to improve on is food (I'm not a huge fan of Spanish–as in from Spain–food). This was my first time though being in Barcelona alone and it was definitely different than my first experience. Traveling alone has its perks but it could also be quite lonely and for me, Barcelona by myself was quite lonely and I only think that was because my first time there, I was with an amazing bunch of people that made the entire experience exciting. But this experience was not bad at all–except when I got sick with a cold, then it was just ugh–and I think that had partly to do with the hostel I stayed at. I stayed at Fabrizzio's Petit Palace–Fabrizzio being the stuffed hand-puppet alligator that chills out in the lobby area of the place–and it was wonderful. The staff was excellent. They made everyone feel at home and were just super cool people to chill with. There was 24 hour breakfast and each night had a hostel group activity that you could participate in. The free dinner nights were by far the best, even if it was tapas and paella. Just an excellent place that I'll most likely stay at again the next time I'm in Barcelona.
On my first day, I just walked around the entire city. Literally, the hostel is just a few blocks away from Passeig de Gracia and Carrer de Arago, so I walked to Casa Batllo then down Passeig de Gracia towards Cataluyna Square and Las Ramblas. I walked through Bari Gothic all the way to Ciutadella Park and the Arc de Triomf. It was a nice lengthy walk, but I was able to reacquaint myself with the city that I hadn't visited since 2012. That evening I attended my first of many hostel tapas night and met a few of my fellow hostel mates.
The following day I did Casa Batllo. It was one of Gaudi's works that I hadn't visited the first time I was in Barcelona. I passed it by, sure, but I didn't pay to go inside, only because it's the most expensive out of all the attractions. But I figured since I didn't do it before, might as well spend the 19.50 Euros (that's the student price with a valid ISIC) and enjoy myself. I love all of Gaudi's work and if I'm completely honest, I kind of wanted to kick everyone else out of that house and claim it for my own. If I were rich, I'd totally try to buy it from the family that owns it and live in it. If only that were possible.
Walking into Casa Batllo is like stepping into an underwater hobbit hole in the belly of a scaly dragon. The entire structure from the outside looks like the hide of a dragon. Even the roof mimics a dragon's scaly tail. Yet the inside of the house is very whimsical with all of the curved lines and Dr. Seuss-like structure to the doors, windows and staircases. It looks like a home for a small person in that way, very playful and alive. The house from the inside looks alive because of the curvatures, which create movement. My favorite bit was the ceiling in one of the rooms that swirled into the light fixture. Then the main staircase at the center of the house is tiled in different shades of blue. There are curved reflective panels all along the sides that act as windows and when you look through then at the tiled walls, it looks as if you're under water. The entire house is a marvel.
After my visit, I took a long walk to Barcelona Sants train station to reserve my ticket to Madrid in advanced. Once I got that done, I then walked to the National Museum of Catalonian Art near Montjuc park, just to take some photos of where the Cheetah Girls strutted like they meant it (also because it was just something to do in the area). I ended up taking the metro back because it got too hot to walk.
The following day I got up really early to purchase my tickets for Park Guell for that same day. I had been debating actually visiting it again, especially now that there's an entrance fee for the "Monumental Zone" of the park, where all of Gaudi's really neat architecture is located. It's an 8 Euro fee when you buy at the park, and a 7 Euro fee if you buy and print out your ticket at home. The thing is, your ticket is timed. You are allotted a certain time slot to enter the "Monumental Zone" and if you wait to purchase your ticket on the day of at the park, you are often left with time slots in the evening. So I debated it for a bit, then around 10am, I decided just to buy the ticket online and I got a time slot for 1:30pm. So I printed my ticket out at the hostel, had some breakfast and headed out around 11am, to take the 24 bus up to the park. Last time I took the metro then had to walk uphill for what seemed like forever, but this time I was smart. Hopping onto the 24 bus to Carmel at the Passeig de Gracia stop leaves you right in front of one of the entrances to Park Guell, no uphill climbing at all. The bus to return to Passeig de Gracia is also outside that entrance.
So I arrived at the park around noon and wander about all the sections of the park that were free for about an hour. At some point, I sat down to eat my sandwich and some snacks I brought with me before I made my way to the"Monumental Zone" at 1:30pm. Once inside, I could stay as long as I liked, so I took advantaged of that fact and stood until I was ready to head back to the hostel. While it now costs to get into this part of the park when before it used to be free, it was nice not to have so many people causing all sorts of congestion just to get a photo with the mosaic lizard. They regulate how many people enter the site at a time, so I found that there were less people in that part of the park from the first time I visited in 2012. And I liked it like that. I was able to take certain photos with little to no people in them and I didn't feel so claustrophobic while walking around. I actually had room to breathe, which is why I think I spent so long there before it became too hot outside to even be outside anymore.
The rest of my days were spent lounging around the hostel–since I was sick for two of those days–and taking a walk to beach on my last day when I felt a little better. I also did a bit of shopping and walking about Bari Gothic peaking to shop windows and such. I rather enjoyed my alone time in Barcelona. It was definitely a nice change from Italy, especially since I was getting bored with it towards the end. I can't wait until I visit Barcelona again. It truly is my favorite.