photo diary: chiang mai, thailand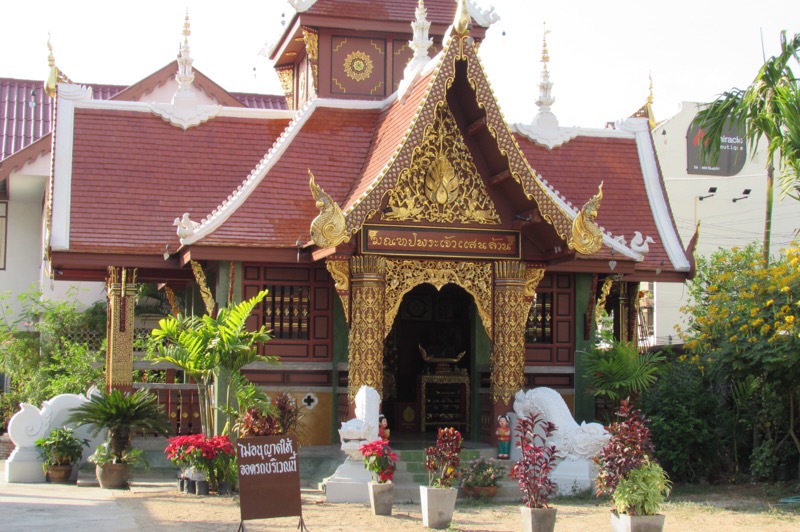 Chiang Mai was a nice break from Bangkok. We went up on an overnight train for a weekend before heading to Hong Kong, and while I wasn't feeling too well (I had an allergic reaction to something, I don't actually know what it was, but that's another story entirely) I still managed to enjoy my time there. Chiang Mai is very small. We were able to walk from the train station to our accommodation near the city center and it only took 30 minutes. The "old city" as they call the city center is encased within the ruins of the old city walls and a moat that surrounds the city in a square. All of the main temples we ended up visiting are located within the old city. We stayed at Top Garden Guesthouse, just a block or so from the old city wall and it was great. The owners Victor and Thunya were super sweet and accommodating and I'll definitely stay there again if I were to ever return to Chiang Mai.
We began our first full day with a delicious breakfast at The Cat House, which was located right across the road from our guesthouse. The food at The Cat House is amazing! Seriously, you can not go wrong with anything on the fairly small menu. Everything is delicious. We ended up having all our breakfasts there, as well as our final meal in Chiang Mai before we caught our overnight back to Bangkok. But for this breakfast I enjoyed a wonderful plate of French Toast made with their homemade bread topped with bananas and drizzled with honey. So good.
After breakfast we began our walk around the old city. Our goal was to try and visit as many temples as possible since there were so many. The temples that we managed to visit (that I know the names of) were Wat Lam Chang, Wat Chiang Mai, Wat Dab Phai, Wat Phrasingh, Wat Phantao, Wat Chedi Luang and Wat Dokkham. Unfortunately, I don't recall which Wat was what, so this post will be brief and you can admire all the photos below. We just did a lot of walking and sightseeing before heading back towards our guesthouse to a small restaurant nearby that had 39 Baht Pad Thai. Along the way, we did get to walk down Rachadamnoen Road and check out a few of the more touristy shops. But after our late lunch, we decided to head back to our room and rest up before heading back to Rachadamnoen Road for the Sunday Night Market.
The Night Market was very crowded. I say if you ever find yourself with the opportunity to visit a night market in Chiang Mai, try to get there early, even though it's best to experience it when it's in full swing at night. But if crowds aren't your thing, best to go early. It was still really cool though. This particular market catered to handcrafted, handmade goods. I was able to find a few nice gifts here. We didn't stay long. After awhile all of the stalls seemed to be selling the same things and after trying some street food and grabbing some fruit shakes, we took a different side road back to our guesthouse.