photo diary: ayutthaya, thailand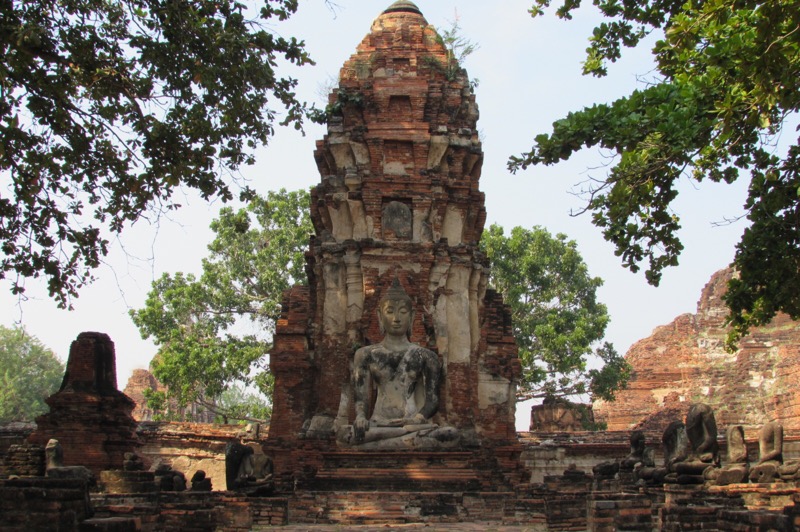 While staying in Bangkok, we decided to do a day trip to the city of Ayutthaya and visit all of the ancient temples there. We contemplated doing the trip on our own, but instead booked a small group tour from our hostel for a full day tour of the temples of Ayutthaya with an English-speaking guide, lunch included for 800 Baht each. The tour was great. We had to get up super early as the minibus came for us at 6:30am and after picking up the other passengers off we went, one hours drive to Ayutthaya. We had a quite sassy lovely lady as our tour guide, who was great. She took us to the temples and before giving us 30 minutes to sometimes an hour to explore the sites on our own, she gathered us around and gave us some really long details about each place. There was A LOT of information and while I don't recall much of it or what each temple was called, I vaguely remember the order of things and I'll try my best to recap that below.
The first temple site we visited was Phra Chedi Chaimongkon, or what I like to call The Temple Surrounded by Buddhas. It's a huge bell-shaped temple sitting in a square-shaped courtyard that is lined with sitting white-stone Buddhas. There is a giant Buddha sitting at the entrance and if you climb all the way to the top and walk into the bell, there is a dark room with a deep well in the center, with small gold fleck-covered Buddhas around it. In the same complex, there's another smaller temple where people actually do all their praying and leave their offerings in front of a smaller gold Buddha. Next to that temple is another massive Reclining Buddha statute. It's not as big as the one in Wat Pho in Bangkok, but it's a pretty huge Buddha.
Our next stop was Wat Maha That and it was probably my favorite out of the bunch and not because of the really famous Buddha head in the tree–though it is a magnificent sight to see–but because most of the temple ruins are being covered by nature. The tall trees loom over the ruins and their thick roots are overgrown, making the entire place look like jungle temples straight from Tomb Raider or Indy and it's super cool! I loved walking around in the shadows of the trees, weaving myself in and out and around all the ruins. There are a lot of Buddha statues with missing heads in this complex and our guide told us it's because when the ancient king built the temples, the heads of the Buddhas was were he stowed valuable riches, gold and jewelry. There was a time when some great catastrophe happened–i don't quite remember what–and vandals stole all of the Buddha heads for the riches inside. Except they forgot one head, left abandoned away from its body, which over time a great tree took hold of it with its roots and sprouted around it, creating the Buddha head in the tree we see today. It's really amazing. Some Thais call it a miracle of Buddha. The head just looks so natural, like it grew there in the tree and was meant to be there. It's kind of the best story we heard during this entire tour about Ayutthaya.
We briefly made a stop at Phra Buddha Sai Yat, another one of those reclining Buddhas. This one is said to be the fourth largest reclining Buddha in Thailand. We didn't stay very long here before going to Wat Phu Khao Thong, a solitary temple that consisted of 79 steps to get to the top. Once you get all the way up to the top you can see everything around the temple and at the very center of the temple there is a small room with mirrored-tiles on the walls surrounding a small alter for worship inside.
We stopped for a buffet-styled lunch and after that, we visited Phra Mongkham Bophit, our last temple of the day. It consisted of three main temples, each being tombs of the ancient king and his two brothers. Around those temple, there are smaller ones in ruins which are said to be for the king's wife and her maidens. Next to these ruins is the active temple, a huge white temple, which houses another giant gold Buddha.
We got the chance to explore some old traditional wooden Thai houses on stilts before heading back to the minibus to transfer us back to Bangkok. I very much enjoyed our trip to Ayutthaya. It was absolutely exhausting and while we were a bit templed-out, there was still much of it I enjoyed, particularly Wat Maha That, for its stunning scenery and mystical backstory. This trip was definitely worth every Baht.