photo diary: paris, france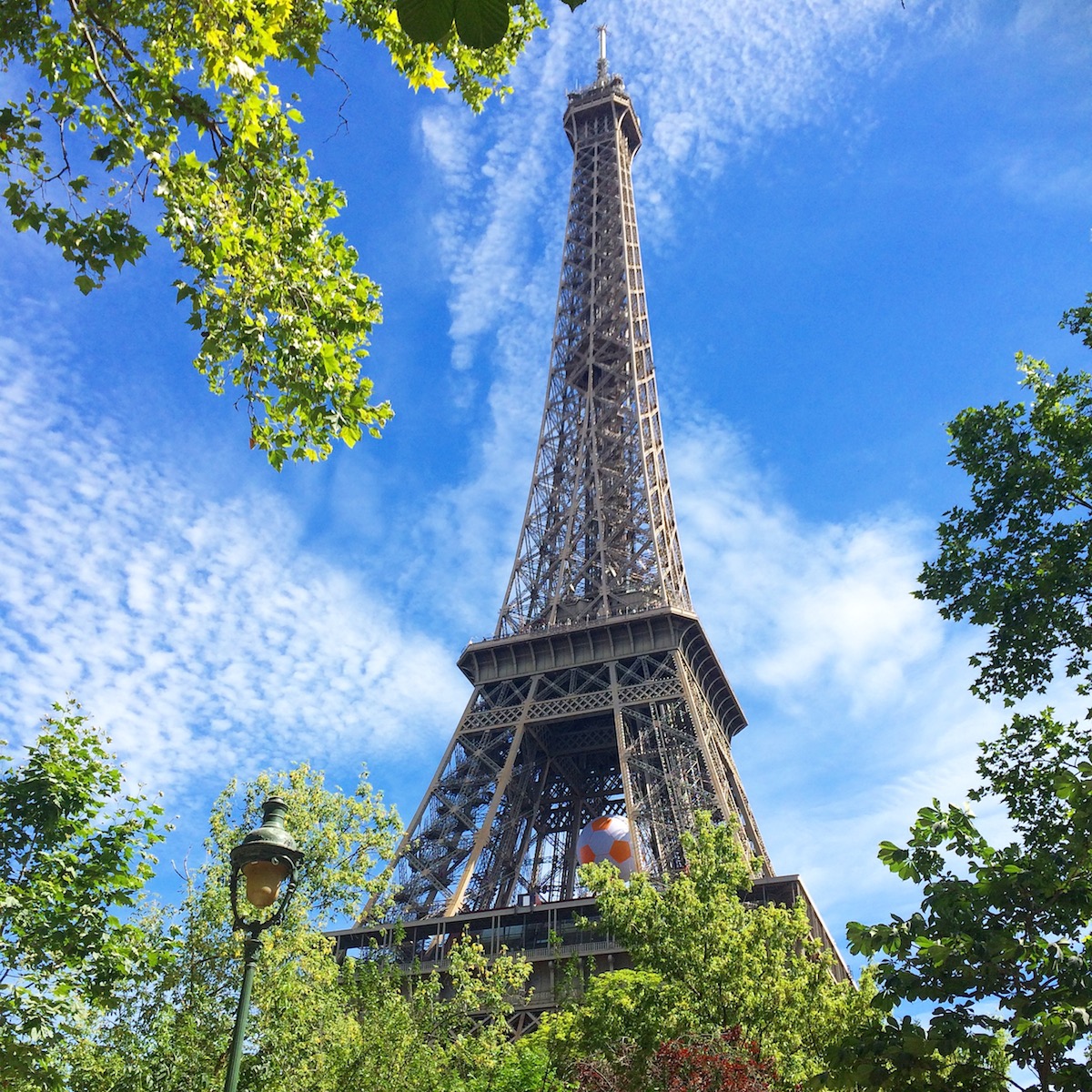 The last stop on my trip was Paris, France. This was my second visit to this lovely city and I think I may have fallen in love with it. My first visit to Paris didn't end up all too well. I visited in late September 2012 and I was sick with a cold for the entire thing. I had flown from warm Barcelona to cold Paris and that drastic change in temperature just made me ill. So I didn't enjoy my first visit as much as I had hoped. But this second visit was much better. It was surprisingly very nice and warm outside the entire time I was there and I had just gotten over a cold I got in Barcelona, so I was fine when I arrived. I ended up in a six bed dorm with three awesome ladies–two from Canada and one from Australia–who I believe made my time in Paris that much better. That first evening I met them, they invited me along to dinner, where we got to know each other. Even though they were all in Paris for a bit, we were all staying for the same amount of time.
The following day we all took a walk to Les Puces, the giant flea market in Clignancourt. I'd been there before on my first trip to Paris, but the previous night we were all talking about thrifting and flew markets and I may have mentioned Les Puces and how I wanted to visit it again. My roommates were very into the idea and suggested we all go together the next day. So that morning after breakfast at the hostel, we walked to the markets and spent much of the morning there. We spent quite a bit of our time in the books and records section of the market, sifting through bins and bins of vintage postcards. I ended up buying three postcards of Paris. One with the Eiffel Tower, on of Notre Dame and the other of the Arc de Triomphe. At some point in the early afternoon, two of my roomies and I decided to head back to Montmartre to get some food before heading back to our hostel. We had crepes and gelato at Sacre Coeur, and when we got back to the hostel, my roomies took a nap and I took a long walk to Hema. I rather enjoyed this walk because it took me through a few Parisian neighborhoods I wouldn't have passed through otherwise. It was a lovely walk from the hostel.
That evening, after my roomies and I had a small dinner in Abbesses, we took the metro to Notre Dame because they wanted to visit a chapel nearby. We arrived a bit too late, so we ended up walking around and watching all of the street performers that were in the square of the cathedral. Afterwards we walked down Rue de la Huchette in the Latin Quarter in search of gelato. The only place we found had a very long line, but since it was the only place, we resigned and waited. We took our gelato and walked around some more before getting back onto the metro towards the hostel.
The following day, one of my roommates and I decided to head to the Arc de Triomphe. I was planning on walking along the Seine River to hit up all the major sites and she just needed to visit the Arc and do the climb up the Eiffel Tower, so we took the train to the Arc to visit that first. We ended up staying in that area for a bit to take our photos. At one point, we wanted to cross the street to get to the island the Arc is on, but since there is no crosswalk to get there, we had to run across the road whenever traffic was slow. We ended up crossing the road with a lovely couple from Mexico, who just grabbed our hands while we were trying to cross ourselves. We ended up crossing back with them once we were done because–as the wife put it–strength in numbers!
From the Arc, we then walked down the Avenue des Champs-Élysées to get to where the Eiffel Tower is. It was a bit of a walk, but it's doable. Plus, we discovered that the avenue has free wifi, which is something neither of us would have even thought it had. It was nice because we were able to Instagram our Arc de Triomphe photos while we walked to the Tour. When we finally made it to the Eiffel Tour, it was really crowded. Since it was the night of the EuroCup final, the entire park leading up to the Tour was fenced off. They had set up a jumbo screen to broadcast the game that night, so the entire place was on lock down. This made it difficult to move around and take photos as everyone was then confined to the square where the Tour stood. I left my roommate on one of the two long lines to get tickets to the Tour and walked around towards the Seine, taking photos along the way trying to find the best angle.
I then began my long walk along the Seine from the Eiffel Tour to the Louvre Museum. It was a nice walk. I'm glad we left the hostel early so that most of my walk was in decent weather before it got really hot. I made it to the park in front of the Louvre just as it was getting really hot and stopped off to get a sorbet slushie at the gelato stand. I walked around the park for a bit but it was too hot to actually sit down on one of the green chairs there as none of them were in the shade. So I walked towards the museum, passing through the archway to where the glass pyramids were. I took a few photos then found a spot in the square that was in the shade and sat down on one of the stone benches along the building to catch up on a bit of journaling.
I was there for a while before I decided to head back to the hostel. That evening at the hostel, my roommates and I made a pasta and salad dinner and ate together before they went off to watch the game at the Eiffel Tower. I decided to stay around Montmartre because I don't like crowds or football and it just seemed like the safer option. I eventually went to get some gelato and sat at Sacre Coeur to watch the sunset.
By Monday, my last full day in Paris, the two Canadian roommates had checked out. I spent the last day at Luxembourg Gardens, which I don't think I ever got the chance to visit on my first trip to Paris. I went by myself as I didn't know where my Aussie roommate went off too after breakfast. It was much cooler today than it had been the previous days, so after I walked around the park taking photos, I sat down on one of the reclining green lawn chairs that were scattered about the park, positioned myself in front of the fountain where all the little kids were sailing boats and caught up with my journaling. I was there for a few hours before I started to get hungry, so I left and tried to make my way to the Latin Quarter, but I had no idea where I was going. I ended up just following Google Maps towards the nearest metro station, which took me pass the Pantheon. At that point I remembered where I was because I'd visited that area before with my friend John on our first trip.
I eventually made it back to the Latin Quarter and ended up getting a crepe. I walked around while I ate it, wandering into some random bookstore. When I was done with it, I decided to go searching for the original Shakespeare and Company bookstore that was in the area. I hadn't visited that store on my first trip, so I was quite excited with I found it. So I spent about an hour or so in that small, quaint little bookshop. It's actually really lovely. It's super small with only two stories, but the entire place is lined with floor to ceiling books. On the second floor there are little nooks where you can sit on cushions and read or write. There's a piano room where you're allowed to play the piano and a reading room that had a window with the perfect view of Notre Dame. I absolutely loved this little bookshop and could just imagine it on a slow day when it wasn't filled with tourists like myself. It's definitely a bookworm's dream bookshop.
After being at Shakespeare and Company long enough, I went back to Notre Dame to take some more photos before hopping on the metro back to the hostel. At the hostel, I started to get my bag ready for the following day when I had to get up real early to catch my flight back home. I met up with my Aussie roommate in our room and we decided to make a chicken and salad dinner for the night instead of eating out. Yet, after dinner we went out for gelato anyway and ate it at Sacre Coeur and it was a nice way to end my stay in Paris and my entire trip to Europe.