my 2016 heidi swapp memory planner: may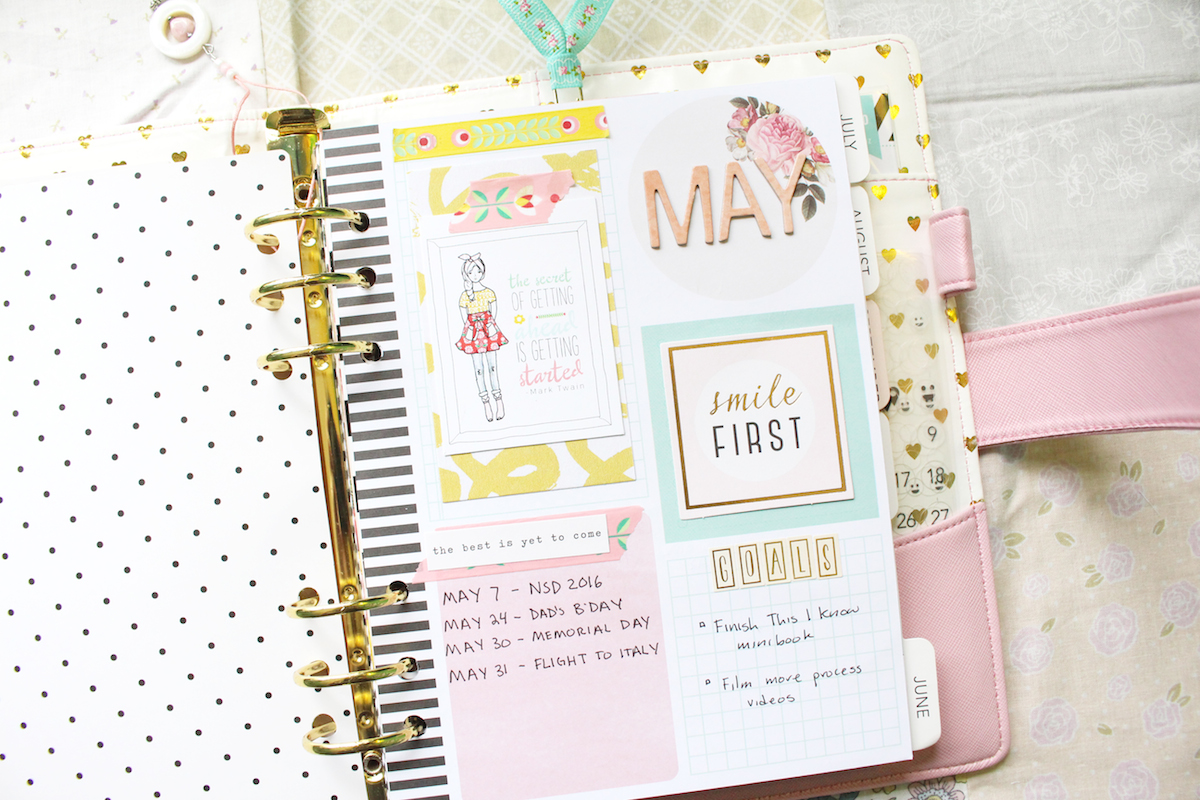 I am finally back home from my trip to Europe and I have a lot of catching up to do! I a few creative projects to begin, finish and catch up on, one of them being my 2016 memory planner. I actually completed May's pages before I left on my trip, but didn't take photos of them as I didn't have the time to afterwards (I left on the 31st after all). So here are May's pages in my memory planner. I left my monthly dashboard pretty simple. I used a little quote card that came with the kit for my monthly quote, as it was too cute not to use. Plus it was the perfect size to fit in that box. I just backed it with a piece from one of the papers, just to give it a nice little frame.
For this month I decided to use my March 2015 The Planner Society kit. This was one of my least favorite kits and I was too keen on the designs nor the colors, but working with them on these pages I actually feel in love with the entire kit! I love how everything just comes together and it all looks really lovely! May was a pretty slow month for me, so not a whole lot happened to document. That's why you see a few pages with just the quote cards that came in the kit. It's just an easy filler and at least they get used up for something and not left sitting in my stash.
The third week of May however, I got to meet the lovely Heidi Swapp at Paper Source here in New York City. She was in town for the National Stationery Show and did two demonstrations with her Minc foil machine at two different Paper Source locations. I was fortunate enough to head to the evening demonstration after work just to see her. She is such a lovely, sweet, joyous woman you see in all of those YouTube videos! She foiled a card for all of us ladies who came out to see her–which wasn't many of us–and she was even kind enough to sign them and take some photos with us. Basically the highlight of my week. So, to include the card in my planner, I trimmed it down to size and took a 6×8 page protector–which I had to also trim down–so that the card fit in it, covered the edge with a bit of the washi tape from the kit and punched it to fit into my planner. On the backside, which was just plain white, I collaged with one of the quote cards and a Planner Society girl diecut, just so that it wasn't so plain looking on that side.
My last week in May was a bit busier than the rest of the month. There's a lot going on in this week's spread, but I think it's cause I was rushing to finish off the month before I flew out to Europe. I didn't get to do my May gratitude page, which is a shame, and honestly, I'm probably going to leave it blank since I missed out on writing it at the end of the month. But now that I'm back from my trip, I need to do some catching up and work on June and July's pages in my memory planner. So stay tuned for those soon!