a guide to arts + crafts stores in new york city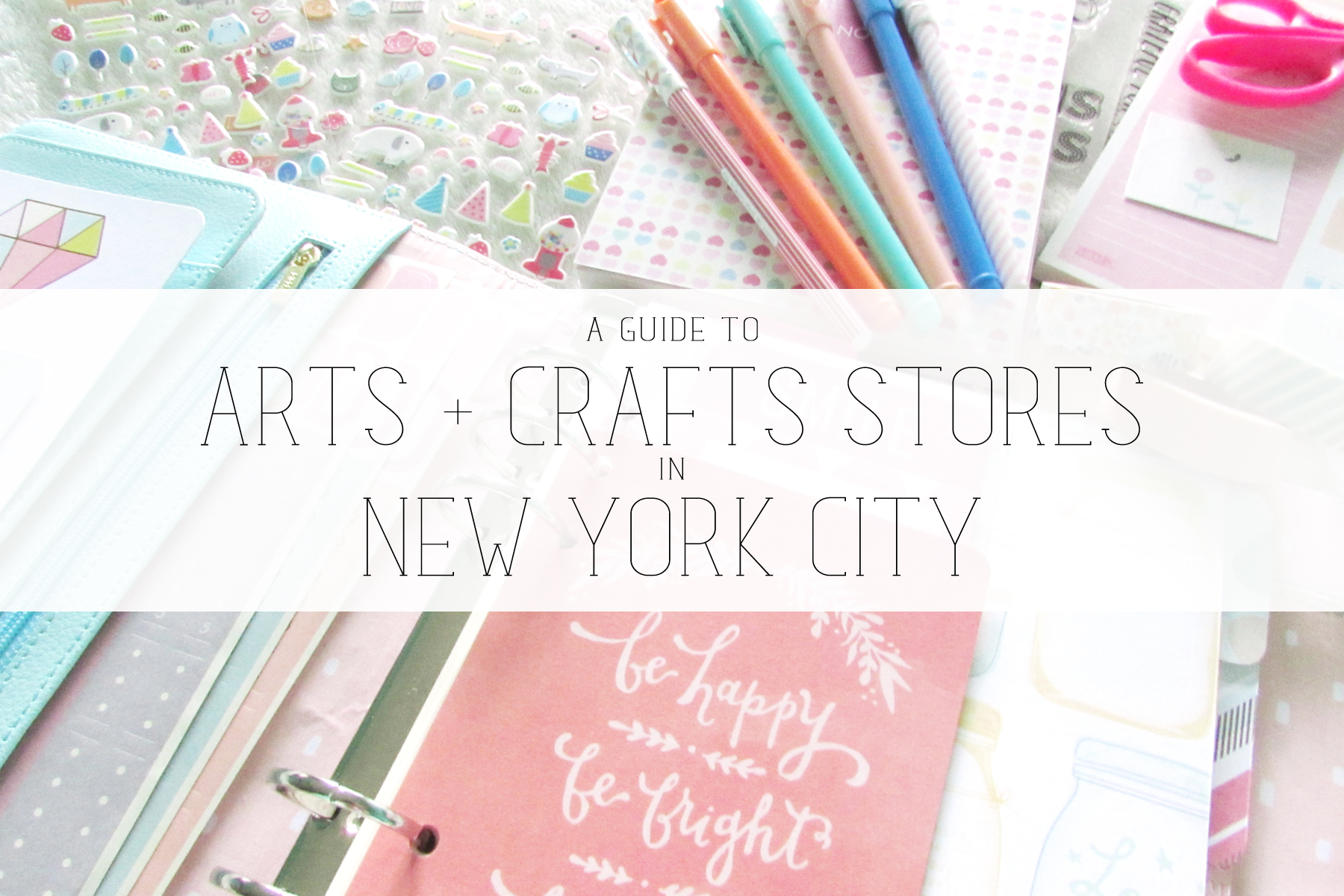 If there's one thing I love about traveling is getting to visit and shop at many amazing art, stationery and scrapbooking stores from around the world. While I haven't been as serious about visiting these type of stores on my travels in the past, I recently decided to try my best to find all the cute shops to visit in all the different places I've been to around the world. The first city I'd like to feature in this new blog series I'm calling "A Guide to Arts + Crafts Stores Around the World" is my very own hometown, New York City. While the Big Apple, admittedly, does not have any specific scrapbooking stores of its own, it does have a few shops where you can get lost in a sea of paper and pretty things. Here's a list of shops in my city that I know should be on top of any paper lover's "to visit" list.
New York City
Artist & Craftsman Supply – Another art supply store, Artist & Craftsman carries everything. With locations in Harlem and Brooklyn, this store is a great place to find virtually any art supply you need. Look out for their $1-3 bins of paintbrushes; you can find some really good brushes there for a bargain. Harlem Address: 2108 Adam Clayton Powell Jr Blvd, New York, NY 10027
Blick – Primarily an art supply store, Blick has started to carry lots of stationery/gift type things. Their flagship store on Bond Street is the biggest store, where you'd most likely be able to find a great selection of supplies. You can literally spend hours in this shop as it has everything art under the sun. Flagship Address: 1-5 Bond St, New York, NY 10012
DaVinci Artist Supply – DaVinci rounds out the art supply stores in Manhattan. This tiny store is located just right across the street from SVA, aka The School of Visual Arts.  Address: 132 W 21st St, New York, NY 10011
Flying Tiger – Basically the USA Tiger-counterpart. I don't know why they added the word "Flying" to the shops name, but it's basically Tiger. Everything in this shop is priced at $15 or less and you can find an array of lifestyle products, but really, go here for the stationery. Flagship Address: 920 Broadway, New York, NY 10010
Kinokuniya – The downstairs area of this popular Japanese bookstore is home to a good selection of Japanese stationery in NYC. They have an excellent selection of Japanese pens, pencils, markers, and stamps that's worth a look. You can definitely find a bit of Kawaii stationery here as well. Always worth a visit if you're in the city. It's located on 40th Street and 6th Avenue, right across the street from Bryant Park. Address: 1073 Ave of the Americas, New York, NY 10018
Lion in the Sun – If you somehow find yourself in Brooklyn, check out this cute little paperie in Park Slope. It's full of cards, stationery and other little gifts, though it specializes in custom card invitations. Still worth a visit. Address: 232 7th Ave, Brooklyn, NY 11215
Muji – Another Japanese shop, Muji has three locations in Manhattan, two of which are in the Times Square area (the Flagship store is on 5th Avenue). Muji sells everything from clothing to home goods, but they do sell some stationery and if you're into the minimalistic look, it's the place to go. Flagship Address: 475 5th Ave, New York, NY 10017
Paper Presentation – Located on 18th Street between 5th and 6th Avenue, it's much like Paper Source but bigger. This is the only location in the city and it packs and punch. You can find everything from cards, stationery, stamps, scrapbooking supplies and trims. Address: 23 W 18th St, New York, NY 10011
Paper Source – Primarily a paper store, Paper Source is definitely a catch-all shop for stationery, crafts and gifts. The best location in NYC is definitely the one on 14th Street between 8th and 9th Avenue. But there are a handful of locations throughout the city. Address: 344 W 14th St, New York, NY 10014
Papyrus – This is more of an upscale stationery shop where you can find virtually every greeting card imaginable. Papyrus shops are scattered everywhere throughout the city and while they carry a huge selection of cards, you can also find other stationery items as well. Best place to go in the city for Cavallini brand products. There's a shop in Times Square, Rockefeller Center, and Grand Central. Since there are so many shops, check out their store locator for the one closest to you.
The Ink Pad – This is a tiny little shop that primarily sells all sorts of rubber stamps and other stamping and scrapbooking materials. They also hold live classes and workshop, primarily in mixed media arts. Address: 37 7th Ave, New York, NY 10011
Other shops to consider: Michaels, Home Goods/Marshalls/TJ Maxx, and Target. These big box stores are great for finding stationery and craft supplies to use in your planners. There are various locations throughout all five boroughs of the city, but for Manhattan, the Michaels on 6th Avenue and 22nd Street is the better one; Marshalls/TJ Maxx on 6th Avenue and 19th Street is best one to visit as both stores are in the same building, literally right on top of each other; the only Target in Manhattan is on 116th Street by the East River. If you're willing to branch out a bit, the Michaels in Queens is best, and there are Target stores in Brooklyn and the Bronx.
This list is still a work in progress. If you have any suggestions for new stores, definitely leave a comment below and I'll add it to the list! My goal is to gather as many shops as I can find in these city guides, so the more the merrier!