my 2016 heidi swapp memory planner: june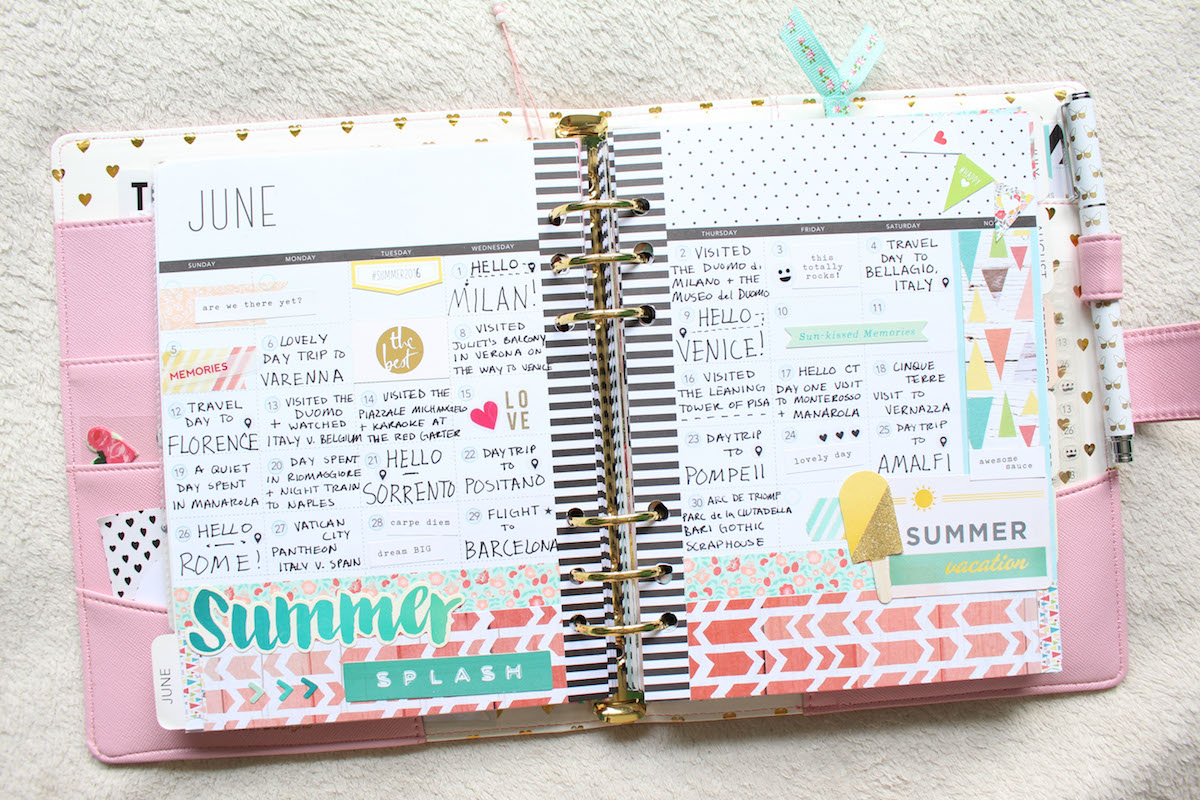 I really love how my June pages in my memory planner came out! As you know, I'm a bit behind in my memory planner because of the 6 week trip to Europe I did in June, but I managed to get the entire month of June done last week and it came out great! I used The Planner Society August 2015 kit with some bits from Crate Paper's Poolside collection, which I found matched the kit perfectly. The Planner Society kits were relatively new when I got this August kit and I've found that the first few kits don't have nearly as much product as the newer kits have. I really had to stretch this kit–which only came with 3 papers, compared to the newer ones that now come with 6–which is why I used pieces from the Poolside collection. I'm so glad I had the die cut ephemera pack and the stickers from Poolside. It really helped in filling out my spreads because August kit came with very little die cut embellishments!
Since I left for my trip on May 31st, I basically documented my month in Italy for June, cause that's how I spent my June. I printed out all of my Instagram photos and used those for the month, which was nice because I only used the Instax photos I took while on my trip in my travel journal, so to have scrapped pages with these photos was really nice. So for this first week, I began the week with May 30th only because I wanted to fill the entire week properly. I also stopped May's pages on the 29th, so I felt like I should continue the remaining days of that month in June. It just made sense to me to have the entire week in one place, even if it spanned two months.
I had so many photos this month! Especially for week two when I took too many photos in Venice. I wanted to use them all so I took one of the 4×6 pocket pages that came with the Heidi Swapp memory planner and used it in the middle of my spread to add those extra photos. I don't normally like using the pocket pages because it reminds me too much of Project Life and that's the system I left because we just weren't getting along anymore. But I used the pocket page with six 2×2 pockets here, which fit my photos perfectly as I print them out 2×2 anyway. All I did was washi the old holes and punched new ones. I even went as far as embellishing the pockets a little, so that my photos wouldn't seem so plain. The pocket page worked really well for this week; I really liked how it turned out.
I was so surprised how quickly the pages for this month came together. I thought I would really struggle with filling the pages because so little came in the August kit in terms of embellishments. I had a lot of the stickers because I purchased the Sticker Society kit as well that month, but most of the stickers were functionally stickers as oppose to decorative, so it was really difficult using them. The embellishments were also a bit on the functional and planning side, so there wasn't a whole lot to choose from when decorating my spreads. Which is why the Poolside collection really came in handy to fill in those spots. What I also think helped was the fact that I had a lot of photos to fill in the pages. I did the entire month of June in one sit down and it probably took me about two hours.
Since June ended on a Thursday, I covered up the last page with Friday – Sunday on it with the scrap pieces of paper I had left over from the kit. I did manage to have a few strips left over, so I collaged them onto the page and used the page to add the rest of my photos from Rome. I really love how this came out; it really filled in the month. And again, I didn't do my June gratitude because I like writing them at the end of each month to reflect on what I'm grateful for in that moment. So once that window passes I can't really remember what I was grateful for in that moment and I don't want to fabricate it just to fill in a page. So I left it blank and I'm fine with that.
And here's the little flip through video of my May and June pages from my 2016 Heidi Swapp memory planner. I hope you enjoy!