photo diary: the greek islands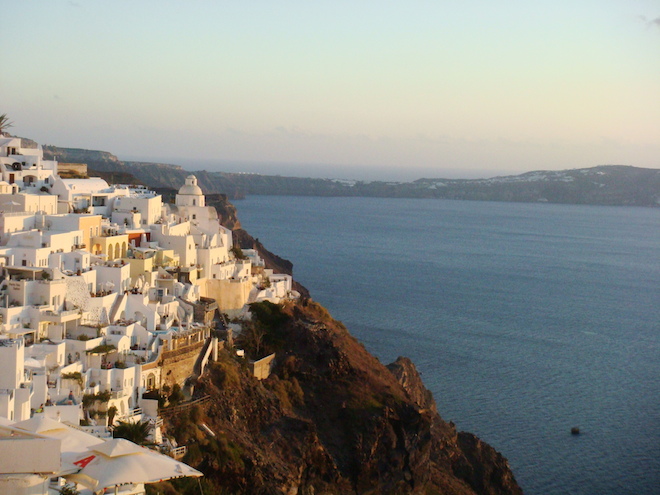 If you ever decide to go visit Greece, I definitely suggest hitting up at least one or two of the Greek islands. There are a ton of islands, but on my trip I only visited five of them in the Cyclades. They are such great way to get away from the loud, busy streets of Athens. You can spend all day lying on the beautiful, windy beaches then the evening in town, walking from shop to shop with some homemade gelato in hand. Ah, all this thinking about the islands makes me wish I were back on the islands!
For the Greek Islands, I did a Busabout Group Island Hopper trip. As a solo traveller, I think this was the best way for me to experience the islands. Basically, I was in a large group of 20-30 year olds and we had a group leader who acted as our guide on each of the islands. Our group leader handled all of our ferry tickets, accommodations and accommodation transfers, and any other optional activities that we wanted to participate in. Our leader also gave us a short walking tour of the town on each of the islands, which was really nice as it can sometimes be a hassle not knowing where you are going. The Island Hopper has a fixed duration, but with the option of staying on any one of the island for more than the default two nights. So when I went, I stayed four nights in Mykonos, two nights in Paros, Santorini and Ios, for a total of ten days. And because I stayed on the first island for two extra nights, the first group that I started with wasn't the group I ended with. I ended up joining the following group, which was great because the group was much smaller than the first one I was in, which made it less cliquey as everyone seemed to talk and mingle with everyone.
Our first stop was Mykonos and it was probably my most favorite of the islands. It could be that it was the island I spent the most time on, but I think it was because it offered a little bit of everything. If you wanted to sightsee, there's a few museums, the Church of Paraportiani and the famous Mykonos windmills to see. You could even take a half-day trip to the ancient island of Delos (which I did), the birthplace of the god Apollo and goddess Artemis in Greek Mythology. If sightseeing isn't your thing, you can relax all day on one of Mykonos' famous beaches, then hit up Mykonos Town in the evening for dinner and some bar hopping or party the night away at Paradise Beach. There was just a lot to do in Mykonos and that's what I loved most about it. The only downside to the island is that it's one of the most expensive of the four islands that I hit on the tour.
We hit Paros next, then Santorini and lastly Ios. Paros is a very quaint island and I loved that it was off the map in terms of being a tourist attraction. Not many people go to Paros, preferring the more popular islands of Mykonos and Santorini instead. That's what I liked about Paros though. There wasn't many tourists and the small town was very nice to walk around. There wasn't a whole lot to see, but enough to spend a full day in town, wandering the white stone streets and shopping.
Santorini was a bit different. The island is small enough to travel from one end to the other. Our base was in Fira Town, but we did take a day going about the island, ending up in Oia to see the famous Santorini sunset. I got to visit the Minoan ruins of Akrotiri, the Black Sand beach in Perissa, and the famous Red Sand Beach. I loved Oia Town more than Fira Town only because it was a lot bigger and there was more to see.
Our last island was Ios, which I will admit wasn't my favorite. I'm the sightseeing type and like places that there's a lot to see and do. My mind has to be constantly stimulated with new sites, and sitting on a beach consistently for more than two days isn't really my thing (maybe for a few hours, but after awhile I tend to get bored). So Ios, being the really big party island, didn't have much in terms of sights. You basically spent the day at the beach, then grabbed a bite to eat before heading into the very small town to bar hop and party the night away. While I had a pretty good time in Ios, it really wasn't my scene and I probably wouldn't stay more than two nights there if I were ever to visit again.
I really enjoyed my time on the Greek Islands. I had a great time with an awesome group of people and I definitely recommend going with Busabout if you're young and want to give a group trip a go. This trip is really great for solo travelers as it's easy to meet people to do things with and depending on the size of your group, chances are, everyone will end up doing everything together, which makes the trip even more enjoyable.