my first kikki k haul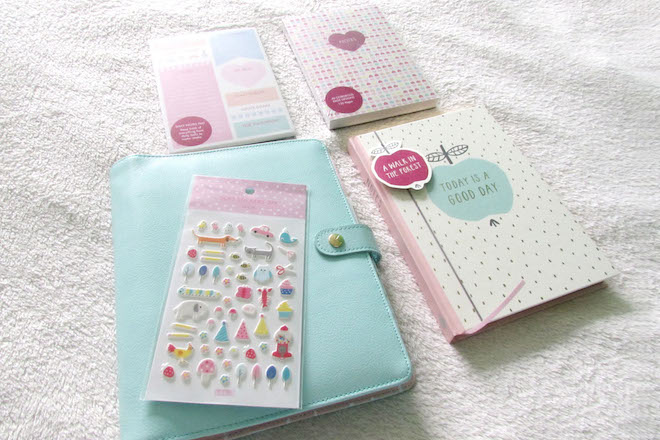 I finally bit the bullet and ordered me some Kikki K. To be honest, I've been stalking that site since I discovered the beauty of the discontinued Mint and Gold Dots planner. I missed out on the limited edition Mint Personal Planner back in June and have been waiting patiently for Kikki K to come out with new Mint planners they said were coming out in October. But when October came around, the date was pushed back to maybe November, but definitely on time for Christmas. But, scouring the many Filofax For Sale groups on Facebook, I managed to snag this lightly used Mint Kikki K with the snap closure! The minute I bought it, I decided to order a few things from Kikki K because I needed inserts for my new planner anyway.
Right now, Kikki K is having a sale on a few items from their past lines, so I was able to grab the Uppsala Featured Journal for $13.97. I bought the first Cute Notepad and the new Cute Puffy Stickers, as well as a pack of the Uppsala Personal Planner Inserts to match my Mint Personal Planner, since the seller I bought the planner from didn't include the original inserts. There's currently an October Promo Code (diaryloveoct) that I used to get the Cute Mini Planner Notepad for free, which was perfect because I wanted to buy it anyway! There were a few other things that I would have liked to order, but sadly they were "Out of Stock" at the time and I didn't want to wait any longer to order the few things that were in stock in the chance that they too became out of stock. So I grabbed the few that I wanted and hope that later on in the year (maybe before Christmas–or after the holidays when I know Kikki K has their end of the year sale) the other items are in stock so that I can purchase them then. Seriously, had everything been in stock, I would have spent SO MUCH money.
The photos on the store's site does not do their items justice. Everything looks prettier in person! I was so surprised when I opened up my package because I wasn't excepting the things I bought to be so pretty. But they were and everything matched so perfectly with one another! That made me so happy. I love the quality of the Uppsala Featured Journal. The edge of the pages are gold and there's also gold embossing on the cover. All the pages in the journal are different designs as well. I was so surprised at how lovely this journal is when I got it because I bought it with the intention of ripping out the pages to use in my planner, but now I'm seriously reconsidering it. The two notepads are much smaller than I expected–they're 5×7–but still a good size to easily be punched and fit into my A5 planner. And the stickers are adorable. The inserts I got for my planner are very nice. I love the simplicity of the layout, the only think I'm concerned about it that the ink to some of my pens may bleed through. I'll just have to test them out, as I have not done a through testing yet.
I began setting up my planner last night. Right now, I have to print the week on two pages inserts I made for myself and purchase some laminate for my dividers, so they will be reinforced and protected over time. I think once I get all of that done and punched, I can put them into my planner and begin planning!
Before I leave you with my lovely pictures, I just want to say that shipping from Kikki K was excellent! I placed my order on Sunday, October 12, it shipped on the 13 and I received my package first thing Saturday morning, October 18! I didn't except it to take just five days to get to me, what with it coming from all the way in Australia. I was excepting a week or more, but five days! What a pleasure it was to get it so quickly!
All in all, I'm an super happy about my first Kikki K purchase. Honestly, I don't know what I'm going to do with myself when they continue to come out with such cute lines of stationery each year. I'm probably going to go broke unless I show some self restraint!