project life october 2013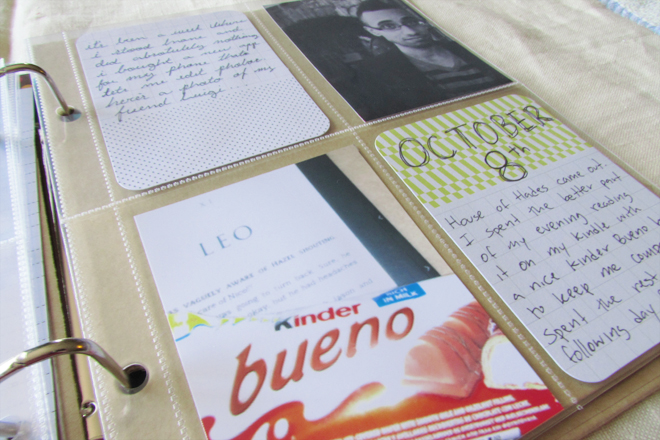 So, I decided to give a go at Project Life. I've been meaning to try it out for a while now, but made up tons of excuses not to. One, the system itself is a bit expensive. What with buying a 12×12 binder, the clear journaling sheets, and a set of the journaling cards, the total price could come out to around $100 or more. I also was put off by the 12×12 size of it. I generally don't like working so big, so instead of jumping right in, I searched for alternatives. I went out to Michaels and bought a Simple Stories Sn@p! Album
, which is 6×8, and clear inserts that work with that size. I also opted for a Mini Project Life kit, and ordered Polka Dot Party
designed by Dear Lizzy. The Sn@p products were on sale at Michaels and the Mini Kit was just $14 when I ordered online. I spent about $28 dollars for everything.
I started in late September and have only documented October so far. I suck at taking photos of my daily outings and such, so I don't have much documented yet. To be honest, I don't really like the system at all. It's not my thing. But I needed to try it out to find that out!
I do however, really love the journaling cards! There are tons you can do with them other than Project Life and they come it really pretty designs. I actually went out to Michaels two days ago because their daily sale ad had Becky Higgins Project Life stuff on sale for 40% off. So I went out and got me the 5th and Frolic Core Kit, which is exclusive to Michaels. Regular price of a Core Kit is $29.99, and I got it for $17.99! The best deal ever considering I would have had to order online, pay tax and shipping! I was able to get the Core Kit, a pack of 4×6 Grid Journaling Cards, a 4-pack of glue sticks and some paper rings for a total of $30.66, with a 20% off coupon. I would have had to pay at least $35 dollars just for the Core Kit alone had I ordered it online for the full price. Hence, best deal ever! I've actually been using the cards for 30 Days of Lists, which they are perfect for. They're also perfect for Smashbooking and art journaling collages. They add a really nice element to spreads, I love them.
Anyway, here's a few of my spreads from October using the Polka Dot Party kit.