reflections on 2019 | journal with me ✩ 38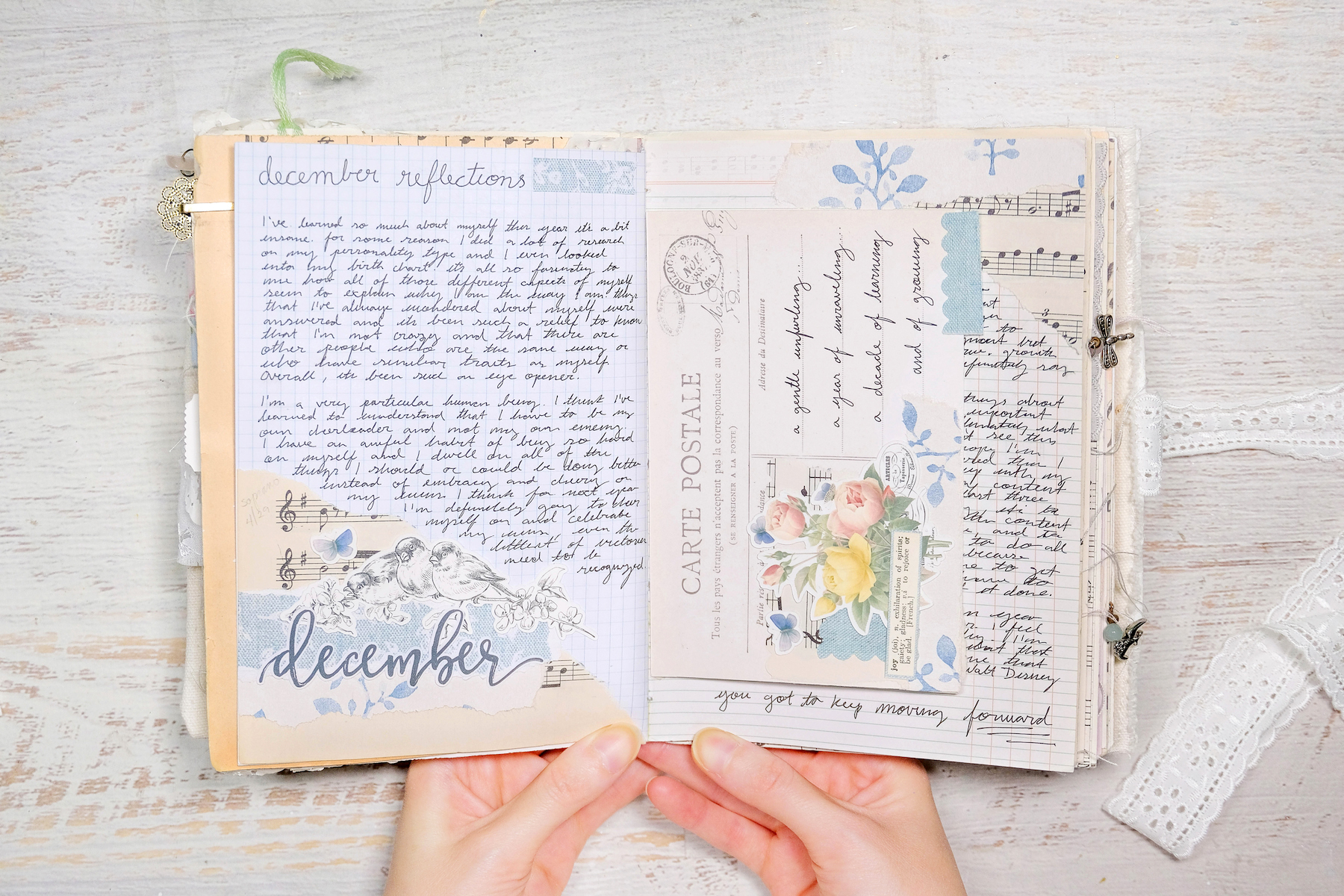 Before I jump into 2020 in my unraveling journal, I wanted to wrap up 2019 with a reflections entry. I wanted to reflect back on my year and jot down some thoughts on what I've learned about myself. I decided to use the remaining bits of my December Winter Cottage printable for this spread, seeing how I I haven't used it in this journal yet. Seeing bits from each of my monthly printables in this journal is a nice visual of my growth as a designer, and I rather like that.
This spread is very journal heavy. I wanted to get down everything I pondered while filling out the Unravel Your Year workbook. For one of the prompts, Susannah asked us to look back on not only our year but the entire decade and jot down anything you learned. She had me look back through my previous Unravel Your Year workbooks–I've been keeping them since 2014–to see my progress. It was very insightful and may did I really did learn a lot about myself in the last ten years.
It's been really interesting to see which of my One Little Words I actually manifested during that time. 2015's unravel was a big one for me. At the time, I didn't think I had manifested that word in my life as much as I could have. But looking back on my writing, I really did embrace that word that year. Same with 2016's create. All of my words though–except maybe brave–I'm still working at. I never feel quite done with them at the end of the year, and it's been interesting to see how mindful I've been with choosing the new word. For every new word seemed to encompass the old word…unravel, create, open, bloom, flourish. The magic of filling out these workbooks throughout these years made me realize that.
Anyway, I filmed my process of creating this spread, which you can watch below. I hope you enjoy.