my one little word | journal with me ✩ 39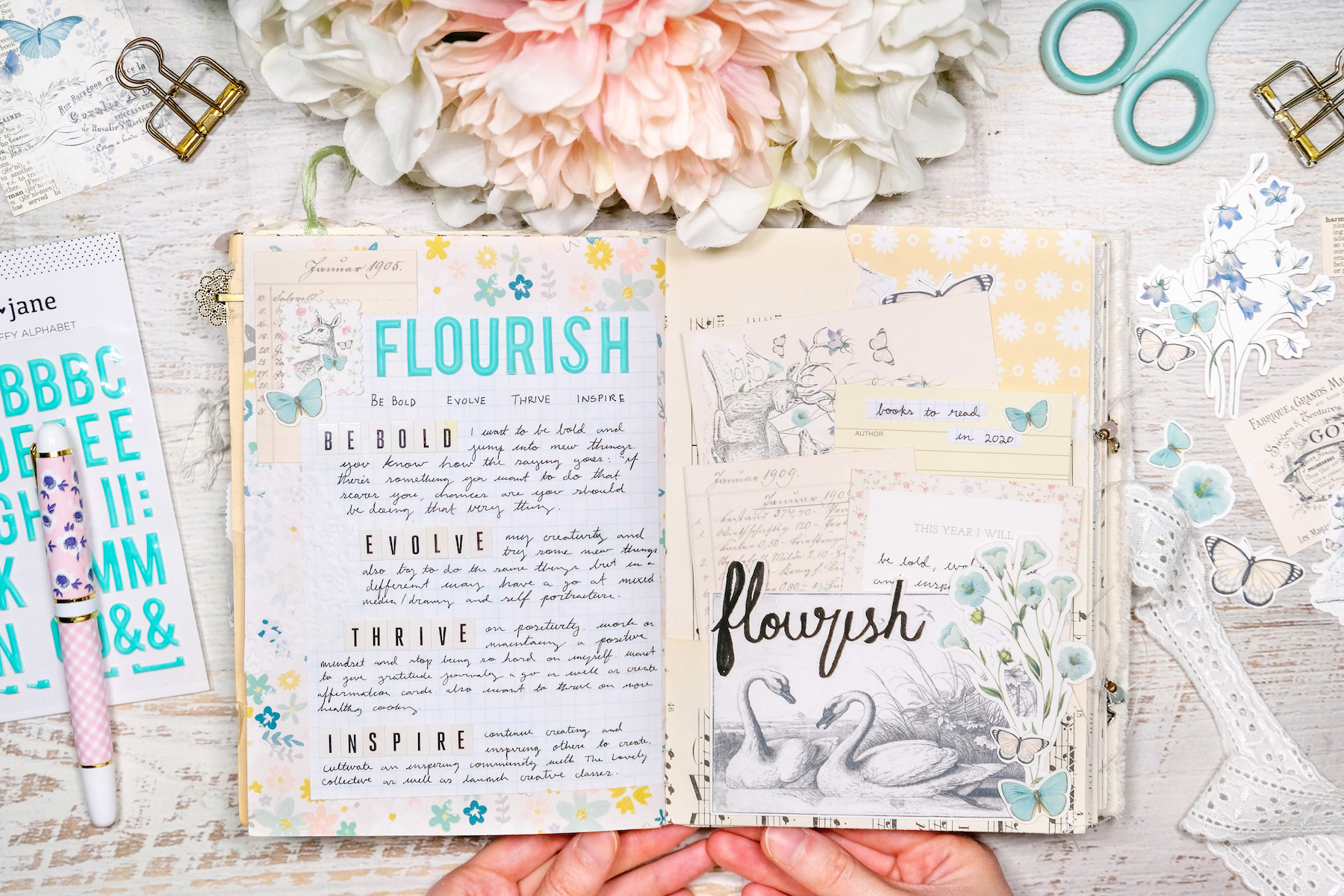 For the first spread in my unraveling journal this year, I documented my One Little Word–with four supporting words–and how they all relate to the intentions I've set for myself. For this spread, I used my new January printable, In Harmony. It happened to go really well with this floral pattern paper from Maggie Holmes' Bloom collection. I threw in the black and white swan piece from my March 2019 printable and one of my library cards, which I printed on cream cardstock.
The natural spread in my journal already had a sheet music pocket included. So I utilized it to hold all of the cards from the printable. First, I decorated the pocket a bit with some scrap pieces of paper and ephemera pieces from the In Harmony printable. I even included the black and white swan piece from the March 2019 printable there too. I made sure to write out my One Little Word–Flourish–on some spare drawing paper. Then I fussy cut it and used as an ephemera piece over the swan image.
Then I broke down my One Little Word into four supporting words. Each supporting word encompasses an intention of mine for the year. When I choose my word, I make sure that all of my intentions for the year coincide with it. My word should be the guide for all of those intentions. I wrote out my words and my intentions in my Unraveling 2020 post, if you wish to take a peek at that to get a better understanding of what sort of intentions I'm hoping to keep.
Anyway, I filmed my process of creating this spread, which you can watch below. In the video, I go a bit in depth in explaining my word and supporting words. I also explain my overall thinking process on how each word relates to my intentions. I really hope this is helpful, especially if you're still struggling with choosing a word to guide your year.