smashbooking my eurotrip 2012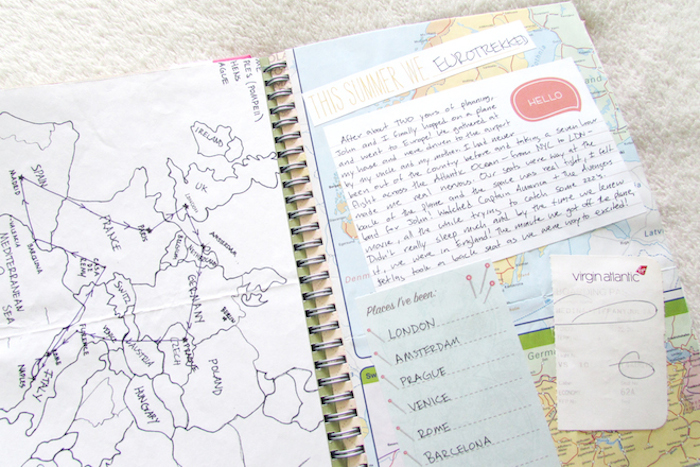 I've always wanted to get into scrapbooking. It just seemed so fun from all the finished pages I've seen on various different blogs. I never really realized how time consuming scrapbook was; let alone expensive. You have to buy all of the embellishments then gather your pictures and papers and organized your layout with matching colors before you even begin to glue things down. People who scrapbook are way dedicated to the craft! And it's a beautiful craft, really, just maybe not quite for me.
But when I got back home from Europe, I needed to get my mind off lots of things and thought about scrapbooking together my trip. I had about 900+ pictures that I'd taken and a folder of receipts  ticket stubs, pamphlets, train tickets, different odds and ends from everywhere we went that I just didn't feel like throwing it all out. So, I held on to them all in the hopes that maybe I'll do something with them. So, I did some Googling and searching on Pinterest, and came across Smash Book. It's like scrapbooking on the go and I find it to be very affordable.
The notebook comes with decorative paper, so you don't even have to purchase any paper sheets if you don't want to. And the K&C Company, which produces the Smash line, also make various embellishments that you can also buy and again, it's all affordable. And while I really like some of their themed journalling cards, I've found it quite affordable to find printable journalling cards and labels from various sites and blogs, download them for free (sometimes you'd have to tweet or "like" on facebook to download them), and print them out at home. Of course, there's the cost of ink and white paper to be factored in, but you can print as many of the designs as you want, or you can print what you like, and I think that makes up for the ink costs. It's scrapbooking with a budget. I also print out my own pictures on photo paper instead of going out to get them developed (since I take all my photos digitally).
(My Dad also had this really neat Canon Photo printer that I found when we were cleaning out his stuff and he had never gotten to use the paper and ink I had gotten him about a year or so ago. So, for the future  I'll probably use that, since I have it and it's just collecting dust.)
Anyway, I went to Michaels and bought me some Smash supplies. I spent about $30 on two Smash Books, two journalling card packs, a roll of their black and white polka dot tape, a pack of their dual bands, and a pack of 5×5 paper that wasn't Smash brand. Michaels was having a sale, plus they always give you a generous 20% off coupon every week. You just have to visit their website. I brought everything home and with the stuff I had printed out, both journalling cards, embellishments and my photos, I gathered my folder of things, a pack of glue sticks and went at my pink Smash book. I think I spent a few hours every night for about three weeks making my Eurotrip Smash book and once it was all done, I felt so happy. It came out so nice!
Here are a few pages: