some thoughts on my new york city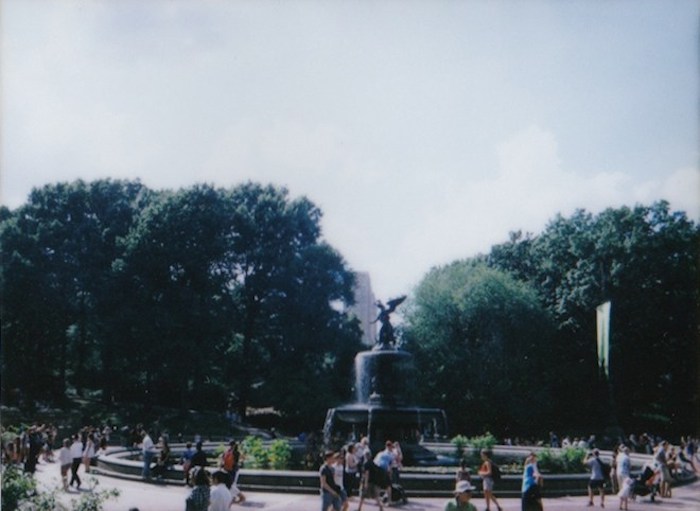 Okay, before I start venting about my home city of New York, I just want to say that I do love my city. It's a great city and I can sort of see the hype everyone has around it (well, no I really don't see it in the same way as an outsider may see it, but I get it). It's big and new and so busy, there's just a lot to take in all at once: so many places, so many different people and cultures. There's always somewhere to go and something to do. But please, don't be fooled by its vision of grandeur. The real New York City is actually soul sucking, dirty and downright an awful, stressful place to live.
I don't know about you, but I'm really tired of reading all of those "New York" posts by transplant New Yorkers. Really, there's just so many times I can read the same sort of posts that closely compares to listening to Taylor Swift wail "Welcome to New York, it's been waiting for you" twelve times on rotation on the Top 40 radio stations. We get it. You're enthralled by New York and all its tall shiny buildings and flashing lights. You've always dreamed of living here in the big city because you watched one too many Sex in the City episodes. Life is just so exciting in New York. You can do and be anyone you want. It's great.
If there's one thing that I envy–and seriously envy–in this world, it's this dreamlike vision of New York City. As a young teenager, I used to wander down to Times Square in the middle of a hot touristy summer day and look up, wondering what it felt like to be in New York for the first time, to look up and see the buildings of Times Square hover over you. I'd look around and see all these people looking up with a wide-eyed look of wonder in their eyes. And I just didn't get it. Call me jaded, but Times Square is the absolute worst place to be in the city. It's crowded and overbearing. It's too commercial and often times reminds me of those house screens and seashell ear plug things in Fahrenheit 451, feeding people the absolute, most useless crap. It's an absolute circus of superheroes, naked cowboys and giant Elmos. It's the media and entertainment at it's worst. And what's even more disheartening about it is that it wasn't always like that. It was once a place of performance and art and theater. Sure, you can still head down there to catch a show, but how many people think of Times Square as the Great White Way?
I love New York; except it's losing everything that this dreamlike vision is based on. Culture is being wiped out of the city every single day. A friend of a friend of mine recently shared a link on Facebook of all these iconic places in the city that were no longer here. These were some places that have been in the city for generations all wiped out because people are looking to make the city bigger and better, all to play to this dreamlike New York. More and more people are moving into the city, renting out outrageously priced closet-sized apartments all because of this dream. They want to live out the New York experience they see on TV and the movies or read in books. Yet, while doing so, they've inadvertently created a wave of change, where culture can be fabricated and people who once brought that culture to the city are being driven out in packs because they can no longer afford to live here. Money and greed have become the echo of the city, traveling in wavelengths through every borough, displacing people who've been here for generations.
Now, I never used to have a problem with gentrification of this fine city, but as I get older, I either am aware of more things or things have gotten worse in the city. When I don't feel comfortable walking through parts of my own city because I feel people's eyes digging holes through the back of my head in judgmental waves because I don't look or walk or talk like I belong in that particular neighborhood, you know there's a problem. I only ever feel this way in heavily gentrified neighborhoods, which is so hysterically weird because on sight I'm the whitest looking white girl you ever did see…even if I identify as a Latina because, let's face it people, I was raised by a bunch of Latinos (Puerto Ricans and Dominicans, if you must know). I don't know, maybe it was because I was raised in the Heights, but grew up on 108th Street, in (at the time) a heavily Latino neighborhood and now live in Harlem? Or maybe it's because I was educated, since grade school, with a whole melting pot of all sorts of kids, which you only find in the city's public school system? I don't know, maybe it's just me, but I enjoy a little color in my neighborhoods.
So please, we need to stop this horrific cycle of this dreamlike New York City because, quite frankly, it's destroying the city. How New York City is depicted in the movies and on TV, in those stupid Thought Catalog and EliteDaily and BuzzFeed articles is not what New York City is, my friend.
New York City is riding the train to the last stop because that's where you live. New York City is dollar pizza and Arizona Ice Teas and working for $8 an hour only to walk home if you're lucky enough to be able to because you can use that subway entrance fare for something important like your rent. New York City is those hot, humid, smelly subway cars in summer, packed with bodies and stuck in the middle of tunnels because, you know, the MTA can't do anything right but steal your money to fix these sorts of problems. It's people shoving themselves into the train car before you have a chance to get off or people standing in the middle of the sidewalk or walking together in row all in one direction, blocking any sort of way for you to pass or go around them. New York City is a stroll through the Ravine in Central Park straight to what's left of el Barrio. It's walking from the train through Corona to your friend's house because you'll get there before the bus ever even arrives.
The city used to be about Pearl Paint, 5Pointz and the Yaffa Cafe. It used to be about De La Vega's street art in Spanish Harlem or easily finding that one guy selling piraguas or frio frios on the street corner. It was about 99-cent stores and bodegas with those 10-cent candies, 25-cent juices and chips, and 50-cent chocolate bars. What a feast you could have with just a dollar! It used to be about trains making that perfect connection at each train stop, so you can hop from the local to the express with ease. It used to be those guys on skates in Central Park by Bethesda Fountain skating to old 70s disco and 80s house classics. It used to be about Sammy the Clown by the Carousel and that cart with cotton candy and those jumbo balloons with the pebbled sand in them…
While it's nice remembering what used to be, it's sad that it can now only be remembered.