the art of journaling: create your own adventure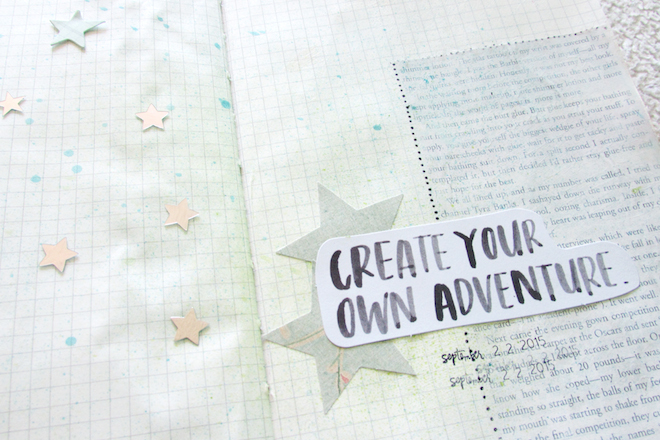 I'm back with another art journal spread for my The Art of Journaling series here on the blog. With this one I took a more minimalist approach and tried to mimic that style where you use the white space but add hints of color here and there. I centered the entire spread around this die cut from the Inspire Project Life Value Kit, which reads Create your own adventure. When playing around with the various die cuts I have, I knew I wanted to use this one right away, just how I wanted to use it was a bit of a challenge.
Anyway, I used a magazine cutout of text and layered a bit of gesso on top of it to give it a faded look before I whipped out my Heidi Swapp Color Shine sprays in teal blue and bright green to give the spread that pop of color. Next I play around with this stars I had. The two faded  mint ones I found in the Crate Paper Wonder ephemera pack and the other stars are silver foil that a penpal sent me. Once I got those down, then I was able to figure out the placement of my stand out phrase die cut.
This spread was a bit different for me. It wasn't as busy as my other spreads have been, which made it hard for me to not overwork this one. I had to restrain myself a bit. But I like the way it came out. I love the movement the spray effect gives the page especially with the stars placed how they are. Everything is coming out of the create your own adventure die cut, which only adds to the sense of creating your own adventure. It's really cool and I hope to play around with this minimalistic approach some more. Be sure to follow the tag #artofjournaling on Instagram for more peaks at my art journal. And enjoy the process video below!