get messy: season of words altered book art journal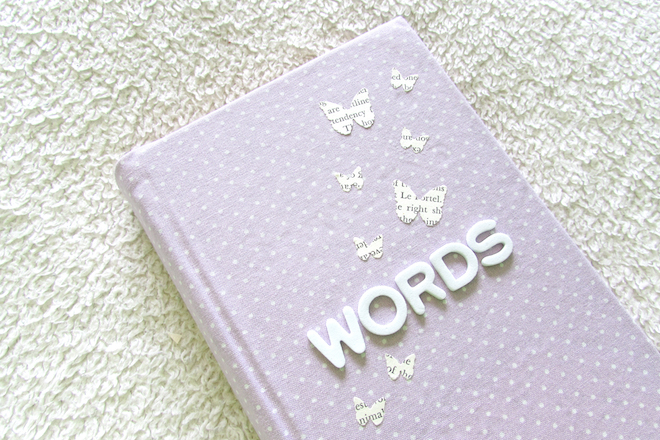 So, I recently joined Get Messy, an art journaling challenge that's also a community of amazing art journalers. I stumbled across it a couple of times in the past, but didn't really look into it until this past week when I kept seeing it everywhere while searching for art journal inspiration. It's a great community of ladies who come together and work through "seasons" of art journaling prompts surrounded by one theme. After reading up on it, I was debating for a bit whether or not I should join now or when I come back from from my 3-month Southeast Asia trip. For some reason it didn't make sense to me to join in now, when I only have about 28 days before I leave for 3 months. But I gave in because the current season had just started and it's something I've been wanting to do for awhile.
The current season of Get Messy is the Season of Words. In this season, the theme is words or the written word, language, however you want to interpret it, but the challenge is to make an art journal from an altered book. I've sort of done it before with my Summer of Love art journal, where I destroyed an old hardcover book to make my art journal. But with this one, we're leaving the book intact but altering the cover and pages to make it into a suitable art journal. I've been wanting to do this since Maggie Holmes' Happy Little Moments class, which I have but haven't yet gone through and done. So I figured, since the season is just starting out, I could at least participate on most of the season before I head off on my trip.
So I bit the bullet and registered. The great thing is that when I get back home, I can log in and join in on whatever season is happening at that moment. For the one time fee, you're in Get Messy for as long as it's around, plus you get access to all the past Get Messy seasons. So I've got four seasons of prompts and challenges to catch up on when I get back from my trip and I already have thoughts on how I'm going to approach them.
So I had this old astronomy book that I had bought two years ago for my Summer of Love journal that I never used because it was too small for that particular journal. I fetched it from the bowels of my overflowing bookshelves because I thought it would be perfect for this season of Get Messy. It's a decent size–about the size of a Moleskin cahier–and just waiting for me to alter it. I tried to keep the original cover in tack because I liked the silver foil of the title "Starland" but after taking sandpaper to lighten it, the cover material color kept transferring onto everything. So I decided to paint over it with a bit of gesso. That was just a disaster. Luckily, I had these Letter-sized fabric washi tape sheets in soft, pretty vintage-esque patterns that I hadn't used yet. So I decided on the purple polkadot and covered the entire cover with it. The fit was perfect. Then I just embellished the cover with white foam thickers, which spells words for the season, and butterflies I punched out of old book paper just cause it added to the aesthetic and the theme.
I spent the day gutting and prepping the pages. My journal now has about 30-something thick pages in it instead of a hundred or so very thin pages.  I think around thirty is a decent amount for how much time I have to fill this journal. Journal prompts will be posted next week, but I'm thinking I'll combine the Get Messy prompts and challenges with Happy Little Moments, only so I can get through that class as well. The great thing about Get Messy is that you can pull from anywhere to create your journals. You can be inspired by the prompts and the theme, but can really do anything in your journals.
I'm really looking forward to digging into this art journal. It's something new in terms of journal, so I'm looking forward to try some new styles in it too. I'm still going to create in my Art of Journaling journal as well as make new art journaling videos while I do Get Messy. Be sure to tune in on Thursdays for Get Messy Thursdays. I'm hoping to dedicate my Thursdays to sharing my Get Messy journals here on the blog. So here's to starting something new!