the art of journaling: spread your wings image transfer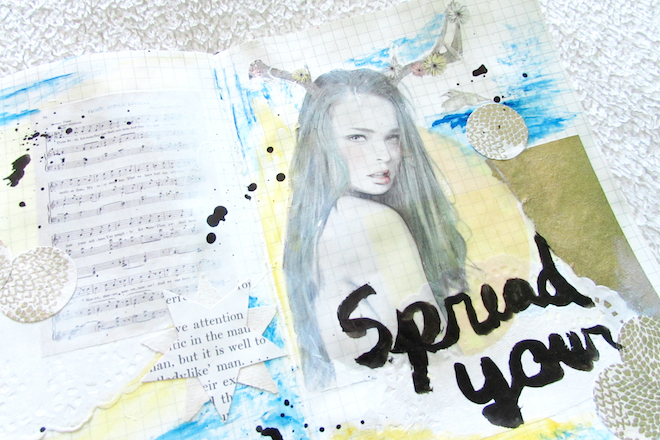 I have decided to create a little series around my art journaling in order to motivate me to creating something on a daily–or at least weekly–basis in my art journal. I've been using the hashtag #artofjournaling on Instagram to share my work, so I figured I'd call my mini series "The Art Of Journaling" and I hope you all enjoy and follow along.
Initially, I was just going to post my art journal spread monthly, but after making my August flip through video, I decided I wanted to do more videos on my art journal. So with a bit of inspiration from Wilna Furstenberg, I decided to film my process, one art journal spread at a time. Then at the end of each month, I'll do a flip through of all the spreads I did that month. I don't think all of my spreads each month will have it's own featured post, but I will try to document my process of as many art journal spreads as I can! I'm hoping that this will be a nice, fun addition to what I already blog about and post here.
So this first art journal process video spread is called Spread Your Wings and you'll see in the video how I composed it using an image transfer with acrylic gel medium. I'm absolutely obsessed with image transfers and a lot of my previous spreads have transfers in them. I just think they're the coolest thing ever. Image transfers can be tricky, but with the right tools and know-how, they are super fun and easy to do. All you need is a laser-printed image (images printed with ink jet will not work), acrylic gel medium (I use the Blick brand, but any will work as long as it dries clear) and a bit of patience. Magazine images are my absolute favorite to use with transfers. I like the effect of transfer the image straight onto my page instead of using the magazine image as a cutout. The images looks more apart of the spread as a transfer than it does as a cutout.
I will honestly say that I love and hate this spread. I suppose it's because it didn't turn out how I expected it to come out and upon looking at the completed spread I definitely notice a few thing that I could have done differently in order to make the piece flow better on the page. I wanted to share this process with you though so you can see how I do my spreads, but so you could also see how an image transfer is done and how sometimes mistakes do happen, but can be fixed so you can't even notice them. I do hope you enjoy the video and I look forward to sharing more of my journal in the future!