the art of journaling + get messy season of love: what is love?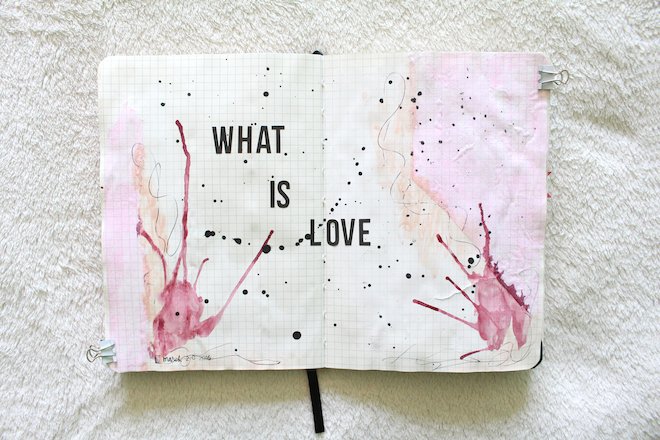 So, with Get Messy: Season of Happy being over and the fact that I wasn't really creating much in any of my art journals recently–towards the end there I because dissatisfied with my Happy book I made–I decided to go back to journaling in my "art of journaling" notebook. I'm just going to call it that, because that's what I titled the series of spreads I did in it last year, so it's become my "art of journaling" notebook, where I discover my style and play around with various things and art journal. But since the Get Messy season is over for now, I decided to take advantage of the old prompts from the past seasons that I have but never really got around to doing. I know I said that one of my creative intentions for this year was to do these past seasons, and while I'm beginning late, I've decided to do them in conjunction to my The Art of Journaling series, so expect a lot of blog posts and process videos!
So this first spread was more inspired by the season than a direct response to any of the prompts. Since it's the season of love, the first thing that came to my mind was the question "What Is Love?" So I started my journaling with that and played around with some pinkish colors and some bits that Zinia from Abstract Inspiration sent me in one of the Get Messy swaps. I didn't really think too much while making this spread, I just did whatever I felt like and I'm happy with how it turned out!