what's a mail tag?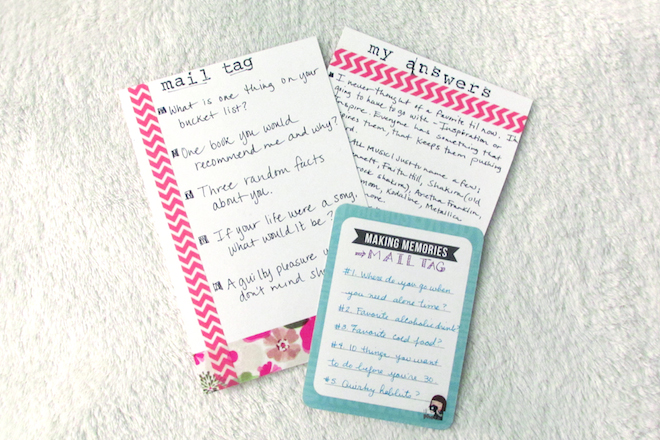 Mail Tag is a game created by Bianca of goodnight little spoon. It is a clever little game you play via the post. A great conversation starter, sending a mail tag with your letter is a great way to get to know your pen pal right off the bat. Essentially, it's a small list of questions, random quick questions, that you and your pen pal send back and forth to each other and answer however way you want. As Bianca put it:
"Mail-tag consists of an exchange of postal correspondence between (2) people. The first person begins the game by requesting one or more desired things. That person then mails those requests to the other participant – who interprets those requests, writes a list of their own requests for the other participant and sends them back. You can take as much or as little time to compose and send back your reply, ask for a few or as many things in your requests and generally interpret requests in whichever way you see fit." – Bianca
She even gives you a little cheat sheet of sorts to help you better understand the game.
You only need a pen pal to get started playing! Get a small card or a lot of people used gift tags, and write out your questions. It can be one or two questions, or five or six. It doesn't matter! (As a general rule of thumb: most Mail Tags consist of about four or five questions on average, but you can list as many as you want.) Then include it in your letter and send it out! That's it! Then wait for your replies and you'll know a little bit more about your pal.
A List of Mail Tag Questions to Get You Started
When's your birthday?
Ten things I should know about you.
Five things you can't live without.
Ten things on your Bucket List.
What's your ideal mixtape?
If your life were a song, what would it be?
What's your favorite childhood memory?
What are some of your biggest pet peeves?
What's your favorite place in the whole world?
Describe your dream trip.
As a child, what did you want to be when you grew up?