a day in pompeii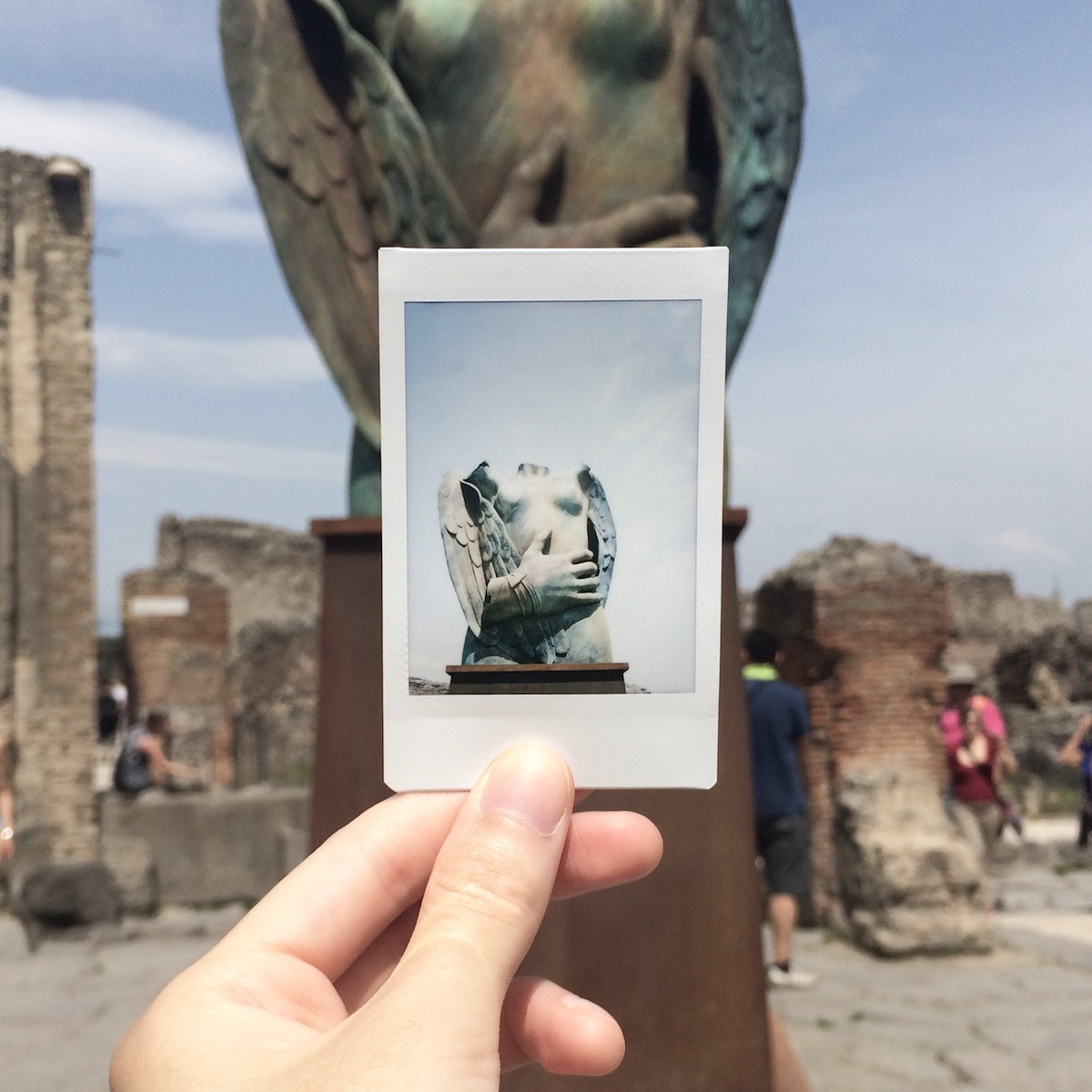 While we were in Sorrento, we took a day trip to the ancient city of Pompeii to visit the ruins of the city devastated by an eruption of Mount Vesuvius in 79 C.E. We took the Circumvesuviana commuter train there and back, and while the train ride was a bit lengthy, it was our cheapest option. Upon exiting the station at Pompeii, we went straight to the entrance of the archeological site and waited on the longest line ever to purchase our tickets. My best advice for visiting Pompeii is this: go early and don't visit during the summer. Summers in Southern Italy are hot and while we visited in June, it was scorching hot while we wandered the very vast land of ruins with absolutely no shade. Bring lots of water with you too, or at least a water bottle, as there are drinking spouts throughout the site where you can fill up.
We walked around the site for about three hours before we gave up looking for the giant amphitheater and headed back to take the train back to Sorrento. I honestly thought I'd be more thrilled than I was to see the ruins of Pompeii, but I suppose once you've seen one ancient Greek/Roman ruin, you kind of seen them all. I don't mean to sound jaded, but it's sort of true. Pompeii looks like Delos, which looks like the Acropolis, which looks like Troy, and I've literally seen them all. Out of all of them though, Pompeii was the most tragic. And not because it ended tragically–though I suppose that history does add to the effect–but mostly because it is a city that just stopped in time. For the most part, it still is how it was. All of those people preserved through time, still in their final moments, their final positions and reactions. The city didn't just fade out like all of the other ancient cities, it ended abruptly, it's final moments preserved through centuries. That's the most tragic thing about it.
I did however manage to take some wonderful photos, both digitally and analog with my Instax Mini, that I think captures the tragicness of the city. Pompeii is definitely a place I'd like to visit again, though I don't think anytime soon. But I'm not completely unopposed to visiting it a second time, this time only doing the sections of the site that I missed this time around.