photo diary: sorrento, positano + amalfi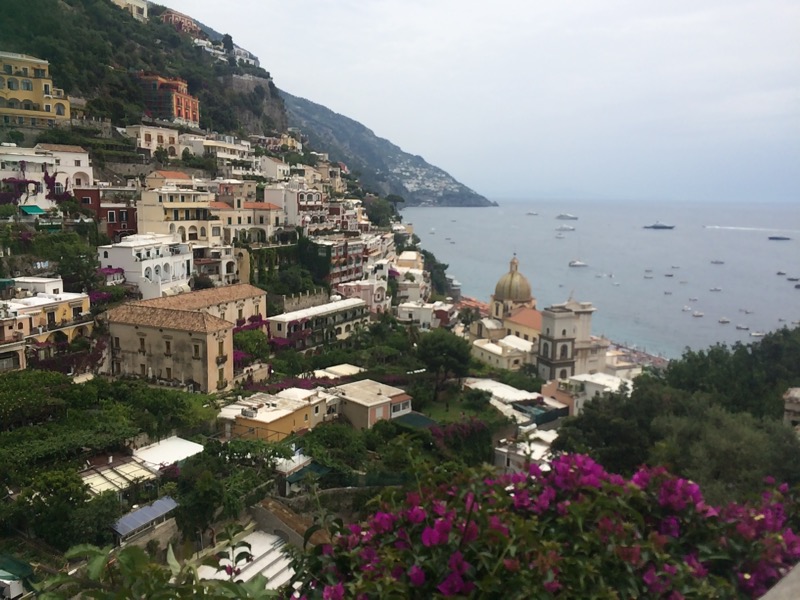 After a few days in Cinque Terre, my friend and I headed south to Sorrento, Positano, and Amalfi. We caught a night train to Naples, which in hindsight was probably a really bad idea, and at Naples had to catch the Circumvesuviana commuter train all the way to Sorrento, which might have been just as bad as our night train. It was like stepping into an 1980s New York City subway, except everyone was dressed in 90s fashion. It was a bit of a time warp and it was quite odd. Apparently Naples is not the best place to visit, but I can't really judge that since I never actually stepped out of the train station to see for myself. But literally every Italian we met along the way provided us a word of warning about the place that we decided to skip the city all together. So we made Sorrento our base and did everything from there.
We spent our first day in Sorrento. The thing about all of these little towns is that they are literally little towns. There isn't very much I can say about any of them other than that they were small and had not a whole lot of things to do. And that's the thing about Italy; there's not a whole lot of things to do. You walk around and see "the sites," you bathe out in the sun, and you eat a lot of food all the time. So Sorrento was much of the same. When you arrive to the main bit of it, you hit a wide square where the restaurants start. But the main meat of the town is down the narrow streets where there are little shops after little shops all jammed pack on both sides. Sorrento has a "beach" but like in Cinque Terre, they're not really beaches but more rocky cliff faces where you can access the water to swim.
Positano was much of the same, except in my opinion, it was a lot prettier. After an hour and a half bus ride from Sorrento station–you literally can catch the SITA bus in front of the Sorrento Circumvesuviana station for a multi-use ticket price of 8 Euros–we were left on a top of a giant hill and had to walk all the way down to the little town's center located right on the coast. We didn't realize there were about two other stops we could have gotten off that would all lead to Positano, we just hopped off the first stop, which had the steepest walk down a bunch of stairs. But it was fine; we got some really awesome views of the cliffside town.
We ended up spending a whole day there. We walked around through all of the shops that led to the beach, where most of the restaurants were situated. We ate by the beach and then walked along the coast from end to end, getting gelato along the way and sitting by the water for a bit before we headed back up the cliff in a different direction, which led to one of the other bus stops. Our day was pretty boring, though relaxing, but hey, that's what Positano is for. At least it had a decent beach.
Amalfi was much of the same except is was way smaller than Positano and not nearly as pretty. After a nearly two hour bus ride, we made it to Amalfi and the first thing we did once we made our way to the center was scope out a place to sit, eat and cool down. We ended up eating at a restaurant in the small square where the cathedral was and after we were sufficiently fed and cooled, we walked around to look at all the shops and check out the "beach."
Don't get me wrong, I feel like I sound a bit bitter about this entire visit to the Italian Southern coast and I promise you I'm not. It's just that these towns are so talked about as being so completely amazing and when you actually get there, they are tiny and overly crowded and not as pretty as some other places in Italy. Plus there's absolutely nothing to do. I'd say especially for Amalfi, it's completely overrated. You're better of just exploring the lakes in the North, which are much prettier and there's less people.
Our little trip to the area wasn't a complete bust. Visit Pompeii was pretty amazing and we met some really cool people at the hostel we stayed at. But in terms of visiting the little towns, they could definitely be skipped over, though the proper way of visiting the South may be renting your own car and driving around yourself. I feel like a road trip like that would be much more enjoyable for a place like Southern Italy.