photo diary: cinque terre, italy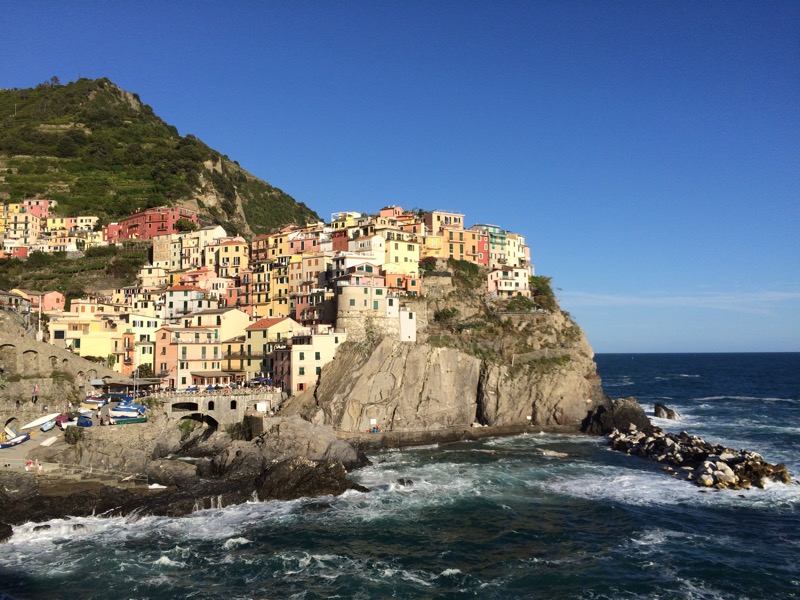 After Florence, my friend and I decided to head up north and explore the Italian Riveria in Cinque Terre. So the deal with Cinque Terre is that it's an area in Northern Italy that consists of these little towns in the cliffside. A total of five towns make up Cinque Terre: Riomaggiore, Manarola, Corneglia, Vernazza, and Monterosso. I stay a town up from Manarola, a little place called Groppo. It was a very quiet area in the hills above Manarola, which left quite a hike up if you miss the bus. Cinque Terre is a hiker's paradise. There are trails connecting each little town to the next and since they were built into the cliffside, everything is an uphill walk.
On my first full day there, I decided to visit Monterosso, the biggest and most touristy town of the bunch. I really liked Monterosso only because of the fact that it was big, which left lots to see and do. My friend and I decided to take the train from Manarola quite last minute as we really wanted to go to Riomaggiore, but the hiking trail we wanted to take there was closed off. So Monterosso it was! We had a good day there. We walked along the main beach strip from the station, then found a place to eat overlooking the water. Eventually, we discovered the rest of the town hidden just behind a long tunnel–much to the dismay of my friend, who wanted to watch the Italy Euro game, but couldn't find a place with a television to do so. If we had only known there was more to this little town–and ended up wandering around there for the rest of our visit. I found this lovely little handmade jewelry shop, where I may have spent a little too much money at, but everything was just so pretty and most of the jewelry was made with gemstones, which are my favorite. I had a very nice time in Monterosso.
That evening, we found ourselves back in Manarola, which I may add is my favorite town out of the bunch (though we didn't get to do Corneglia). Manarola is just so pretty and the cliffside overlooking the small town's lagoon is just so beautiful. We went there multiple times during our stay because it was so pretty and quiet; an overall great place to write.
The following day was spent in Vernazza. Vernazza was lovely, if not just really small. It was a bit of a disappointment as all of the photos of it made it seem gorgeous–which is kind of is, though Manarola is prettier–but there really wasn't much to do there. We spent most of our time by the rocky shore–Italy's version of a beach–which was refreshing in all that heat.
We did Riomaggiore last. We decided to take a night train from La Spezia and thought we'd spend the day in Riomaggiore before we made our way there. In hindsight, it probably wasn't the greatest idea as Riomaggiore is super small with not a whole lot of things to do. So after wandering aroud it for a bit, we sat on a stone bench by the station for most of the day, just talking and people watching, trying to kill time before we found some place to eat before catching our train to La Spezia.
Overall, my stay in Cinque Terre was nice. If I were ever to go back to it again, I would probably pay to do some of those hikes. But as I'm not much of a hiker, I'd probably won't go back, not even to visit Corneglia. But this is what I say now. It's still a very beautiful place to visit!