"a few of my favorite things" faux project life spread | hip kit club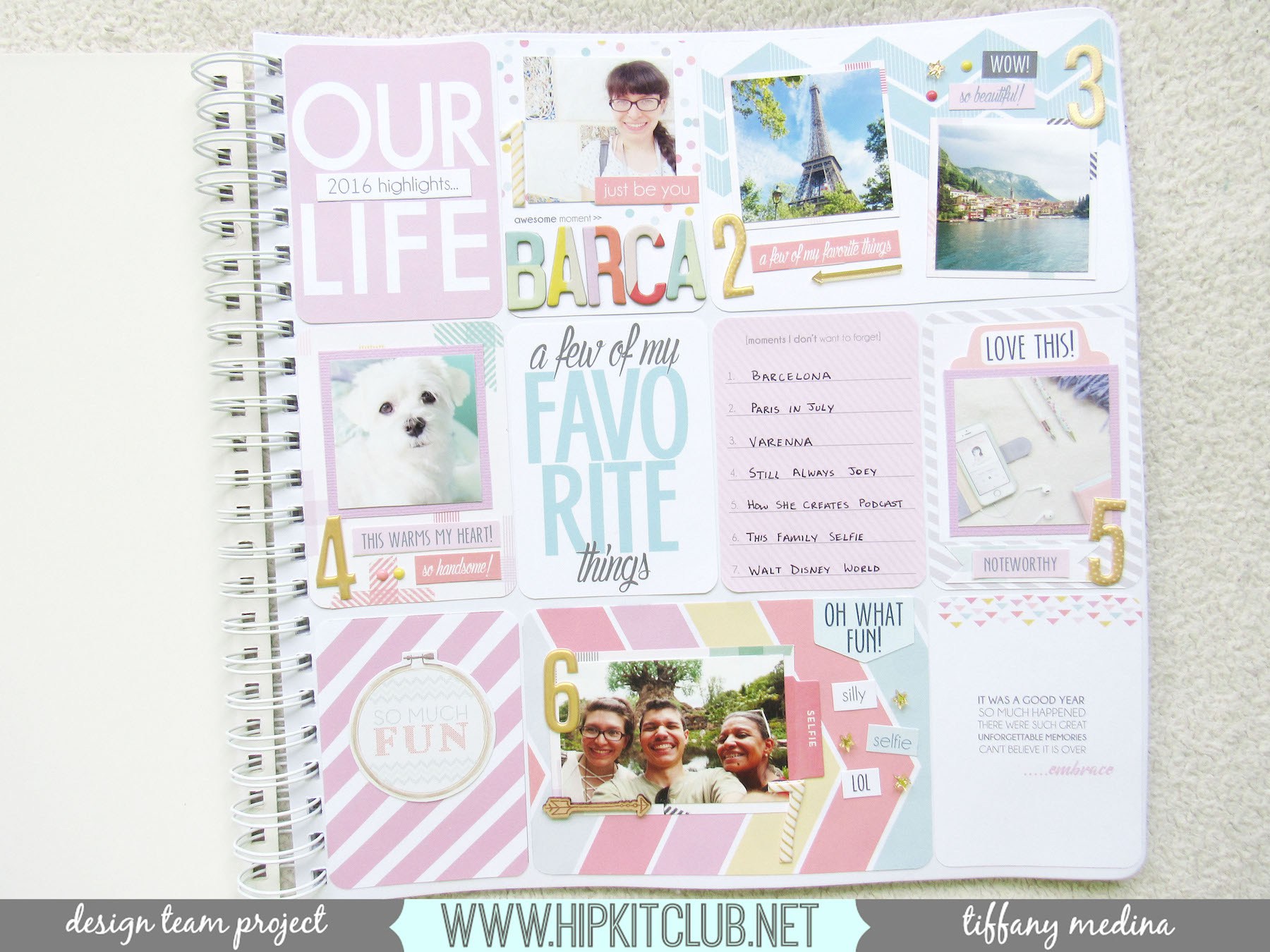 Hello everyone! I'm here with a fun project to say goodbye to 2016 and to ring in the new year using my December Hip Kit Club Kits! This is a fun little faux Project Life spread using the Project Life kit and embellishments from the Main and Embellishment kits. I've always done PL in a 6×8 sized binder, but I've always wanted to create a 12×12 spread. So for this  project, I took a cue from Suse Fish and did a faux Project Life spread in a plain white 12×12 spiral scrapbook. This let me test out the waters a bit without committing to buying a 12×12 binder and pocket page inserts.
Since my challenge was to used numbers, I decided to create a spread highlighting my Top 7 favorites of 2016. I thought it was only right to end the year with a reflection on the moments, places and things that I thoroughly enjoyed this year. So,  I went through all of the photos I took this year and printed off a handful of them that I felt represented some of my favorites. I didn't end up using them all, but I pulled out my top ones that best represented my Top 7.
All of the cards I used, except the plus sign one, is from the Project Life kit. The plus sign one I cut from that Maggie Holmes Bloom paper we got in the Main kit. Once I chose all the cards I wanted to use, I went ahead and trimmed them down a bit because my page wasn't exactly 12×12. I also rounded all of the corners. I then laid them out on the page how I wanted them before gluing down and beginning my photo placement and embellishing.
I used the "Our Life" title card as my first card, embellished with a piece from the exclusive HKC cut apart sheet that reads "2016 Highlights…" The next card then begins my Top 7 with a photo of me I took at Park Guell on my trip to Barcelona. Barcelona is by far my most beloved city, so included that photo of me and embellished the card with the Pink Paislee Take Me Away alphas to say "Barca." I used the #1 puffy sticker from Heidi Swapp to indicate my first favorite, and another cut apart piece that reads "Just be you." The follow card is my first 4×6 card. Here I documented my second and third favorites. I matted the photos using the plus sign paper from Maggie Holmes. #2 is a photo of the Eiffel Tower I took on my trip to Paris. I absolutely loved my time there this past July. Again, I used a cut apart piece under my photo that reads "a few of my favorite things" and an gold acrylic arrow piece from My Mind's Eye. #3 is a photo of Varenna, a small town on Lake Como in Italy. Such a storybook looking town; it was absolutely stunning and one of my most memorable places that I visited during my month in Italy in June. above the photo, I used two of the cut apart pieces to say "Wow! So Beautiful!" and embellished around them with enamel dots  from Carta Bella and one of the acrylic stars from the exclusive HKC acrylic pieces.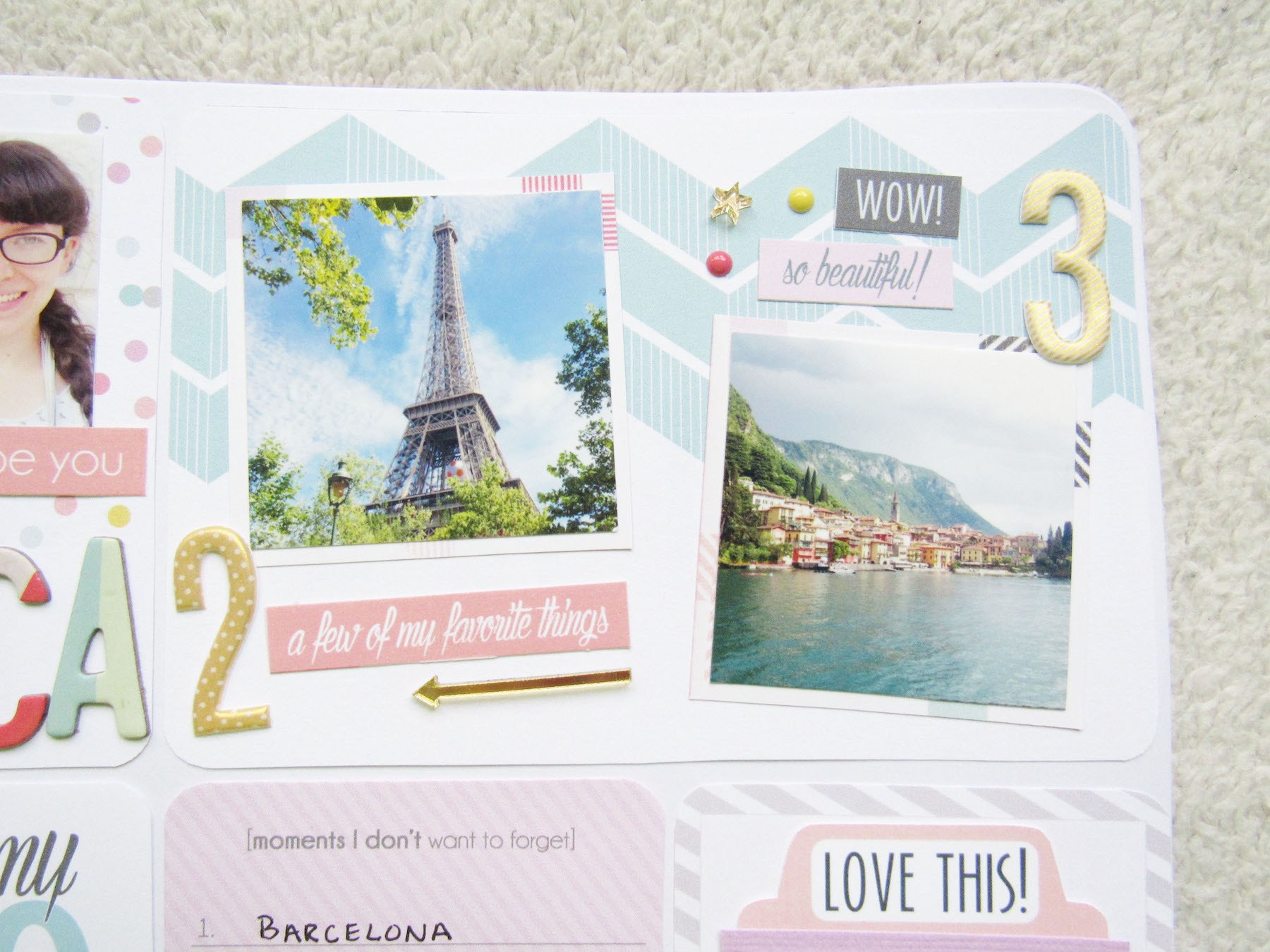 The second row is all 3×4 cards. The first one is the card I made from the plus sign paper from Maggie Holmes, and it documents my #4 favorite, which is this photo of my dog Joey. I matted that photo on the Lilac cardstock from American Crafts. Underneath it I used two of the cut apart pieces to read "This warms my heart! So Handsome!" and embellished it with two enamel dots. The next card is a title card that reads "a few of my favorite things" and I used it in conjunction with the next card, which is the countdown card that reads "moments I don't want to forget," as my title for this spread. On the countdown card, I listed very simply what each of the numbered cards were. The final card in that row is #5, which is a photo I used on my blog and on Instagram to share some of my favorite crafty podcasts I listen to. The photo shows the How She Creates podcast on my phone, which is my favorite new podcast of 2016. I matted that photo on the lilac cardstock and embellished the card with pieces from the exclusive HKC die cut pieces. I tucked the tab that reads "Love this!" sticking out from the top and used another cut apart piece to add "noteworthy" to the bottom of the card, over a banner I cut from the branding strip of the plus sign Maggie Holmes paper.
The last row I used three cards: a 3×4, then a 4×6, and then another 3×4. The first card acts as a filler that I simply embellished with one of the embroidery hoop pieces that reads "so much fun" from the Take Me Away embellishment pack. The 4×6 card in the middle documents my #6 and #7, which is represented by one photo: a selfie my mom, brother and I took at Animal Kingdom during our September trip to Disney World. This was our second family trip to Disney since my dad passed away. We've sort of made it a tradition to go to Disney once a year, because it's so much fun. So it's a huge moment of my life that I always want to remember. It gets to be two of my favorite things because one, this selfie is everything, and two, Disney World is my favorite place.
Anyway, I matted that card using the plus sign paper from Maggie Holmes and placed the #6 and #7 puffy stickers on opposite ends of the photo. I used one of the wood veneer arrows on the bottom left of the photo and that selfie tab poking out on the right. I then embellished the card with pieces from the HKC die cuts and cut apart sheet to say "Oh what fun!" "Silly selfie LOL." and sprinkled a few of those HKC acrylic stars on it. The last card in this row is just a title card.
Definitely watch the video below to get a peak into my entire process.
Products used: Hip Kit Club December 2016 Main Kit, December 2016 Embellishment Kit Add-on + December 2016 Project Life Kit, December 2016 Cardstock Add-on, Take Me Away Gold Foam Thickers from October 2016 Main Kit, Crate Paper Mini Pom Poms from the December Documented 2016 Kit, HKC exclusive "Wonderful" flair from the November 2016 Embellishment Kit