beautiful sunshine | the fairytale club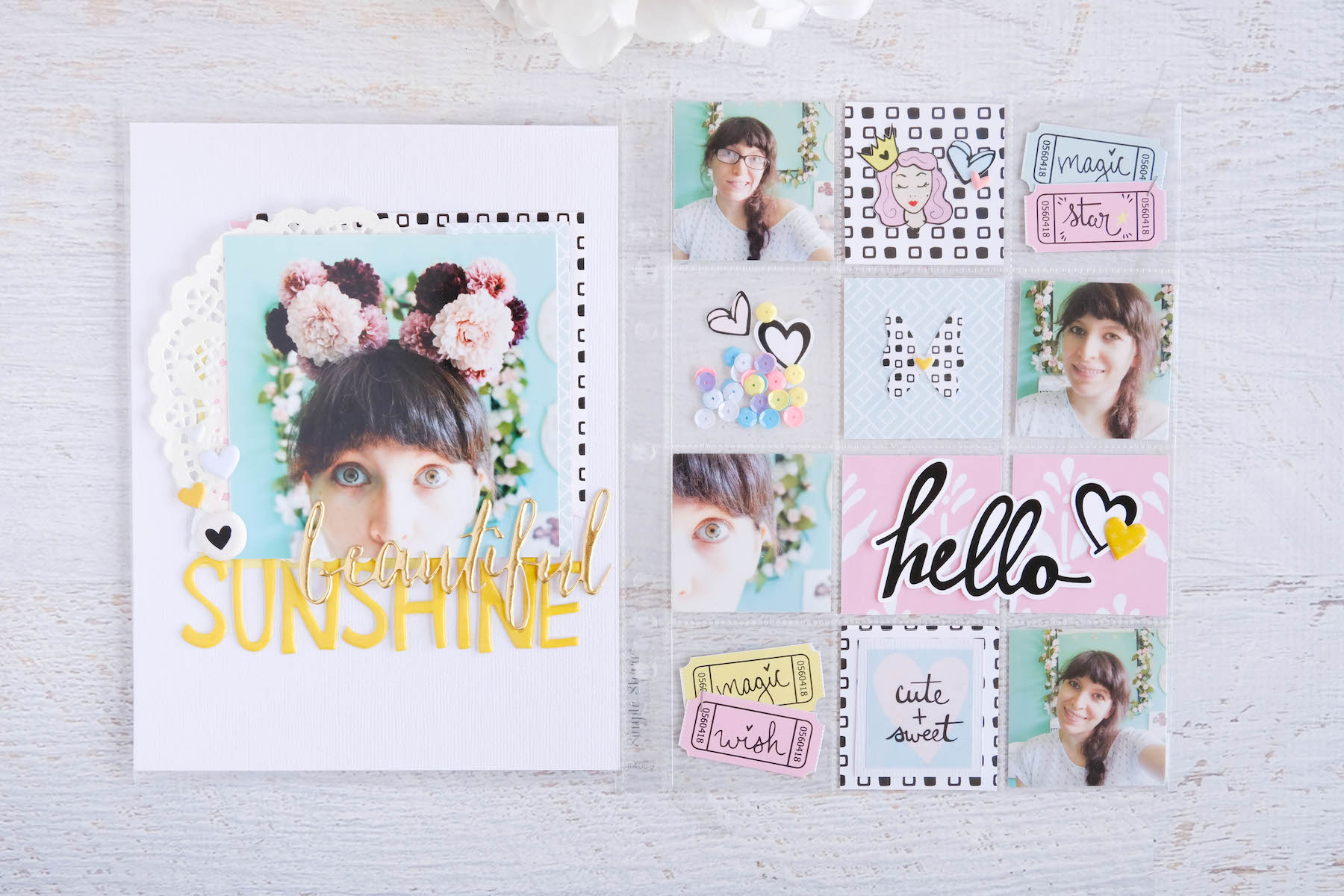 Hey everyone! I'm here with a fun little project using the Everyday Wishes kit from The Fairytale Club. For this year, I've decided to keep one 6×8 album as my memory scrapbook for the year. In years past, I've kept either a 6×8 Project Life album or an A5 Memory Planner to document my year, but for 2018, I want to change it up a bit. My main reason for switching to a generic "memory scrapbook" type album was that I didn't want to be constrained to documenting my year in any sort of chronological order. With Project Life and memory planners, I always felt the need to keep up with the dates and whenever I "fell behind," it stressed me out to try to "catch up." I wanted to eliminate those feelings, so switching to an album where I can document my year whenever I felt like it seemed like the perfect alternative.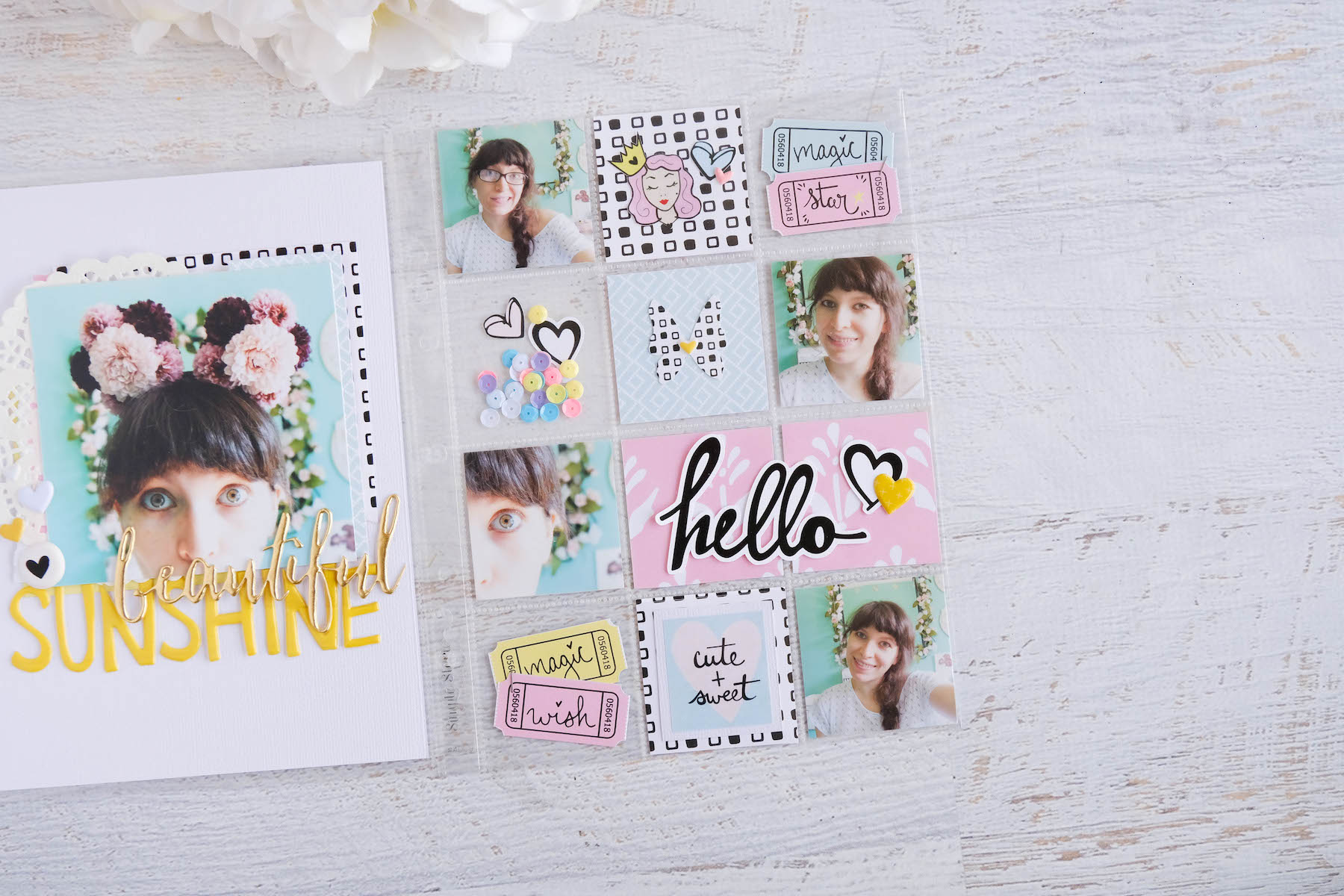 For this post, I wanted to share with you a spread I did in my memory scrapbook. In this little album, I'm hoping to do a mixture of different types of pocket pages as well as layouts. So for this spread, I did a 6×8 layout on the left and a twelve 2×2 pocket page on the right. I absolutely love mixing the two because all of the different pockets give so much texture and depth to my album. So I began with the pocket page first. I used a few of the personal-size planner pages that come in the planner kit to cut out 2×2 squares to fill my pockets. I then arranged those around the photos of myself that I had already put in the pockets. I wanted this page to be fun, so I used a couple of random selfies I took and just played around with all the little bits in the kit.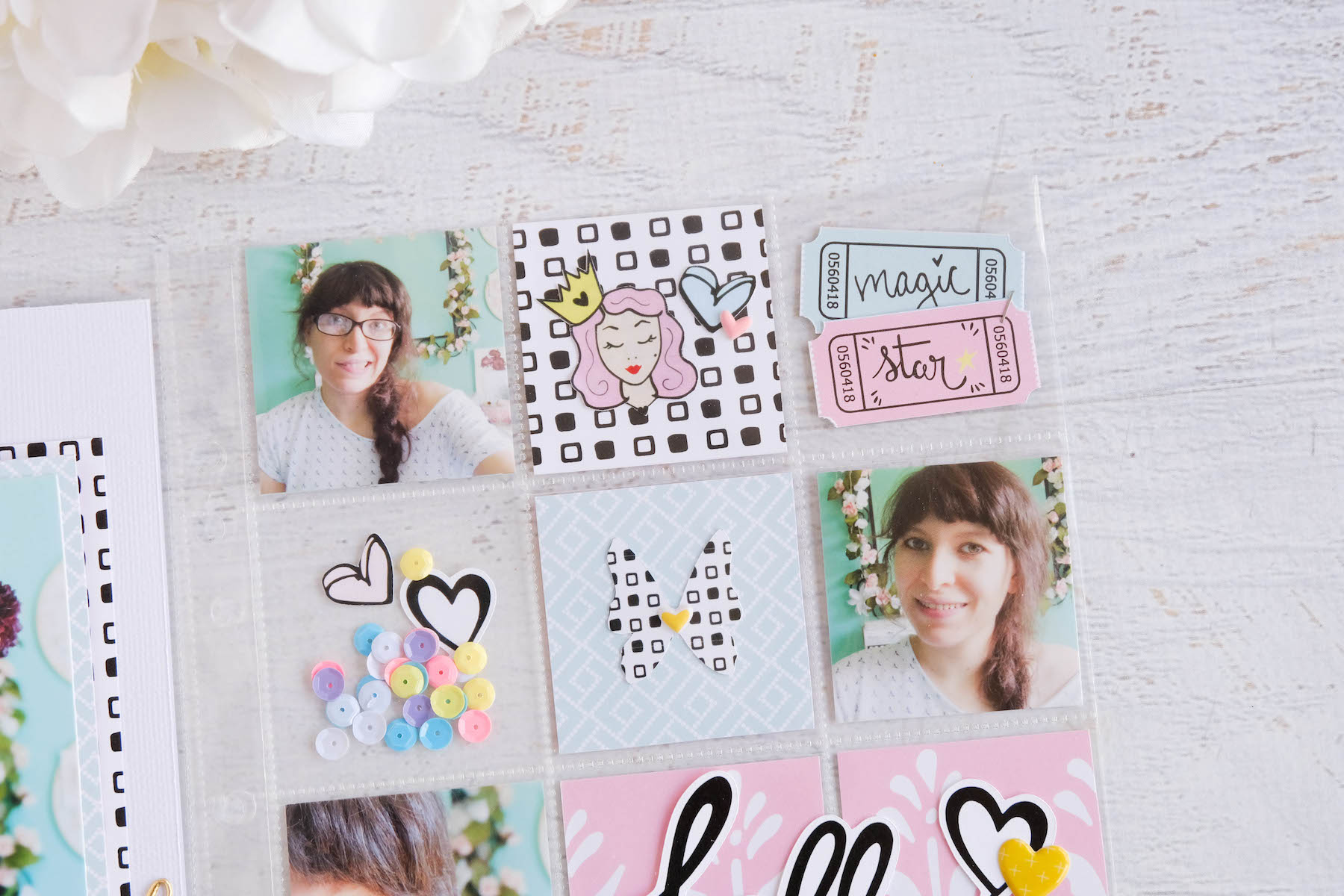 I repeated the black and white square pattern paper and the fun tickets from the cut apart sheet on the top and bottom row of pockets. I really like symmetry, so I did this to keep the page balanced. In the top black and white square, I fussy cut the sticker of the cute girl with the crown from the sticker sheet and added her to the square along with a heart from the ephemera pack and a pink heart puffy from my stash. Next to that, I stapled two of the tickets together and tucked those into the pocket. I did the same thing in the bottom row, except I used a sticker from the Take Note kit and just matted it on some white cardstock before layering it on top of the pattern paper.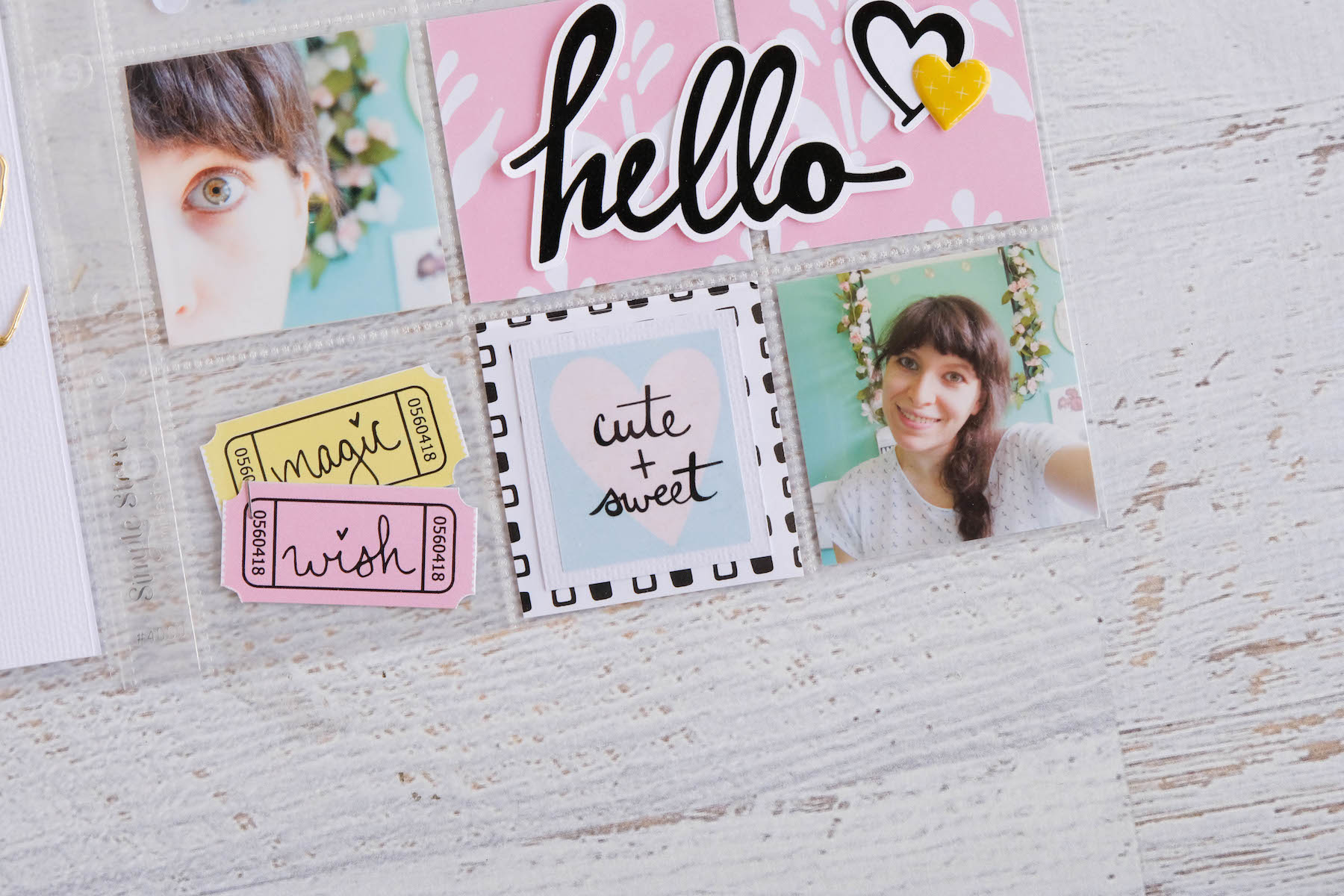 In the two center rows, I did something a bit different. In the first row, I filled one pocket with some of the fun sequins from the kit, adding two of the die cut hearts in the pocket as well to give it a fuller look. In the pocket next to that one, I just have a light blue pattern paper with one of the die cut butterflies from the ephemera pack on it. I added a tiny yellow puffy heart from my stash at the center just to repeat that yellow. Then of course my photo. In the second row, I have my photo then a two pocket cluster that I filled with this beautiful pink pattern paper. On top of the pocket page, I adhered the "hello" word die cut and a die cut heart, along with another yellow puffy sticker from my stash. I love these out-of-the-pocket bits that you can add to your pocket pages. It really does add a lot of texture and dimension, but I really did it because I didn't want to cut that "hello" die cut piece in half.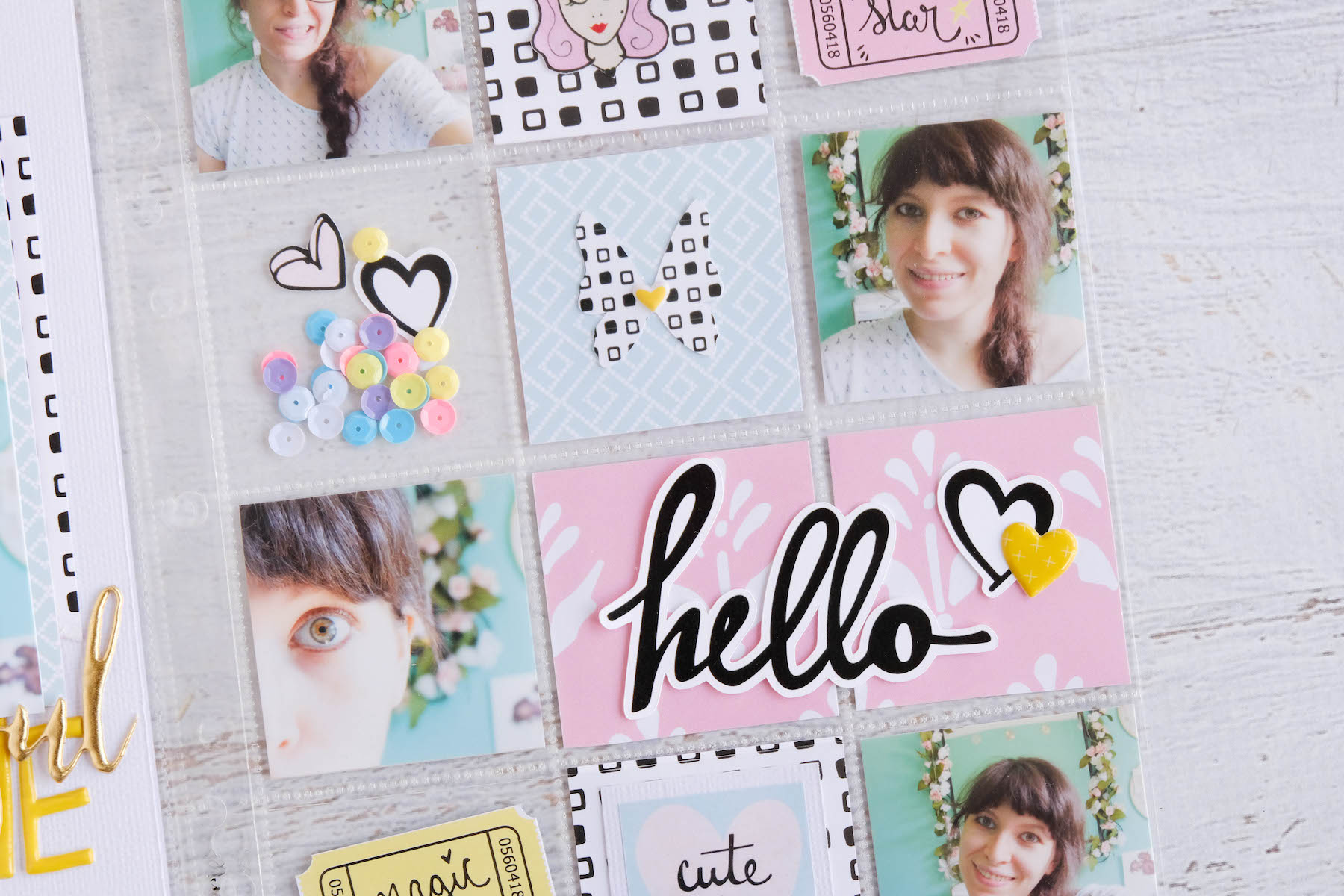 To the left of my pocket page, I did a really simple 6×8 layout. I had this rather large photo of myself wearing some Mickey ears that I had made and I really didn't want to cut it down to a reasonable size, so I used the photo as is and it took up most of the layout. I layered a bunch of the pattern papers and a white doily from my stash behind it before placing it in the center of a white cardstock background. I embellished it with some puffy stickers from my stash, as well as some title stickers that say 'beautiful sunshine."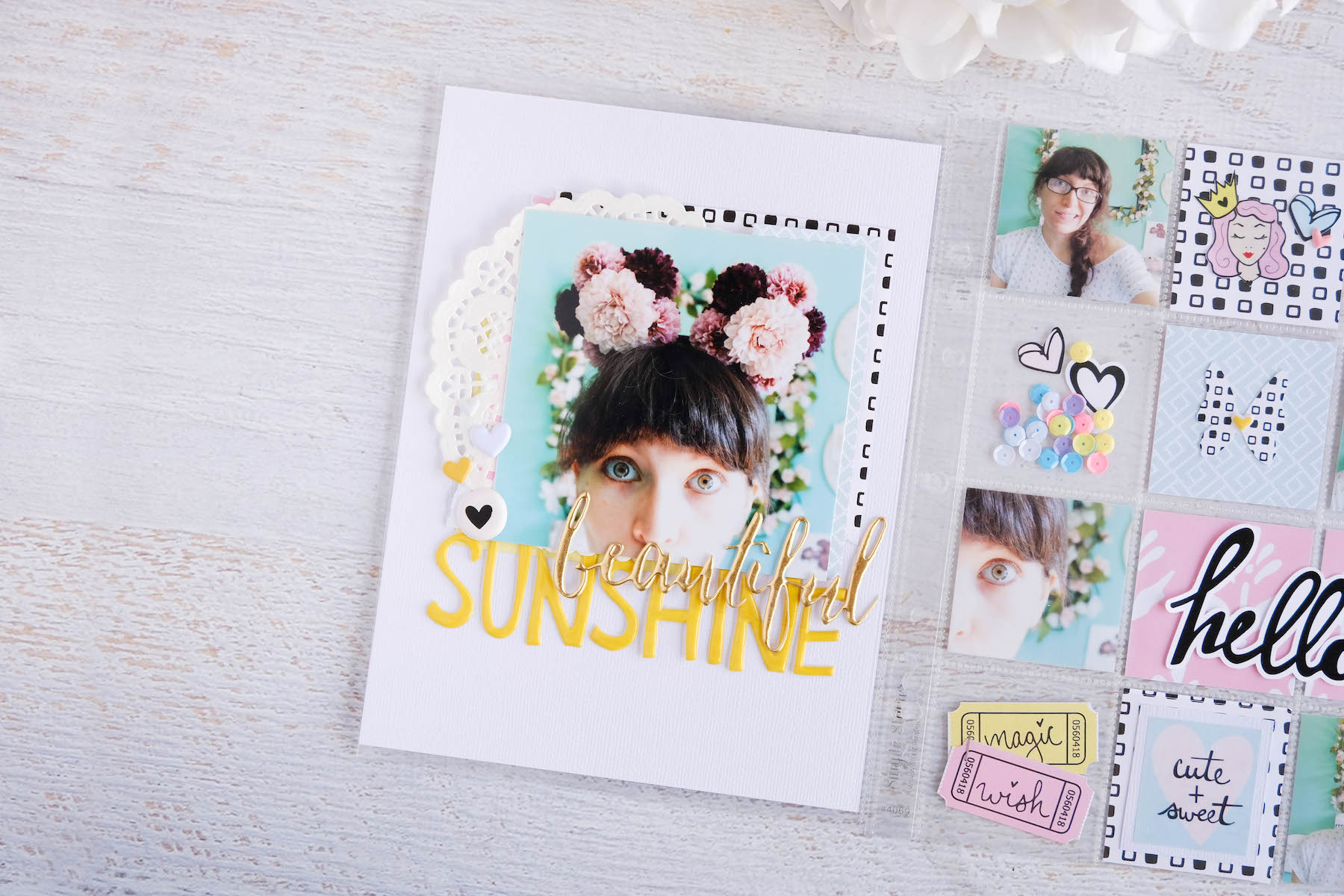 I didn't do any journaling at all in this spread, but I'm not too fussed about that. Another reason I wanted to keep an album like this one was just to preserve my memories in a fun and simple way. I had tons of fun with the process of embellishing my photos with the kit and for me that's what matters most. If I look back on these pages in a few days time and feel like it needs a bit of journaling, I'll add it in. But for now, I love it the way it is and I've got the photos in and another page down in my 2018 album. I really hope you enjoyed this peek into my album!