citylove: london, england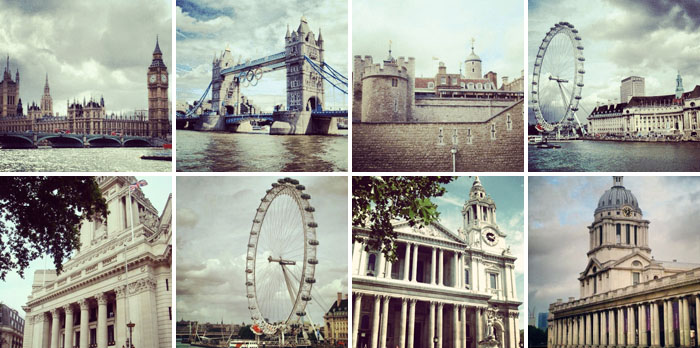 I haven't done one of these posts in a while. If you remember, last summer I went on a Eurotrip. I came back with so many photos and memories, that it took me a bit to document them all down in my smashbook and even my blog. So far, I've only talked about Venice and Paris. Well, since it's been raining all week here in NYC, it seems to me appropriate to write a little something about London, England.
I love London. Course, I'm a huge anglophile, so I may be a bit biased, but I love London. London is very much like New York City, but more quaint. What I mean by that is that NYC is more modern in how it looks and feels, whereas London tethers between modernity and antiquity. There aren't many high-rise buildings in London either, which also give off that old time feel of the city being more of a town than a city. Yet, like every city, London is huge and has lots to see.
I personally really appreciated their public transportation system. I'm used to the MTA's subway system here in NYC, so navigating The Underground was a piece of cake. It was also godsent because there was no way better to get around the city (besides walking). It was pretty pricey though, but if you're smart, you'll get yourself an Oyster Card and only use two rides per day. Basically, we chose an area of London, took the train to said place, then spent the day walking around either within that area or through to a different area of London. And when it was time to go back to our hostel, we took the nearest train to a connection for one of the train heading to King's Cross to get back. We saved a bunch of money that way because £8.50 is a lot of money for one of those one day unlimited ride travelcards.
Look at me talking about the subway! Though to be honest, NYC subway is like a lifeline here, so the metro there seems just as important!
But like I mentioned before, I'm a huge anglophile. So, we hit up all the places that needed to be hit up. Buckingham Palace, Piccadilly Circus, the London Eye, Parliament and Big Ben, Trafalgar Square, Camden Town, The Globe Theatre, Abbey Road, Notting Hill, Fleet Street, 221B Baker Street, Platform 9 3/4…we even took a trip to Greenwich to stand on the Prime Meridian. It was a bit surreal walking to our hostel from King's Cross. It felt so weird to be somewhere that seems so familiar but you know is completely different and new. That was London for me. Besides everything being on the wrong side of the road, it felt like home. I don't know why I expected it to be extremely different. It was sort of a let down when I realized it was like being in NYC, but I still loved every minute of London.
As I sit here, having all day been stuck inside because it's been raining on and off (and when I say raining, I mean pouring with thunder and lightening), it dawns on my that in my week in London, it only rained on us once–a summer shower really. Poured really hard for a few minutes, then went back to being partly cloudy gray London.