daphne's diary: a new favorite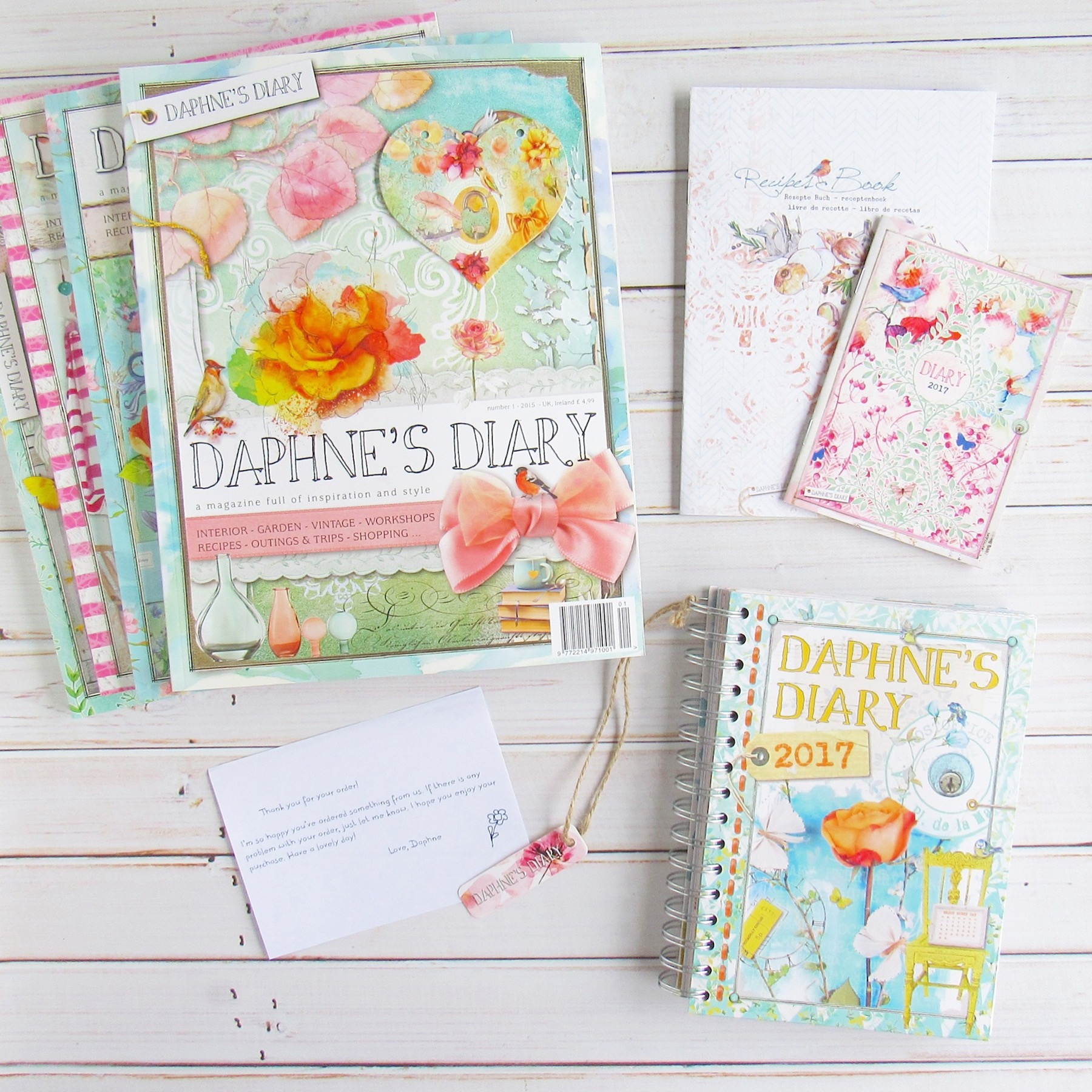 I have a new obsession and it goes by the name of Daphne's Diary. It's a crafty lifestyle magazine from The Netherlands and it's amazing. I haven't been this in love with a magazine since my discovery of Frankie Magazine back in 2014. It's just so beautiful. If there's any publication out there that simply embodies what I'm loving right now, it's Daphne's Diary. From the French pastel vintage aesthetic to the beautiful floral illustrations to all the cute crafty projects and cut outs and papers, this magazine was made for me.
I stumbled across this magazine a total of three times before I took a trip to a Barnes & Noble to check it out. First was on my fellow Hip Kit Club Design Team member Irit's YouTube channel, where she shared a quick little video of her new discovery. It was Issue 1 of 2017 of Daphne's Diary and it was beautiful. I remember looking up the website and being so bummed that it was another foreign magazine and to get the one issue shipped to me would be about 28 Euros. So I let it go. Then I began watching Nazy from Amity Bloom and she too had a video where she shared her Daphne's Diary collection. She mentioned that she got hers at Joann, which also bummed me out because I don't have a Joann near me. She also mentioned finding them at Barnes & Noble, but I never have any luck finding any foreign magazine I like at B&N, so I sort of dismissed it.
Anyway, I was doing a Google search for "shabby chic" decor and came across a thread that also mentioned Daphne's Diary. The ladies in the thread also mentioned Barnes & Noble, so one weekend, I decided to head to the most central B&N in Manhattan, the one right on 5th Avenue near Times Square, because if there was one B&N that would carry it, it would be that one. And sure enough, I found it there!
I didn't end up picking it up though. I bought a Frankie Magazine instead, since it was Issue 1 of 2017, while the Daphne's Diary issue they had was Issue 8 (the last issue) of 2016. But I sat in B&N and looked through it and as I did, I found that I could subscribe to the magazine through Unique Magazines. So when I returned home, I checked out the site and ended up ordering the first issue by itself, just to try out. I read it over two days and absolutely loved how cute it was! Daphne writes about her life and all the fun, pretty, crafty things she discovers. She interviews unique shop owners and artists, and even takes you on journeys to some really cool sites around Europe. It really is like you're reading her diary! It's such a lovely read. I also love her aesthetic and all the visuals in the magazine. I hope to be able to take my scissors to the issues I have and use some of those cut aparts and pretty pattern paper she also includes in the magazine. Right now, they are too pretty to be cut apart!
I ended up ordering the second magazine through Unique Magazine and have been waiting patiently for them to put up Issue 3, so I can go ahead and buy that one too. Though I recently made a purchase for some back issues as well as the 2017 Daphne's Diary Agenda on the Daphne's Diary website, and I so stupidly forgot to add the new issue to my cart! So I will patiently wait and see if Unique Magazines ever put that one up for single purchase and if I find it first at Barnes & Noble, I'll get it there.
But yeah, I just received my haul today and it only took TWO DAYS to get to me! I was anticipating the wait to be longer, but I'm not complaining! I get to play in my new Daphne's Diary agenda and get to look through more magazine issues that were released back in 2015 and 2016. Definitely watch the video below if you want to take a peak at my haul and be sure to check out the Daphne's Diary website for more beautiful things!