december daily 2016 album | hip kit club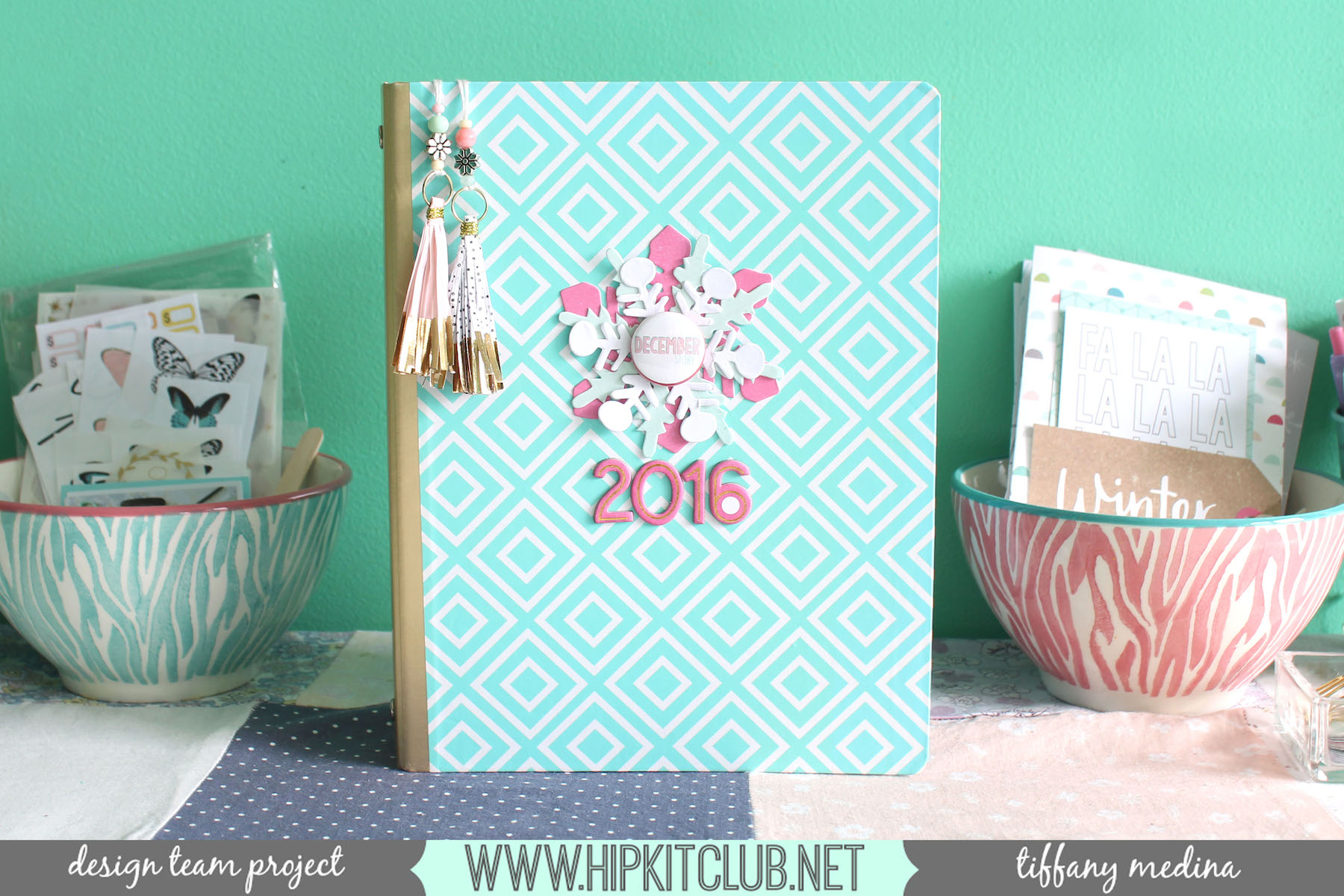 Hey everyone! I'm back today to share with you my completed December Daily 2016 album. This was the first time I have ever done a December Daily. I don't celebrate the holidays, so I always thought that keeping a December Daily just wouldn't be for me since it's supposed to be a project to document your Christmas holiday. But, seeing how I was on the Hip Kit Club team this term and received their December Documented kit, I decided to give it a go.
One thing I love about the Hip Kit for the 2016 holiday was that it was a holiday-neutral winter kit. Most of the kit was comprised of Crate Paper's Snow and Cocoa collection, which was primarily a winter kit that was designed with non-traditional colors. You could totally use this kit to document your Christmas too, but I loved that it was so neutral. It meant that I could keep a non-traditional December Daily, which is exactly what I did.
For my album, I went with a cheap blue geometric pattern album from the Target Dollar Spot. I had it in my stash and I thought the color and gold accent on the spine matched perfectly with the Hip Kit Club kits. The binder is 6×8, but it's a bit on the small side, so I had to cut down all my pages and pocket pages I used a little to make them fit without any overhang, but I'm so pleased at how it all turned out. On the cover, I used these die cut snowflakes from the kit, layering them on top of each other, adding a December flair button in the center. I used one of the chipboard alphas to add 2016 underneath that. Dangling from the spine, I made two tassel charms with bits and beads from my stash that also matched.
My first few pages in my album are just introduction pages. I used that lovely tree paper from Snow and Cocoa as the base for my first page. I overlaid it with this triangle gold foil vellum paper I had from the Crate Paper Wonder collection. I decorated it with a few bits of ephemera from the kits. The next spread I added in a simple December calendar and next to it wrote out my "December Manifesto" or my intention for keeping this album.
I kept my pages fairly simple, only using my Hip Kit Club kits, extra bits from the Snow and Cocoa collection, and a few matching pieces from my stash, such as white doilies and these wood veneer snowflakes I got from the Target Dollar Spot. I wanted to keep my album as cohesive and matching as possible, especially since I was just documenting my everyday in December. For numbering my days, I used these numbered circle die cuts I created myself on Photoshop. Simple black and white in fonts that I felt went extremely well with the kits. I also typed out all of my journaling using the Courier New font, so that everything was nice and neat as well.
Since my binder was such an old size, I used an assortment of pocket pages mixed in with pattern paper and plain graph paper pages. I used 4×6 horizontal pocket pages from Simple Stories, along with some small pocket pages from Heidi Swapp. I did use some 6×8 Project Life pocket pages that hold four 3×4 cards, I just had to cut them in half so I could only fit two 3×4 cards in them. I had to repunch the holes on all of these as well, since this album had three holes instead of the standard two, but that was nothing a bit of gold foil polka dotted washi tape couldn't fix.
I documented my month little by little. To be quite honest, it was an absolute struggle to keep up with this. My holiday season is typically very slow–as I don't celebrate anything–and so finding interesting things to take photos was a challenge. A lot of my pages are simple decorating with a lot of typed up journaling describing my days because I just didn't have a photo for it. I don't particularly mind that though. I had a lot of fun decorating these pages and looking back on this album, this was probably the most I have every journaled for a mini album. I'm sure I'll appreciate that in the years to come whenever I go and look back on this album.
The pages in my album are also of varying sizes. I don't think that was my intention initially, but as I was working through my album, I wanted to use up all of the little scrap pieces of paper I had piling up from cutting down my 12×12 papers. So you'll see that I have 4×6 pages along with some tags and such as their own pages. I really like the texture and dimension these old sized pages give to my overall album. Mixed in with the different sized pocket pages, it gives the entire album that homemade look. You know, that sort of album that when you open it up you just want to flip through it and touch everything. I played around with adding some decorative paperclips as well, which only adds to this effect.
For my last few pages, I added in some packaging I received from a friend who had gifted something to me for the holidays. She made the little paper bag herself and I just thought it was so cute–and it matched the colors of my album SO perfectly–that I decided to add it to my album. Again, this added another textural element to my album and I'm so glad I kept this little mint blue bag. It was just the perfect memento to include in my December Daily!
I filmed a little flip through of my entire completed album. I talk you through how I documented my December, so be sure to check that out below. I hope you enjoyed this look at my December Daily 2016 album!
Products used: Hip Kit Club November 2016 Main Kit, November 2016 Embellishment Kit Add-on + November 2016 December Documented Kit