a guide to arts + crafts stores in tokyo, japan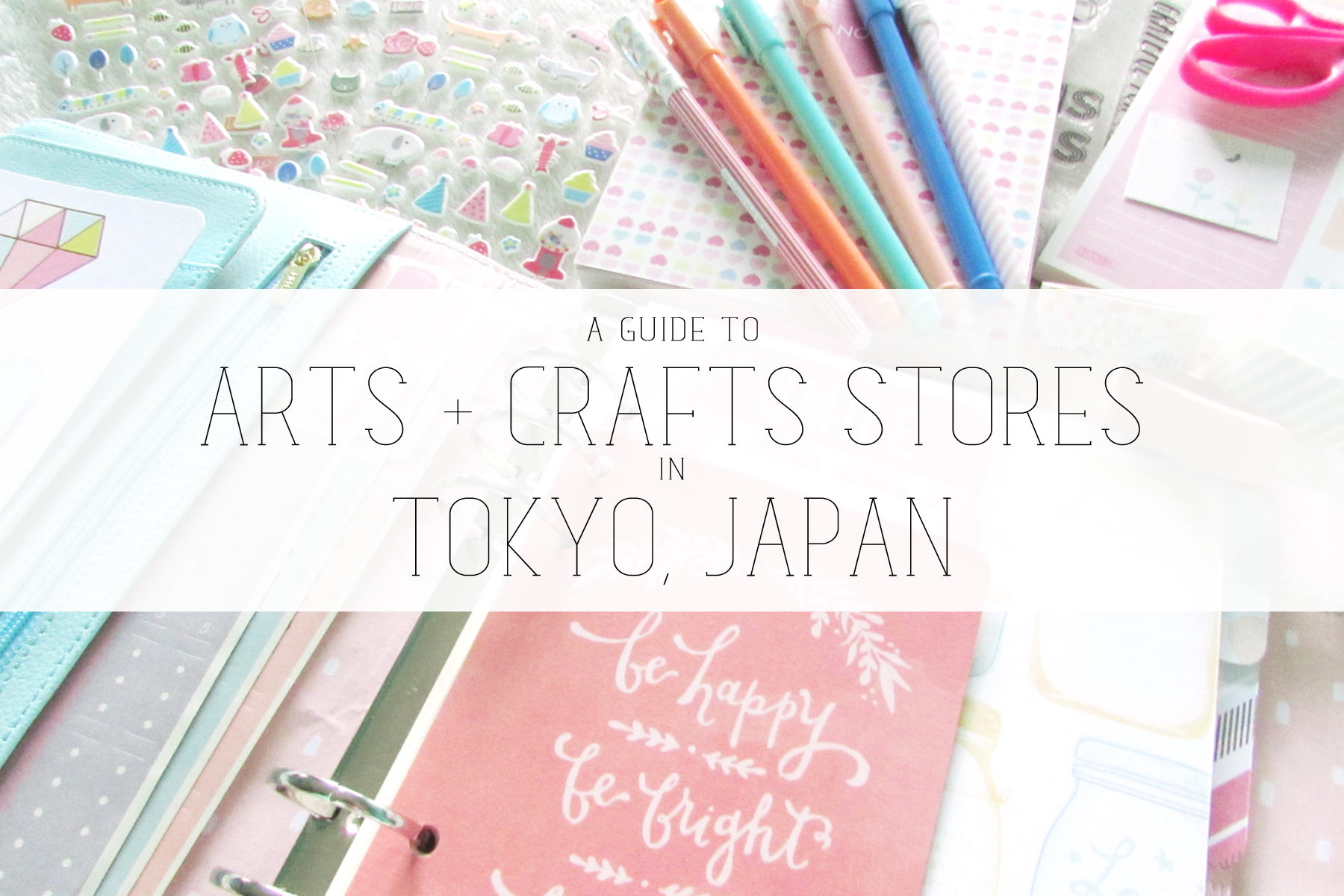 If there's one thing I love about traveling is getting to visit and shop at many amazing art, stationery and scrapbooking stores from around the world. While I haven't been as serious about visiting these type of stores on my travels in the past, I recently decided to try my best to find all the cute shops to visit in all the different places I've been to around the world. In this segment of "A Guide to Arts + Crafts Stores Around the World," I'd like to introduce you to all the lovely shops of Tokyo! Japan is the stationery mecca of the world and you can find all sorts of cute stationery products all over its capital city of Tokyo. Stationery is just part of their culture, yet for any foreign paper addict, stepping into a stationery shop in Japan will feel like heaven. So here's a list of shops in Tokyo that I know should be on top of any paper lover's "to visit" list.
Tokyo, Japan
Character Street @ Tokyo Station – Exactly what the name implies. This is a long mall deep underground in Tokyo Station, with tons of boutique shops of character goods. From toys, gifts to stationery, if you're into Kawaii, this is your heaven. JR line to Tokyo Station, take the Yaesu exit. Address: B1 First Avenue Tokyo Station, 1-9-1 Marunouchi Chiyoda-ku
Chocoholic @ Ikebukuro Station – I still don't know if this a chocolate shop that sells cute bags, cases and stationery or a stationery/gifts store that sells chocolate, but it's super cute and sweet and if you're into all things Kawaii, it's a place to visit! Address: Japan, 〒171-0021 Tōkyō-to, Toshima-ku, Nishiikebukuro, 1 Chome−1, 東京都豊島区西池袋1-1-21 東武池袋駅構内B1F 北改札口脇 Ikebukuro Station
Daiso – Japanese Dollar store. You can find a whole heap of stuff at Daiso, but they have a lovely stationery/office supply/crafts section where you can find cute sticky notes, washi tapes, notebooks and more. Best part: everything's 100 Yen. Address: 1 Chome-19-24 Jingūmae, Shibuya-ku, Tōkyō-to 150-0001, Japan
Itoya – The flagship store in Ginza is the largest stationery store in Tokyo. It houses twelve floors of luscious stationery goodness, with the top floor home to their own cafe. You can literally make an entire day out of your trip to Itoya. Address: 2-chōme-7-15 Ginza, Chuo City, Tōkyō-to 104-0061, Japan
Kiddyland – Don't let the name fool you, this mega toy store is absolutely great for all ages. In the heart of Harajuku, Kiddyland is a four level toy store, with the most prominent shops being Snoopy Town, and Rilakkuma Store. If you're into character stationery and gifts, these two shops within this toy store are fantastic. Lots of great stationery to be found here, from pens, pencils, erasers, to notebooks, sticky notes and page markers. Address: 6-1-9 Jingu-mae, Shibuya-ku, Tokyo 150-0001
Kinokuniya – You can find this Japanese chain bookstore is a lot of cities around the world, so of course there'd be one in Tokyo. Even though it is a bookstore, they also have an nice stationery section always worth checking out. Addresses: Shinjuku location, 3 Chome-17-17-7 Shinjuku, Shinjuku-ku, Tōkyō-to 163-8636, Japan | Shibuya location, Japan, 〒150-0042 Tōkyō-to, Shibuya-ku, 渋谷区Udagawachō, 21−1 西武渋谷店パーキング館
LOFT – I absolutely love this place! LOFT is sort of a catch all home decor/stationery/gifts chain that has stores all over Tokyo. I love its wide range of washi tape, pens and stickers. You can spend hours here. Be sure to check out their section of more traditional Japanese decor and gifts. It's so pretty!  Be sure to show your passport at the register for a tourist discount! Addresses: Shibuya LOFT, Japan, 〒150-0042 Tōkyō-to, Shibuya-ku, Udagawachō, 21−1 西武渋谷店
Muji – Part clothing store and part home decor/gifts/stationery, Muji is for the minimalist. Black, white and kraft, you can find your basic stationery staples here as well as a lot of really nice pens in an assortment of colors. Address: Muji Shibuya, 5 Chome-5-50-6 Jingūmae, Shibuya-ku, Tōkyō-to 150-0001, Japan | Muji Shinjuku, Japan, 〒160-0022 Tōkyō-to, Shinjuku-ku, 新宿区Shinjuku, 3 Chome−15−15, 新宿ピカデリー Shinjuku Piccadilly cinema
Sanrio – If you're into Kawaii character stationery–think Hello Kitty, My Melody, Little Twin Stars, etc–then a visit to any of the Sanrio shops across Tokyo is a definite must! You can find an assortment of gifts in these shops, oh and some stationery too!  Addresses: Sanrio World Ginza, Japan, 〒104-0061 Tōkyō-to, Chūō-ku, Ginza, 4−1 西銀座 | Sanrio Gift Gate, Japan, 〒160-0022 Tōkyō-to, Shinjuku-ku, Shinjuku, 3 Chome−15−11, アドホック新宿 B1F | Sanrio Vivitix Harajuku, 1 Chome-7-71 Jingūmae, Shibuya-ku, Tōkyō-to 150-0001, Japan
Sunshine City in Ikebukuro – This is a super shopping mall in Ikebukuro. The shopping area comprises of two sections ALTA and alpha. ALTA houses big brand shops, while you can find an assortment of specialty shops in alpha. There are a few shops in both areas where you can find some cute stationery, so it's worth a visit to both sections…just give yourself a few hours. Address: Japan, 〒170-0013 Tōkyō-to, Toshima-ku, 豊島区Higashiikebukuro, 3 Chome−3−1
The World Connection – This is a gift shop in the Harajuku area of Shibuya. It's filled with all sorts of pop culture memorabilia from Japan. A mixture of anime, video games, and cute Kawaii. You can find some really cute things here, even stationery! Definitely worth a visit! Address: Japan, Tokyo, Shibuya, Jingumae, 1 Chome−68, 1F・B1F
Tobichi – The official Hobonichi store in Japan. This little store is where you can get your hands on all of that Techo goodness! Address: 4-chōme-25-14 Minamiaoyama, Minato City, Tōkyō-to 107-0062, Japan
Tokyu Hands – much like LOFT, Tokyu Hands is a mega catch all store, with a ton of floors selling a variety of stuff. There's a floor for arts and crafts, as well as a floor for stationery and office supplies. You can literally spend an entire day at a Tokyu Hands, the place is so big! Address: Tokyu Hands Shibuya, 

Japan, 〒150-0002 Tōkyō-to, Shibuya-ku, 渋谷区Udagawachō, 12−18
Traveler's Factory – Stopping by this shop is a must for any Traveler's Notebook junkie! You can find a variety of notebooks, washi tapes, stamps and more! If you can't make it to the actual shop in Tokyo, there's also a shop in Narita International Airport, Terminal-1 4F, in case you're passing through. Address: 3-13-10 Kamimeguro, Meguro, Tokyo 153-0051, Japan
This list is still a work in progress. If you have any suggestions for new stores, definitely leave a comment below and I'll add it to the list! My goal is to gather as many shops as I can find in these city guides, so the more the merrier!