get messy: season of kindness week six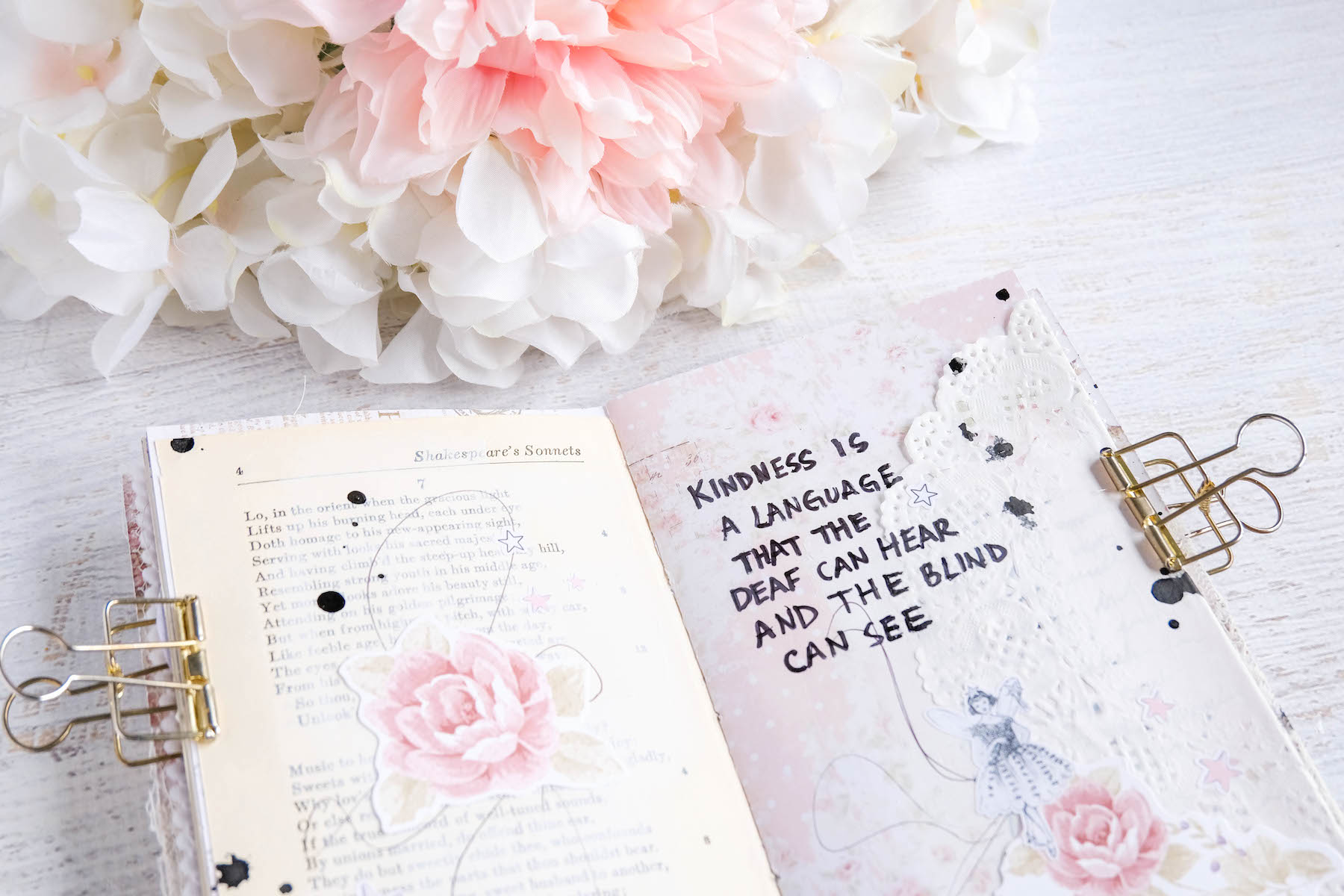 Get Messy Season of Kindness week six is in the books! And my oh my did I do some art journaling. I managed to make three spreads in my Kindness journal this week, which is a lot compared to how I did the two previous weeks. I even managed to film a couple of journal with me videos for my Youtube channel this week, so you can catch the actual making of two of these spreads over there, if you want a more in depth look at my process.
So this first spread was inspired by the Mark Twain quote that was the epigraph for week four's prompts:
Kindness is a language that the deaf can hear and the blind can see.
I had that in my head when I began playing around with my materials. If you caught my Journal with Me #10 video, you would have seen this process. But I began with some journaling, where I responded to the quote. Then I covered it with some gesso, but it went horribly wrong, so it was then covered with a bit of white doily. Then I added the flower die cuts and all of the really pretty Lace & Whimsy stickers and well, this is how it turned out.
I did copy the quote onto the page as well. That was another total mess that was "fixed" with a big Sharpie marker and a bit of black ink splatters.
This second spread began with that doily fold out. Instead of cutting off the excess doily, I decided to keep it in sort of like a tip-in. I'm glad I did because I really like how this turned out. I used this bunch of roses die cut from Lace & Whimsy, along with one of her banner sticker and some stars to decorate the doily. I added two word phrase stickers from Maggie Holmes and Prima, which read "special moments" and "collecting moments" respectively.
On the inside, I left the beautiful Prima paper mostly intact. I added some more Lace & Whimsy stickers, along with another one of her die cuts, this time of a girl sitting down with a rose in her hand. I placed her sitting on a cloud and used a couple more Maggie Holmes stickers to make it seem like she's day dreaming. On the other page, I layered up some paper bits and with more Lace & Whimsy star stickers, I listed different ways to be kind.
I have another journal with me showing the complete process of this spread, so be on the look out for that soon.
This last spread was mostly created from scraps that I really wanted to use up somewhere. I also wanted to use up the last few stickers from another Lace & Whimsy sticker sheet that I had like one or two stickers left of. I also had this text piece that I made from a bit of branding strip. It had the definition of Adore on it and I didn't want to throw it away. So I sewed it onto a scrap piece of wallpaper and added into my journal the best way it fit.
That's probably my favorite thing about art journaling: anything goes. One, it's my journal and I can do what I want with it, but two, the sky is really the limit. I don't actually have to say anything. I can just sit down and play and share what comes of it. Art journaling is really all about the process for me. It's super fun and very therapeutic. So even when I don't have anything to actually say, it's all still very fulfilling as it fills my soul and I can just let my creative juices flow. That's basically what happened with this week's spreads and I'm so happy with what came of it.