journal with me ✩ 7: 2018 intentions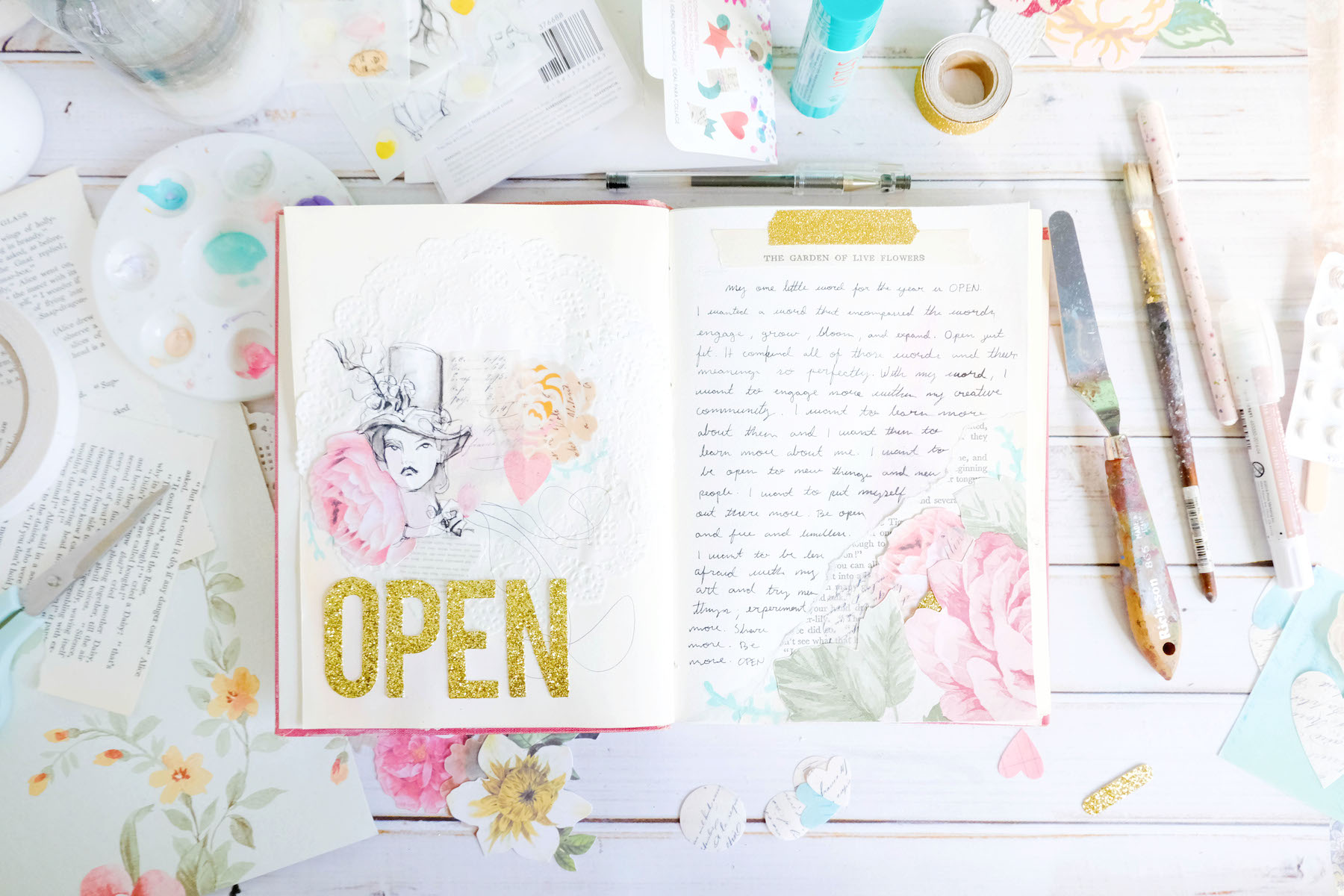 I finally cracked open my "Secret Garden" art journal. This is the art journal I'm going to use for the entire year (unless I fill it up sooner of course). It's an altered book art journal I made from an old copy of The Secret Garden I found some time ago in the outside $2 shelves at Strands. I know in my Creative Intentions post, I said I was going to use a Traveler's Notebook for all of my Get Messy art journaling bits, but I've decided to simplify even more and just use this art journal for all of my art journaling. I don't think I've ever done this before–just use one book as my art journal–so it's something new! This book is a tad larger than 6×8, so it'll give me enough space to work in for any art journaling project I want to do.
So for my first entry, I decided to play along with Get Messy and journal a spread about my 2018 intentions. If you're in the Get Messy Art Journal community, you know that the website has been down for a few weeks now (it's currently scheduled to be back up tomorrow!), so Lauren and Misty have been hosting a little mini art journal challenge via the Get Messy Newsletter. I thought this particular prompt challenge was so appropriate to begin in this new journal, that I pulled out some brand new Jane Davenport goodies I recently purchased from Michaels and dived right in.
I did a two page spread all about my One Little Word for the year–OPEN–and my intentions for that word. I decided to use a lot of florals to keep with the whole "secret garden" theme I'm hoping to follow throughout my journal, and to help illustrate that openness I want to accomplish this year. Some support words I have this year are ENGAGE, EXPAND, BLOOM, and GROW. All of those words I feel are encompassed in the one word OPEN, so I felt that using florals–blooms–was appropriate. I used a mixture of floral die cuts from Maggie Holmes' Open Book collection as well as some wallpaper samples I recently got that have these gorgeous floral prints on them.
I filmed my entire process, the video of which you can watch below. It felt so good to be art journaling again–I sort of took a little break–and it feels so fresh to begin in a new journal! I really hope you enjoy the video.