my december reflections minibook | the fairytale club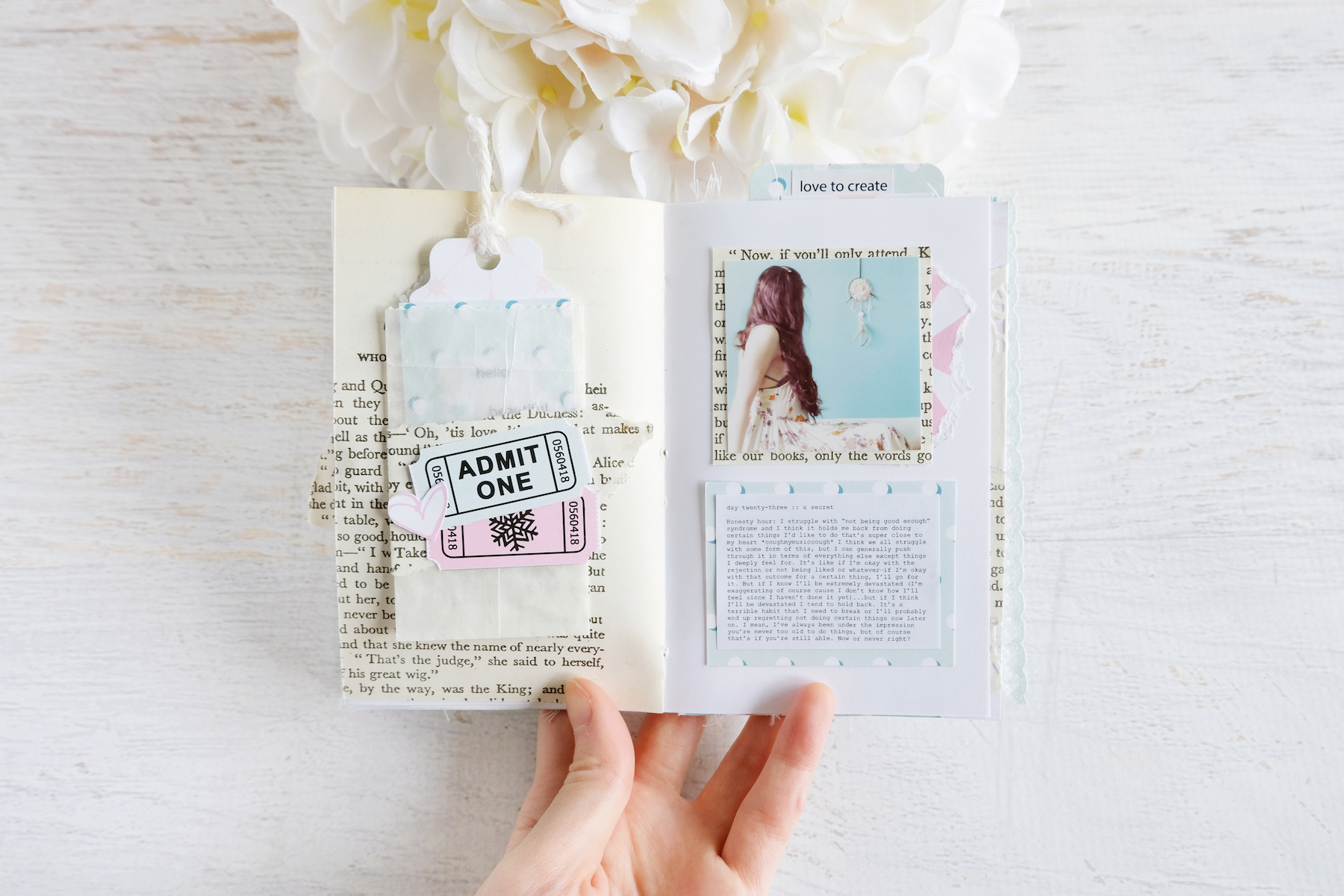 Hey everyone. Here's a completed  look at a month-long minibook project I've been keeping this December using The Fairytale Club "Jolly" kit. I'm calling it my December Reflections minibook and it's been my alternative to December Daily. I don't celebrate the holidays, so I didn't want to do a December Daily album this year (I did a non-holiday one last year and well, it was hard to keep up with and I didn't like it at all). So for this year, I decided to use my winter TN junk journal to document each day in December in a very simple and reflective way. I participated in Susannah Conway's December Reflections photo challenge on Instagram this month that had me reflect back on my entire year. Each photo prompt was introspective in this way, which had me reflect and write a little something to answer each prompt along with the photo. Since I wasn't doing December Daily, I decided that keeping a little log of all of these photos and short captions was the perfect way to document my December.
The majority of what I used in this small minibook were bits from the Jolly kit, though I did include a few stickers from the Take Note kit and some old book pages and white doilies from my stash too. I kept with the soft wintery feel of my junk journal and continued that style on all of the pages. Since this book is so small–it's pocket sized–I printed my Instagram photos as 2×2 squares. I love this size because I can compiled six 2×2 photos onto one 4×6 photo paper to print them out easily that way. I also typed up all of my photo captions and printed them all out very small as well to include underneath my photos. Once I had everything printed and cut out, I simply worked through my journal in small batches.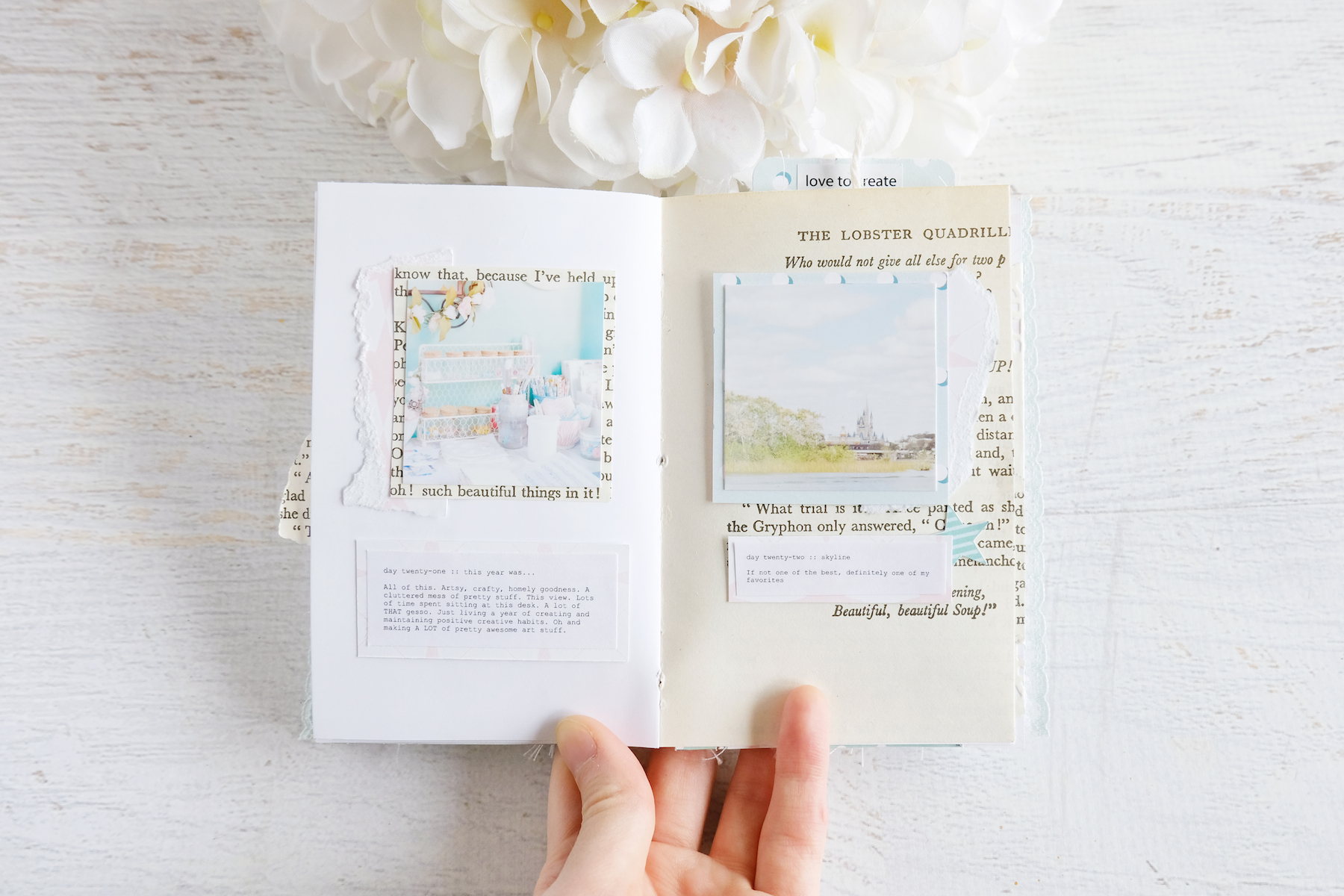 I kept this little book fairly simple. For each photo, I matted them on one of the pattern papers that coordinated with whatever pattern paper was on the opposite page. Since this minibook was constructed like a junk journal, each page was something different. So I made sure to balance out those patterns as best as I could. I even matted the captions when I needed too. Sometimes I just layered a Take Note label sticker, a scrap piece of pattern paper or a die cut behind those too, to give a bit more variation to each page.
But for the most part, I took a minimalist approach with this minibook. December can be a bit hectic and I wanted this project to be manageable. So even my embellishments are a bit sparse, but enough to frame the photos and the captions that really tell the stories. The only pages that had more embellishments were the pages that I added in the little clusters from my pocket TN. My TN was getting a bit chunky with the one pocket all decorated, so I used a few of those embellishments that I made for the pockets in my minibook. I think that was a great way to use little decorative bits that you make for your planners and TNs that wouldn't get used in anything else otherwise.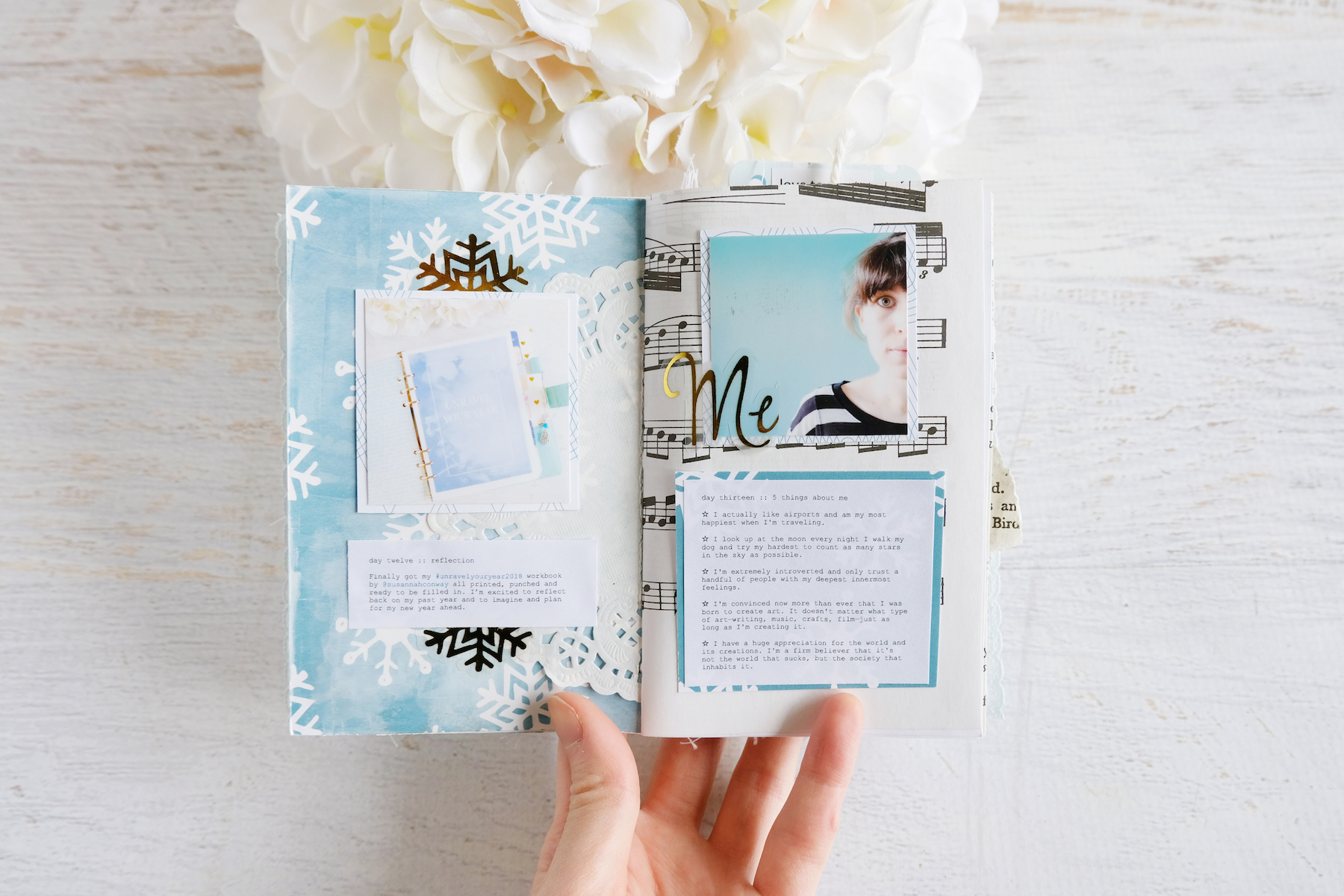 I think keeping a small minibook like this is the perfect alternative to a December Daily. Especially for those who either don't celebrate the holidays or can never keep up with documenting your month with all the stuff going on. Just taking a photo a day and jotting down a few words, then compiling all of that into a small book makes a very lovely keepsake of your final month of the year. It's simple and easy. Check out the flip through video of the entire book below and I hope you enjoyed this little peek into my minibook.